If you are looking for a healthy and fun snack that your kiddos will love, give this Fruit and Yogurt Parfait a try!
CLICK HERE TO SAVE THIS RECIPE ON PINTEREST!
This recipe is so tasty and smooth, that it's perfect for breakfast, lunch or even as a delicious after dinner dessert as well!
And the best part? Everyone in your house will love it!
Affiliate links are used in this post.
FRUIT AND YOGURT PARFAIT
I'm always looking for healthy snacks that are fun! What's better, is when you find a snack that is healthy and looks just like a dessert. Since this recipe is naturally sweet, it will hit the spot of a dessert!
I have a fast food favorite that seems to hit all the different cravings in one – perfect for a snack, breakfast, dessert, or whatever else it needs to be. My recipe is a copycat version of McDonald's Fruit & Yogurt Parfait. It tastes really close, though even better!
Not only is this recipe SO good that you won't want to share, it's also easy to make!
HOW TO MAKE A FRUIT AND YOGURT PARFAIT
First, start by warming up your mixed berries in a tablespoon of honey on your stove top. You'll just need to cookie the berries for a couple of minutes until the honey has thinned to evenly coat your berries and the berries are no longer frozen. (Watch closely…you don't want to burn them!)
Next, it's as easy as assembling your parfaits! (Wahoo! Told you this was simple!)
Start by adding half your yogurt to the bottom of 3 cups.
Next, spread a layer of berries.
Then, just top more yogurt on top and sprinkle the top of your yogurt with baked oats and drizzle honey on top of your parfait.
You can also top your parfait with granola if preferred. (or really any type of topping that you or your family wants!)
This treat will look almost like a traditional ice cream parfait with caramel, but instead, you'll have a low-fat treat that's still sweet!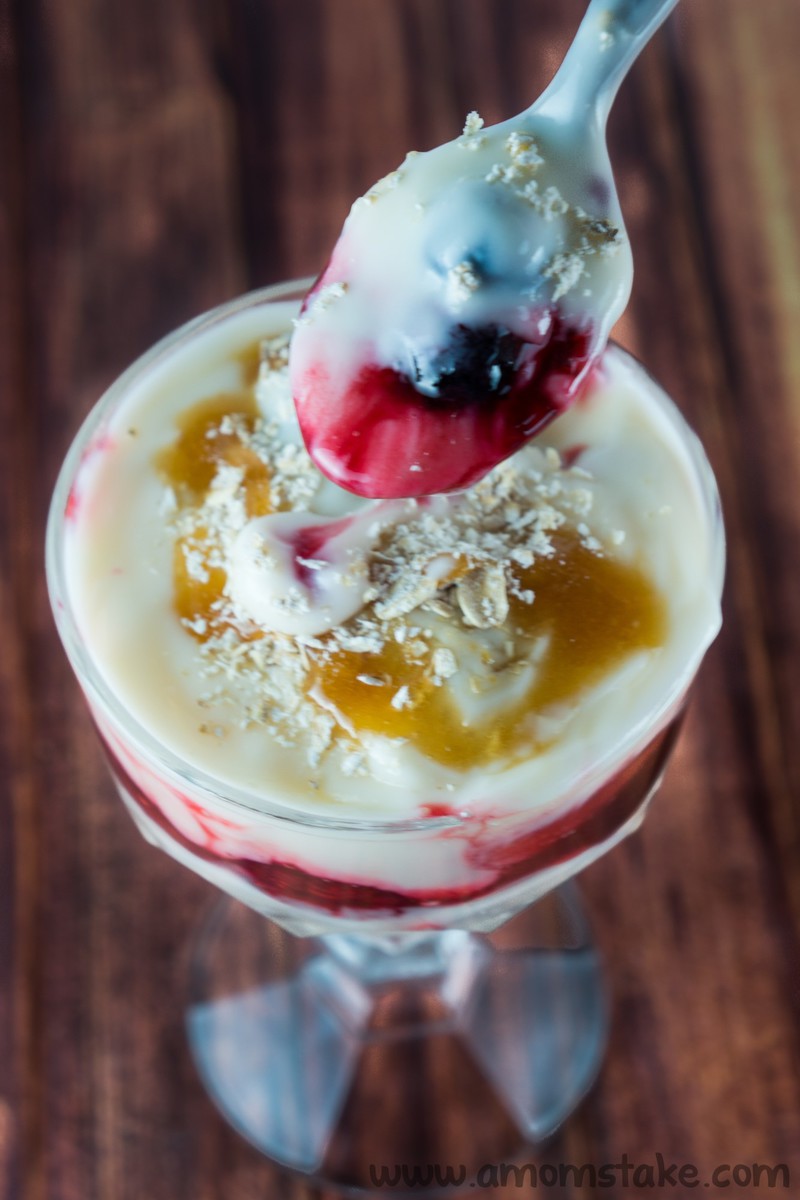 I love having this as an option for my kiddos to eat because it's packed full of healthy ingredients that I know they love. Anytime that I don't have to battle them to eat SOMETHING, is a win in my book!
FAQS ABOUT HEALTHY FRUIT PARFAITS:
Q: What fruits can I use in a yogurt parfait?
A: We use frozen mixed berries in this fruiti yogurt parfait, but fresh fruit works as well!
Q: What can I substitute in place of the oats?
A: Honestly, anything you want. Some use rice krispies or some other types of cereal to replace the oats in this healthy fruit parfait.
Q: Why do I have to bake the oats first?
A: You can try to eat them raw if you'd like, but I wouldn't recommend it. For a better texture and flavor, bake 'em!
Don't be afraid to experiment and share your experiences in the comments to help others that may have the same question.
IF YOU LOVE THIS FRUIT & YOGURT PARFAIT RECIPE, SPEND A FEW MINUTES TO SEE THESE OTHER BREAKFAST RECIPES THAT WILL BE AN AMAZING PART OF YOUR RECIPE COLLECTION!
Fruit and Yogurt Parfait Recipe
Click below to print/save this recipe or pin it to bookmark!
Yield: 3
Healthy Fruit and Yogurt Parfait Recipe
Healthy snack, dessert, or breakfast option that mimick's McDonald's Fruit & Yogurt Parfait.
Ingredients
1 cup Ground, baked oats
2 tablespoons local honey
12 ounces Vanilla Yogurt
½ cup Frozen mixed berries
Instructions
Bake the oats (if not bought baked) on 350 degrees for 15 minutes.
Warm the mixed berries in half of the honey on medium-high in a saucepan. Add water if you're afraid of the honey sticking. Stir often to keep it from scorching.
Place the yogurt in three cups and pour the honey/berry mixture on the yogurt. You can also layer the berries in the middle of two yogurt layers.
Place the oats on top of the berries. Top with the remaining honey and serve immediately.
What would you add to this Fruit & Yogurt Parfait?