Spring is such a fun and exciting time of year: sunshine, rainy days, and everything in-between. Today, we're sharing some of our favorite spring styles for the entire family. From practical pieces to playful, fun attire, there's clothing and accessories for every style.
We received a variety of samples in exchange for this post.
Ready for Rainy Days & Easter
With Spring comes the showers, it's time to get your kiddos ready to splash in the puddles! We are absolutely in love with the darling pairing by JoJo Maman Bébé of a Waterproof Dinosaur Jacket and adorable Dinosaur Children's Rain Boots. My 3 year old loved them so much, he even insisted he wear his new boots to church! They also have a Fox set that is equally as adorable.
The JoJo Maman Bébé waterproof jacket is fantastic! It is lined with a soft cotton interior but it so thoughtfully made to keep your child dry with zipper and velcro closures, hood, and thick waterproof layers. Best of all, you can machine wash the jacket to keep it clean!
Get ready for darling Easter pictures with their Mini Gingham Shirt and Twill Turn Up Pants combo! The pants have built-in buttons to roll up the bottoms as the weather warms up, perfect for the transitional spring weather.
Shop our Favorites at JoJo Maman Bébé:
Affordable Eyewear
Picking out glasses for yourself can be hard, but GlassesUSA.com makes it easy and affordable! With a huge assortment of stylish frames and clear, upfront pricing (that cuts out the retail middleman) you'll be able to easily pick out a style you'll love.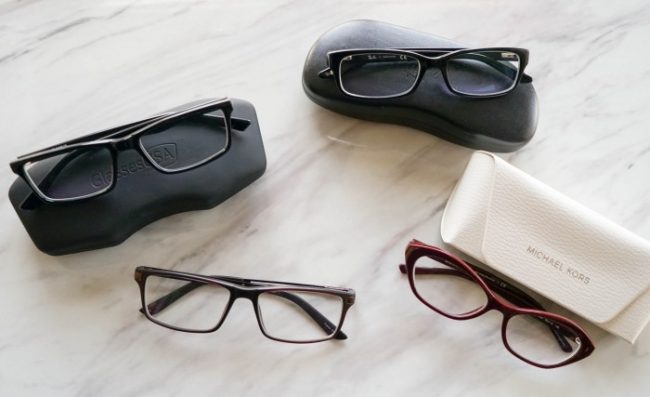 We turned to GlassesUSA.com for glasses for my husband. It was easy to shop with the Virtual Mirror by uploading a picture of my husband and then virtually trying on the pairs to get an idea of how they would look. After browsing through pages of styles, we found a few we both really liked and they arrived in just a couple of days. We both agreed, the Hallowell frame in brown looked great on my husband!
If you're not completely happy with your eyeglasses order, they offer a 100% money back guarantee and free shipping both ways. That means, you can give GlassesUSA.com a try to help you find your perfect new frames without worry. A complete pair of glasses (frames and lenses) start at just $30! You can even find a special new customer offer when you sign-up at GlassesUSA.com.
GlassesUSA.com frames to try:
Custom-fit Spring Dresses
Dress shopping might just be the hardest type of clothing to shop! There are so many factors from neckline and back coverage to length and sleeves and of course the way the dress hangs. eShakti knew there had to be a better way to shop and make the perfect spring dress for your style preferences.
With eShakti you can browse the hundreds of styles until you find a style that draws your eye. Next, you'll get to customize almost everything to make a dress that is just right for you. Start with the size chart or enter your measurements for a perfect fit. Then, enter your height and customization options including neckline, sleeve type, overall length, and other adjustments that may be available for your dress selection.
I fell in love with their Banded Empire Cotton Knit Dress in Port Wine color, but I knew the neckline wouldn't work for me as I wouldn't feel comfortable with a low v-neck cut. It was a cinch to change the neckline by selecting a high-v cut instead. Most dresses end up landing just wrong on the length, as I'm short. Being able to specify my height and where I wanted the dress to fall pulled the whole look together for a fun and flirty spring dress I feel comfortable in.
Shop this eShakti Spring Dress:
Trail Shoes for the Whole Family
The warmer weather of Spring just begs for time spent outdoors before the heat of summer. Hit the trails and explore the outdoors with waterproof hiking books and shoes from Keen Footwear. With options for the whole family from little to big kid, men and women styles, there is something for everyone.
The Targhee III style supports your ankle and foot without being overly heavyweight. They provide great traction and stability to help you keep your foot along the path. My favorite features is that while being waterproof, they're also breathable and have a built-in natural odor control. The Cleansport NXT odor control feature is also a part of the Big Kids' Hikeport Waterproof hiking shoes, too – crucial for kids shoes!
My favorite Keen style is the adorable Little Kids' Newport H2. Select styles have a glow-in-the-dark bottom that makes these shoes so much fun! They are perfect for wearing in and out of the water and can even be machine washed, as needed. They're easy for young kids to put on themselves and bring comfort and traction so they are ready to play.
Shop these Keen Styles:
Modest Swimwear for the Season
Spring brings on swimsuit shopping and retail stores don't often offer swimming suits with coverage for those of us that don't want to show off every inch of our body. ModLi understands that women may need modest styles to feel confident and show off their natural beauty in any circumstance – beaches included!
ModLi makes it easy to browse modest styles, including modest swimwear, that will let you go from the boardwalk to the beach from and from the pool to the backyard party without having to mess with cover-ups and extra layers in-between. Their Mix & Match swimwear sets include sleeveless, short sleeve, and 3/4 sleeve tops that can be matched with a short skort, midi skort, or long skort to give you the perfect combination for your needs.
Best of all, modest doesn't mean frumpy! There are so many cute patterns that will make you feel incredible and stylish all while feeling confident and comfortable in what you are wearing. I picked out a Sky Blue Hue Adele Swim Set with a midi length skort. The bright colors really fit the spring and summer colors and the floral is right on trend! I also loved the Green Leaf Print Adele Swim Set with a short skort to give me variety and options that would mix and match well.
Featured ModLi Modest Swimsuits Styles:
Timeless Attire for the Kids
The more kids I have, the more I appreciate timeless clothing pieces. Trendy styles come and go, but Dapper + Crown's ageless clothing can be passed down for generations. Perfect for sizes 2T – 6T, your little one will absolutely adorable modeling Dapper + Crown's quality clothing.
I can't even begin to tell you how many compliments I receive when my little girl wears Dapper + Crown's Mackenna dress. It's comfortable, high quality, and perfect for twirling (a must at our house). During the cooler spring days, I can pair it with tights, but when the weather starts to warm up, sandals complete this dress. Plus, what little girl doesn't love a dress with pockets?!
A few other spring favorites include Dapper + Crown's Fiona top (okay, toddlers in peplum shirts are to DIE for) and their Willow Jump-Skirt. Whether you choose to style these two pieces together or wear separately, these pieces are a must this spring. Thanks to Dapper + Crown, my little kids can enjoy timeless pieces for years to come.
Featured Dapper + Crown Styles:
Protective Children's Eyewear for the Sun
As soon as the weather starts to warm up, my kids LIVE outside. Besides protecting their skin, I also want to make sure their eyes are protected. That's why we can't live without our Babiators sunglasses.
Stylish, practical, and made with 100% UVA/UVB protection, Babiators not only protect your little one's eyes, but help them look stylish in the process. My son can't help but grin wearing these Sublime Lime Navigators. Something that I really appreciate about Babiators is how high quality they are! They are flexible, but sturdy enough that I don't have to worry about my toddler breaking them. My kids won't go anywhere without them; they accompany us on our drives, trips to the park, etc. Talk about a fun and stylish spring accessory.
Shop our favorite Babiators:
Makeup Favorites for a Fresh Spring Look
Time to switch from those deep autumn jewel tones to fun and flirty colors for spring. Like these pop of colors as part of the new Insta-Dri line of nail polishes by Sally Hansen. The 3-in-1 formula provides a strong base that can last up to 33% longer wear time with chip resistance and is quick drying. Just a single coat and you're ready to go with great coverage and streak-free shine!
Then, update your makeup routine with the quality and affordable products by Rimmel London. Like their Insta Flawless Fix & Matte setting powder that will control shine and set your foundation for the perfect coverage that lasts all day. There is so much flexibility to get the perfect look with a Magnif'eyes eyeshadow pallete. Use wet to create lines and give definition or dry for layers and defining. The colors are high-shimmer and blendable giving you the perfect finish. Finally, give your brows an impactful look that's easy with a Brow This Way Pomade.
Shop these Makeup Favorites:
Which of these brands are your favorite spring styles?