When your car needs routine maintenance or the occasional repairs, it's hard to juggle those appointments around your busy schedule. It's even more difficult when you have a handful of little ones to manage.
If you have ever taken a toddler with you to a simple oil change appointment, you know how absolutely painful that experience can be! Trying to keep a little one entertained in a small waiting room at a car repair shop is about the worst parenting experience you can have. Right up there with doctor office waiting rooms.
This post is sponsored by YourMechanic. All opinions are my own.

Convenient Car Repairs at Home
YourMechanic is completely changing the way we manage car repairs. When you book your maintenance or repairs with YourMechanic, the mechanic will come to you – to your home or office – to tackle the needed repairs. All mechanics are certified and you can check their work history and even reviews from past customers to ensure you feel comfortable with your mechanic before they arrive.
I had been in to my local repair shop for an oil change and left with a list of repairs my car was due for including a quote from the shop so I could schedule these at my convenience. Instead, I took the assessment to YourMechanic to see how the service would compare. What I was shocked to discover is YourMechanic came in a lot lower than the repair shop for the necessary repairs. My local repair shop quote was $430 and I'd need to drive into their shop and spend half a day waiting on my repair. YourMechanic's quote came back at $350 and I could work from home, play trains with my toddler, eat lunch, fold the laundry… you get the picture.
Instead of losing money by taking time off of work I can multi-task and save money on gas as well with repairs when and where it's most convenient for me. It has completely changed the way I look at car repair and maintenance service!
My Experience with YourMechanic
The mechanic who came to my home was professional, respectful of our home and property, and really a sweet man. Our appointment started in the morning, and went until around noon. By the time the sun started coming out in full force, he popped up a canopy specifically to give my toddler some shade, while we were out checking out what a mechanic does and taking pictures of our experience.
We had our power steering pressure hose replaced along with refilling the power steering fluid. We also needed our front brake pads replaced. YourMechanic was upfront with the quote and is able to provide transparent pricing with the same fair pricing with no need for negotiations or surprise changes in your price once the car is in the shop.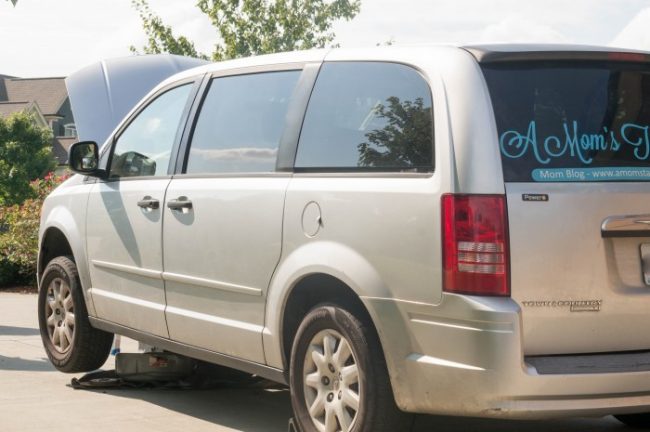 While the mechanic was there, I explained to him a few things I was noticing about my car for him to take a look at while he was under the hood. We had a recent oil change, but our oil change light kept coming on. I was curious if there might be a leak. The mechanic took a look and explained that our oil was seeping, a different problem than an oil leak. He was able to provide an assessment and quote for future service calls to replace the valve cover gasket and flush the brake system. The quote was upfront in pricing for parts and labor which made it easy to understand.
How to Get Car Repairs with YourMechanic
Getting started with YourMechanic is easy! You'll just need to communicate what kind of repairs you'll need – which can be similar to what you tell your mechanic.. "my car is shaking" or if you know the problem, just explain you're needed repair. You'll also need to share the year, make and model of your car to make sure you have the right parts for the quote.
Then, just include your contact information including a zip code so the quote will be based off your local mechanics available. You'll get a quote right away, most of the time immediately, with pricing that won't change! The contracted mechanics have agreed to honor the quotes by YourMechanic and up-front pricing so you won't be surprised when your appointment comes.
If you accept your quote, then it's time to schedule your appointment. YourMechanic can set up appointments 7 days a week between the hours of 7am to 9pm. This allows you to make an appointment outside your normal work hours or on a weekend, whenever it's most convenient for you.
All repair services and parts are covered with a 12-month / 12,000-mile (whichever comes first) warranty. So you can rest assured your problem is solved. Check out all the services YourMechanic can cover including battery, belts, brakes, diagnostics, engine, transmission, A/C, and more!
Head over to YourMechanic.com today to learn more and get your own instant quote to get started with convenient and easy car repairs at your own home, on your own schedule, and with pricing you understand.