This post is sponsored by Butter Braid® brand fundraising. All opinions are my own.
It's back to school time, which also means back to fundraisers. It can be tiring to have the same fundraiser year after year or to support a fundraiser with one of those lame catalogs stuffed full of expensive items you really have no use for. Butter Braid® brand fundraising is celebrating their 25th year and are a unique fundraiser that families will love to help support your cause with a yummy reward when they do!
Easy Pastries – Just thaw & bake!
Butter Braid® pastries are about the easiest breakfast, brunch, side dish or dessert you can serve. They come ready made and assembled and are stored in the freezer. You'll pull the pastry out of the freezer just before you head to bed and let it sit out to thaw and rise overnight. When you wake up, it will be like magic – sitting there ready and waiting for you to bake the Butter Braid® pastry.
If you'd rather serve it as an evening dessert or side, just take a pastry out first thing in the morning and bake that evening. You'll want to allow 10-12 hours for your pastry to thaw and have time to rise before baking.
After baking, you can top with the included white icing or try our almond glaze recipe. It might sound a little strange to use an almond extract, but trust me – it is absolutely amazing and gives the perfect finishing touch to the treat!
Almond Glaze Recipe
Ingredients:
1 cup powdered sugar
Few drops almond extract
Approximately a tablespoon of water, added slowly until a smooth consistency
Directions:
Combine powdered sugar, almond extract, and a little bit of water. Stir until smooth, adding a little more water as needed until a smooth consistency. If it's too thick, add a little more water. If it's too thin, thicken with additional powdered sugar.
Drizzle across your Butter Braid® pastry.
What are Butter Braid® pastries?
I had never heard of the Butter Braid® brand before they reached out to me, but I'm a big sucker for bread and pastries, so I couldn't wait to give them a try. I wasn't disappointed at all!
I had assumed the Butter Braid® pastries would be a flavored bread and was pleasantly surprised to see it comes filled with amazing fillings. We tried their Cherry and Cinnamon flavors and both were so good it was hard to stop eating!
One Butter Braid® pastry easily serves a family or small group. Based on a 2 oz serving per person you can serve 11 people of just one yummy pastry.
We had a hard time deciding in my family which was better – cherry or cinnamon. My boys decided cinnamon was their favorite and my husband and I both liked Cherry best – but they were both amazing! The cinnamon has almost a caramel taste and texture to the filling, but with definitely a cinnamon taste too. They were both so good it was hard not to go back for 2nds (or 3rds!).
We topped our with a homemade Almond glaze, as it's our favorite, but the Butter Braid® pastries come with their own white icing you can use – you don't need anything extra to enjoy this amazing treat!
Butter Braid® pastries are layered with fruit or cheese fillings and of course butter. It's an amazing dessert that's ready to bake and enjoy, you won't have to make dough, add in fillings, or anything else.
Butter Braid® brand fundraising makes pastries in 9 amazing flavors:
Apple
Blueberry Cream Cheese
Cherry
Cinnamon
Cream Cheese
Double Chocolate
Raspberry
Strawberry Cream Cheese
4 Cheese & Herb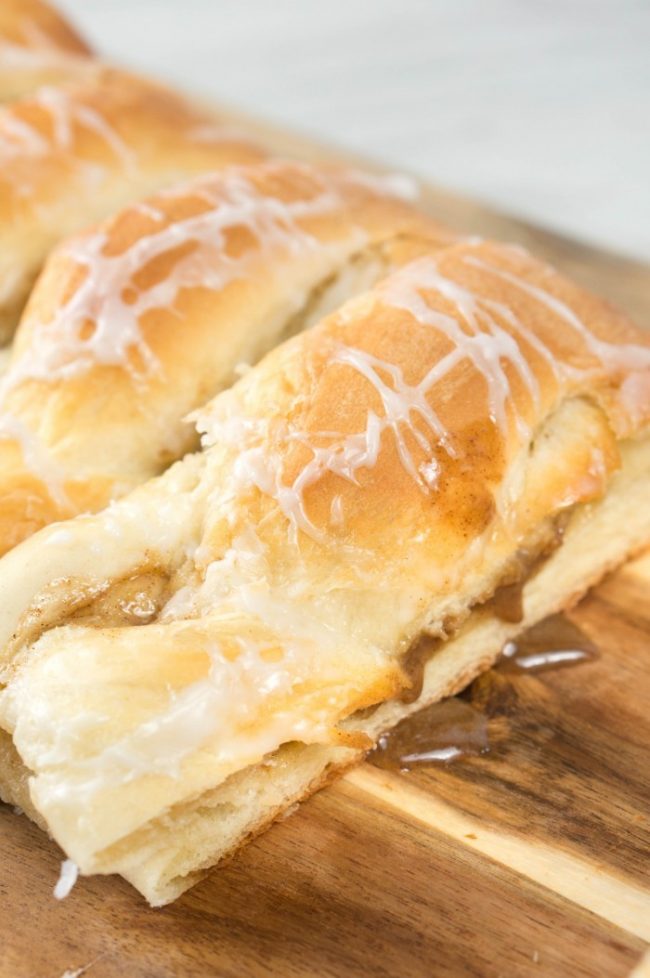 Fundraising Made Easy with Butter Braid® brand fundraising
Butter Braid® pastries are not sold in stores, they are sold exclusively through fundraiser programs to help different groups be able to raise needed funds and bring an amazing product to those supporting the fundraiser.
This is such an amazing product to bring to your groups that may need fundraising help – whether that's a sports team, a school, a small church group, or even an individual or family that needs assistance – you can get started with your own Butter Braid® fundraiser.
To get started, you'll connect with a local dealer to help you with the fundraising process. Because there's just one product to sell, it's not complicated or confusing! There's just one order form where people can select how many Butter Braid® pastries they'd like to purchase and what flavors. The order forms are then submitted back to the local dealer to coordinate the shipment back to your organization or group and then you'll deliver the frozen pastries to those who ordered and be able to make a nice profit margin on each pastry sold.
How might Butter Braid® brand fundraising be able to help you raise funds?