I love shortcut treats that look like you put in a lot of effort, without actually needing the time investment! This Easter bunny snack mix does just that! It's the easiest mix out there to make but looks so cute and looks like you spent a lot of time making up chex mix, dipping pretzels, and tossing it all together. Nope, this is even easier than that! Open a few backs, toss, serve!
Easter Snack Mix
Ingredients:
12 oz bag Dark Chocolate Chex Trail mix
1/2 cup gold covered chocolate eggs
1/2 cup jelly beans
1 package of bunny marshmallow peeps
Mix together Dark Chocolate Chex trail mix, chocolate eggs, and jelly beans together in a large decorative bowl. Break apart the peeps and add them mixed in around the bowl. I love the bright pink bunnies as they add such a pop of color, but you can use any Peeps you have or choose.
Serve the mix or dish it out into individual clear baggies and it will make a perfect party favor or gift to pass out at church or to friends! If you add to a cellophane bag, tie closed with a colorful ribbon and add a tag, if needed, and you're done! So easy!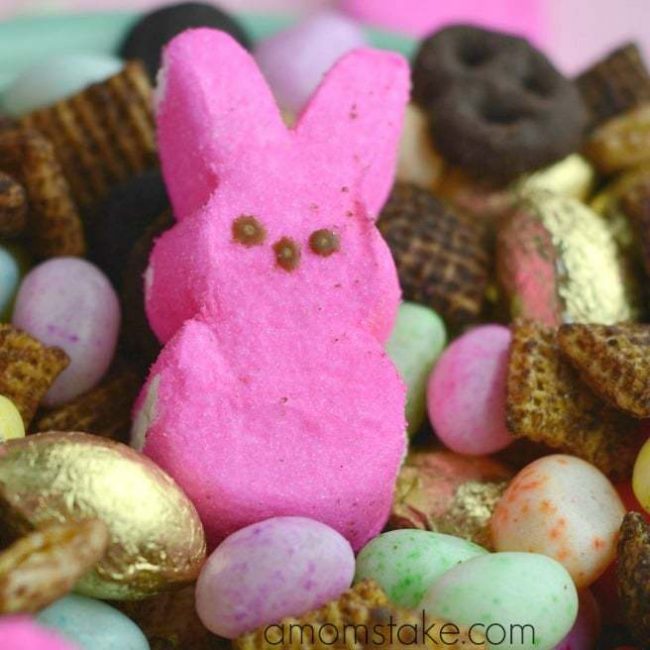 Share some of this yummy, easy Easter bunny snack mix with your friends and loved ones this year! It's such a fun mix that everyone can enjoy. Some of my kiddos will pick out the jelly beans while other grab the peeps and run. I'm always munching on the chex mix! YUM!