The kids love pudding but they especially love when I make this pudding and create Worms In Dirt Pudding for them. I start with this base and add in a few sour gummy worms and perhaps a sprinkle of crushed candy on top for a fun and unique dessert that is both tasty and appealing to the kids.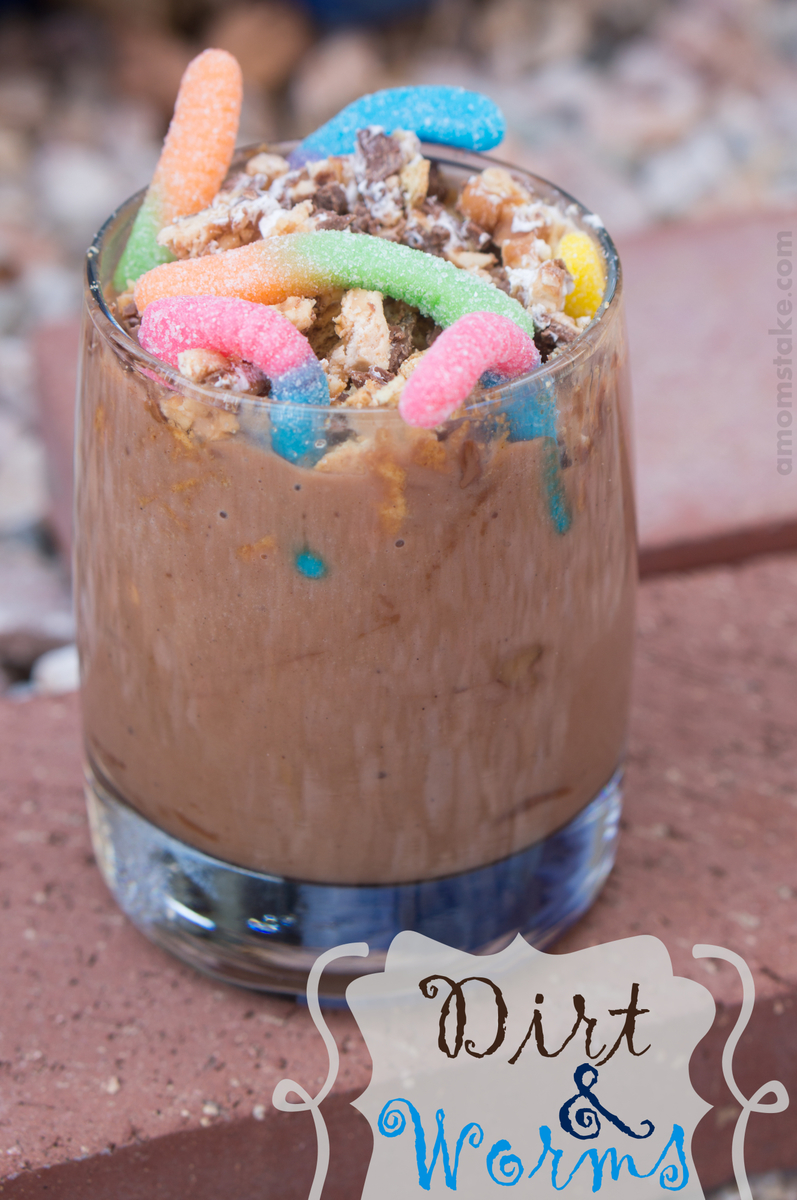 We started making our Dirt & Worms pudding treat with our favorite candy bar, rather then crushed oreos. It adds so much more flavor and texture to the "dirt". We have a bit of a debate in our house of which candy bar is best, but no big deal – everyone get their favorite.
Dirt & Worms Pudding
Ingredients:
You will start by making pudding. You can start with our Homemade Chocolate Pudding recipe or if you're short on time, make a boxed mix pudding. You're pudding will need a bit of time to cool and set, so keep that in mind when getting started.
Next, coarsely chopping up your favorite chocolate based candy bar. We frequently use Milky Way, Snickers, and 3 Musketeers – favorites in our home. Kit Kat and Reese's would be really yummy too. You'll use about a half a candy bar or 1-2 mini candy bars per pudding cup, depending on your serving size.
Scoop chocolate pudding into your individual cups. Keep in mind, this is a rich dessert and your guests won't need a huge portion. Top with your "dirt" which is your candy bar crumbles. You can turn this step into a diy treat station by laying out a bunch of options (including the worms) and letting your guests take over their dessert and make their own. Top with sour worms pressing the worms in at the edges of your cups and letting them stick out from the pudding and the dirt. Pressing them down at the edges of your cup will make your worms visible even from the side, which the kids always love.
This is perfect for a surprise treat this weekend or the ideal dessert for your next birthday party with the kids this is not only a delicious homemade pudding adults would love eating but a fun kids treat as well. Put this treat in a fun glass to make the experience that much more fun!
What candy bar would you add to your Dirt & Worms Pudding?