Gold is all the rage right now for home decor. But that doesn't mean you have to splurge on something expensive to update your space. Instead, add a hint of sparkle and gold to your decor with this DIY gold glitter chevron vase tutorial! It is so easy to add glitter to your vase and make something completely unique for your home!
Glitter Chevron Vase
Supplies:
Clear Vase
Chevron border
Sponge Brush
Gold Glitter
Directions:
Design and print out a chevron border using a Silhouette Cameo or Cricut vinyl cutter. You can also download my zigzag image file. Just click the link to grab and save the file and load it into your Silhouette. If you don't have a vinyl cutter, you could also draw and then cut out your design on contact paper.
Take your clear vase and apply your chevron border to the middle of the vase covering the entire vase. I got my vase from the $0.99 store. Press down firmly to make sure there are no bubbles at the edges so you get a nice clean line of glitter.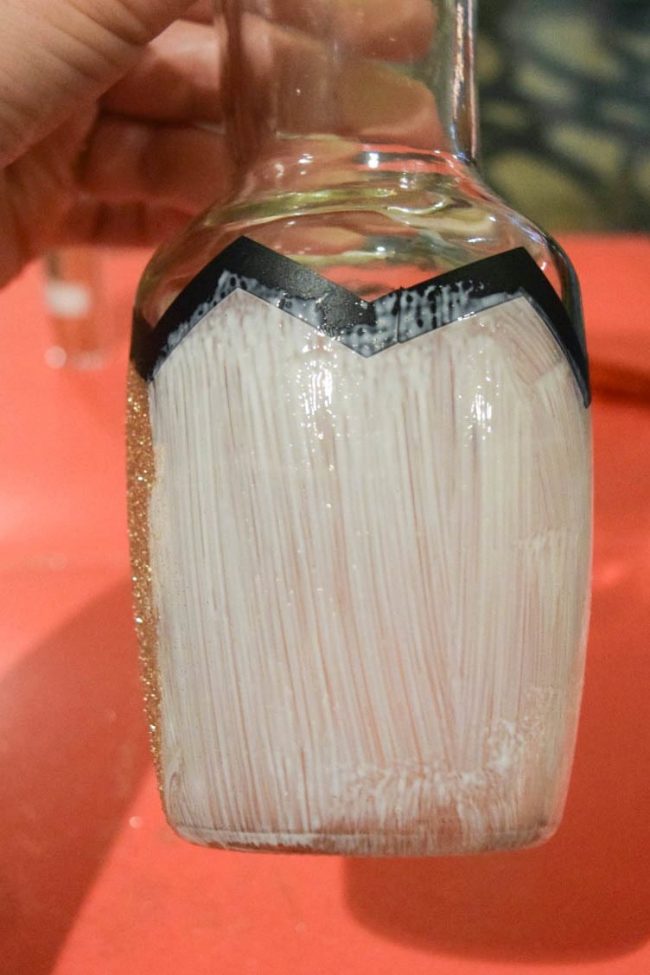 Once it's been applied apply a thin layer of modge podge around the entire bottom portion of your vase. Pour your gold glitter all over the modge podge. Shake off the excess and you may have to go back over to make sure all spots are covered.
Once you're finished with the gold glitter you will remove the vinyl border while the glitter and glue is still wet. Allow to dry overnight and the next morning fill with a fresh bouquet of gorgeous flowers or just leave empty and let your guests awe in the beautiful gold glitter chevron home décor piece.
This glitter chevron vase would be perfect displayed on your mantle or a decorative shelf. Or, of course, as a table centerpiece. How pretty would this be as a wedding or party centerpiece, too! There are so many different ways you can use this one design idea for your projects.
Where would you display your gold glitter vase?