We have already been watching our favorite 25 Christmas movies as we countdown to the holidays. We have gathered as a family to put on a favorite Christmas film, only do ponder, wonder, search, and try to figure out which film to watch that night. It may be Christmas Eve, but it's not too late to start a Christmas movie marathon! Here are the Top 25 Christmas Movies to help you countdown to the holidays!
This post may contain affiliate links that help support this site.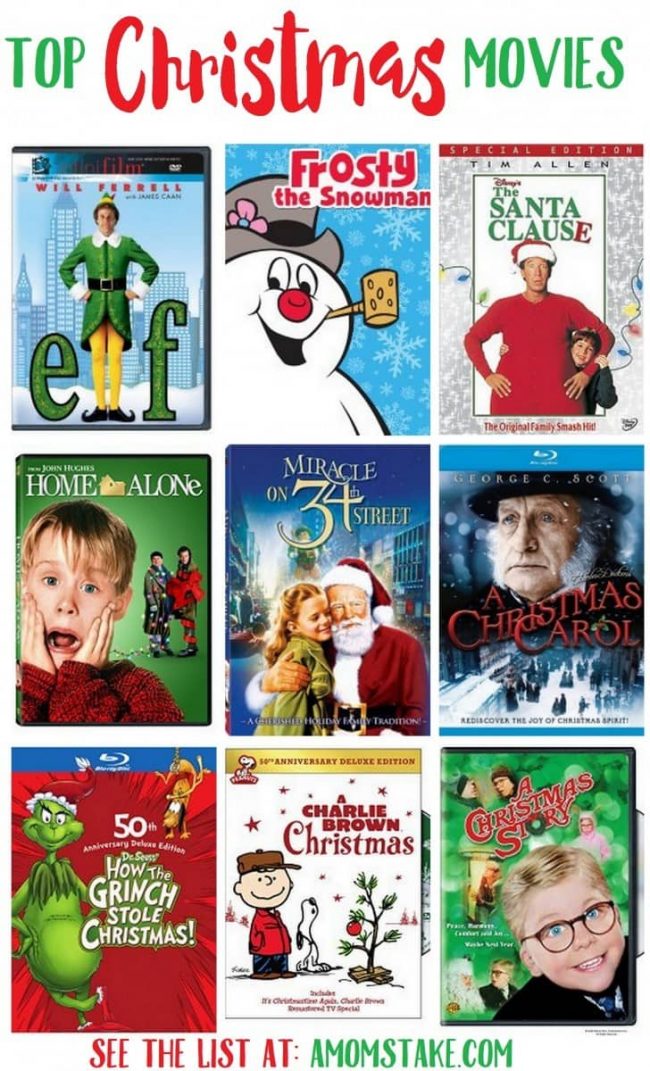 Top 25 Christmas Movies
These are ordered to mix up the style (animated, classics, chick flicks, and family favorites) throughout the season leading up to Christmas day! They're not ranked by must-watch status, rather the order in which to watch these top 25 Christmas movies to give you one movie to watch every day in December leading up to Christmas!
1. Elf – This comedy is our favorite to kick off the holiday season.
2. Frosty the Snowman – Our favorite of the classic animated Christmas movies!
3. The Santa Clause – Who doesn't love the wonder of where "Santa" comes from?
4. Home Alone – Our family can never make it to Christmas without watching this favorite!
5. Miracle on 34th Street – Relive the miracles of Christmas!
6. A Christmas Carol – There are many versions of the tale, pick your favorite or mix it up from year to year. Our favorite is the 1984 version.
7. The Year Without a Santa Claus – What would December be like without Santa? A fun film for the whole family.
8. The Polar Express – Take the journey to the North Pole each Christmas!
9. National Lampoon's Christmas Vacation – We've all seen this one too many times to count, but it's still going on the Christmas movie countdown every year!
10. It's a Wonderful Life – This movie is at the heart of Christmas, a true classic.
11. Jack Frost – It would be so cool to be a snowman, another flick that is perfect to watch with the family.
12. I'll Be Home for Christmas – It's a movie that will kid the kids laughing as JTT attempts to make his way home before Christmas.
13. Prancer – A less common Christmas film, but still a good one as a classic!
14. Jingle All the Way – Our family loves this film of chasing for the "hot" toy of the season.
15. Rudolph the Red-Nosed Reindeer – If there's one Christmas character that really shines, it's Rudolph! (pun intended)
16. The Muppet's Christmas Carol or Mickey's Christmas Carol – Yes, we really do have two versions of the A Christmas Carol story on our Top Christmas Movies list! It's good enough to watch two versions – one kid focused and one for adults!
17. The Nutcracker or Nutcracker: The Motion Picture – Pick your favorite version, and watch the ballet from home.
18. Dr Seuss' How The Grinch Stole Christmas – Whether you choose the animated or the motion picture, this is a classic story that will warm your heart!
19. Santa Clause is Coming to Town – A great claymation to usher in the week before Christmas.
20. A Christmas Story – An absolute classic, that may have you wishing for a BB Gun on your wishlist, too.
21. Christmas With the Kranks – Have you ever been tempted to cancel Christmas? This movie is for you!
22. The Nightmare Before Christmas – You might be tricked into thinking this is a Halloween movie, but it's really falls best under Christmas!
23. Home Alone 2 – We love this one almost as much as the first!
24. The Holiday – A perfect choice for popping in as you wrap presents, stuff stockings, or just wait for the kids to fall asleep!
25. A Charlie Brown Christmas – We love watching Charlie Brown and the gang on Christmas Afternoon as a great reminder of the true meaning of Christmas.
8 Runner-up Top Christmas Movies to Watch:
Want another fun way to countdown the Holidays and mix up your watch list? Try our Christmas Movies Bingo to easily track your Christmas movies countdown!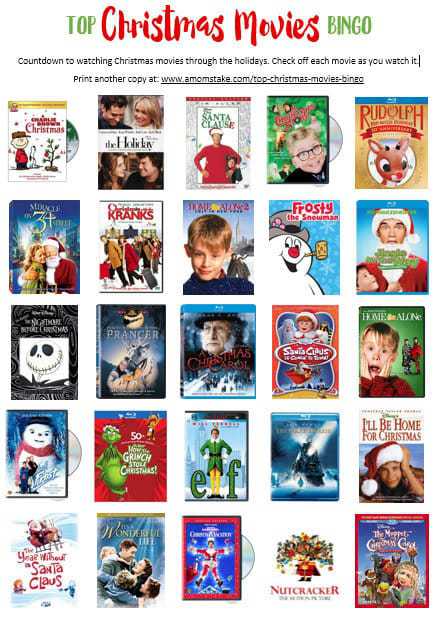 Which of these Christmas Movies are your family favorites?