My little toddler is completely smitten with all things related to sports. His favorite daily activities include hitting balls (or anything for that matter) with his plastic bat, jumping on his trampoline while shooting basketballs into his hoop, tossing balls around the backyard (and AT the dog), balancing on his football while watching his shows, etc.
Not only does this kid enjoy playing sports, but he also loves to sit and watch a football game with his dad. Using this love for sports, I try to encourage creative play throughout the day. Do you have a little sports enthusiast in your home? Encourage creative play with these 5 exciting sports themed activities.
I received samples and compensation in exchange for this post. All opinions are my own.
Creative Play for the Ultimate Sports Lover
1. OYO Sports Minifigures: Does your loved one have a favorite sports team? How about favorite athlete? Using OYO Sports Minifigures, Encourage imaginative play by creating and reenacting plays from your favorite sports teams and players.
2. Bowling: Using 10 paper cups or tin cans, arrange cups in a "bowling pin" type of pattern. Take turns rolling a ball from across the room and see how many "pins" you are able to knock down. To add a little educational fun, practice counting the number of pins knocked to the ground.
3. Human Horseshoes: Have one player stand in the middle of a room (like a nail in the game of horseshoes). Take turns trying to toss hula-hoops around that player's body. To avoid any potential injury (if playing with a younger crowd) use a coat rack, stool, or something tall and linear as your "horseshoe nail." This is a great activity to help young kids develop motor skills and coordination.
4. Balloon Volleyball: Blow up a balloon and alternate turns hitting the balloon into the air. Count to see how long you can keep it in the air without letting it fall to the ground.
5. Bin Basketball: Rummage through your house and gather different sized bins (toy bins, laundry baskets, large bowls, etc). Spread bins around the room. Standing in a designated spot, practicing throwing balls into the various bins. This is a great spacial activity for younger kids; plus, it allows for opportunity to talk about various colors and shapes of the bins and balls.
Let's just say that my son (and hubby) have WAY too much fun playing with their OYO Sports Minifigures. What makes these figures so unique are their realistic characteristics: bendable knees, rotation forearms, and the ability to hold a ball, bat, or water bottle. Customizing and building these characters is just half of the fun; my son loves changing their hats, helmets, etc.
The quality and sturdiness of each Minifigure is parallel to none. After customizing these characters to liking, it's time to get some creative juices flowing. Because my husband is a 49ers fan, this Endzone Set provides the perfect playground for a little ball. Here's a little peak into our playtime fun…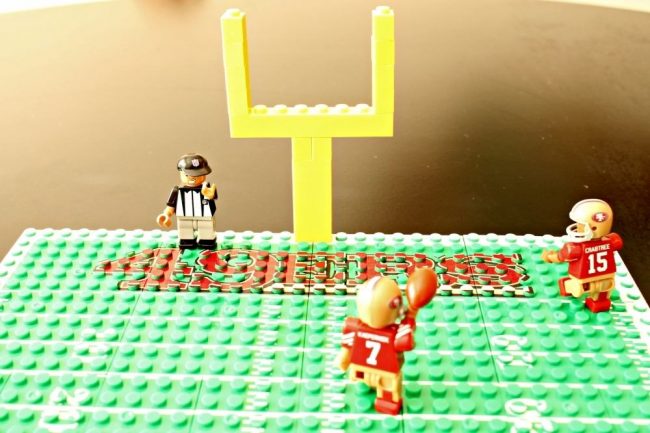 "Colin Kaepernick takes the snap for the 49ers 3rd and goal on the 7. He drops back for a pass, Crabtree is open on the slant, fires it in… Touchdown San Fransisco!"
As you can see, OYO Minifigures are perfect for the young and the old – the play possibilities are endless. With the Holiday season rapidly approaching, OYO Minifigures ($12.99) and Endzone Set ($29.99) provide excellent gift ideas for the sports lover in your life. Be sure to visit OYO Sports website and browse your favorite hockey, baseball, and football players.