ClosetMaid has a full range of organizational products that bring you solutions for your family room, bedrooms, kitchens, home office, laundry rooms, and even your garage! They offer pieces that are easy to install yourself with affordable prices.
As you are preparing for Back to School this year, it's time to take a step to get organized as well to help keep the backpack and shoe clutter contained and out of the way! Check out a few of their great products that can help!
The ClosetMaid Activity Table and Fabric Drawers combine for a perfect setup for crafts, play, and learning with young children! My young boys have enjoying setting up dominoes, coloring, craft time, reading, and other fun educational learning activities at the activity table through the end of summer. This table is a perfect height and size to accommodate several children and lots of space for sprawling out a variety of different activities.
It is a VERY sturdy table and the design is perfect for keeping things organized and tidy in the storage cubical. The table is made with a laminate wood to keep the price very affordable however the top is easily stained. My children already got crayon marks and snack grease stains that show on the top from muffins.
The Fabric Drawers are the perfect addition to the activity table with really nice color options, two nice quality reinforced handles, and two convenient sizes – medium and large. These fabric bins fit perfectly inside the cubeicals with the large bins going completely to the top of the storage square and the medium bins filling up half the height of the cube giving very easy access to the toys or items stored inside. The bins have made cleanup much easier and given a home to a variety of items at the table making playtime and learning easy and fun!
The Mop and Broom Holder has given us a great solution for storing backpacks and coats, as well as cleaning tools as well in our hall closet. As our home has one main hall closet, everything goes right there in the same closet.
This was the perfect solution to corral our brooms and mop along with giving us a nice place to store back to school items within easy reach for my 5 year old that isn't in the way or cluttering up the entryway. Installing the Mop and Broom Holder was simple and it has worked great for giving us a designated spot in the closet for storage that helps us keep the hall closet more organized.
Another great item from ClosetMaid that has helped us get organized and ready for back to school is their 25 Shoe Cube Organizer! As a family of 5, shoes always seem to be EVERYWHERE! However, finding shoes and matches when it is time to head out the door seems to be an impossible task.
This Shoe Organizer has been awesome for helping to keep shoes contained and organized so my kids know right where to put their shoes as well as where to find them when we are ready to go. I gave each of us one row with 5 cubes which lets my kids each have up to 5 pairs of shoes and my husband and I fit about 3 pairs across our rows.
With everyone knowing right where their row it finding shoes really has become so much easier! This will definitely help us make our way out the door much faster in the mornings as we head off to school! We added two of the Large Fabric Bins on top to corral sunglasses, scarves, hats, mail, or any other miscellaneous items we need right in easy reach as we head out the door!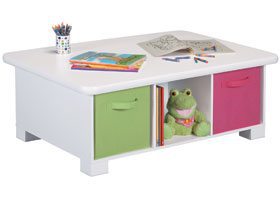 For even more great organization and back to school items, be sure to visit http://www.closetmaid.com/. You can find ClosetMaid products available for purchase at a variety of retailers including Lowes, Target, Home Depot, Walmart and Amazon.
Disclosure: I received ClosetMaid samples as shown above in exchange for my honest review. I was not compensated in any other manner. The opinions expressed above are my own and any claims should be verified on the sponsor's site.