She'll be delighted with any of these thoughtful Christmas gift ideas for mom! There are perfect gifts for all the women in your life here in this helpful holiday shopping guide. It can be extra hard to know what to gift to moms that will help them feel loved, appreciated, and spoiled this holiday season.
We've got you covered with gift ideas for women of all stages of life! There are gifts here for the new mom that needs some self-care and a fabulous bag to call her own to the older moms that don't mind getting down into the dirt and putting in some hard work.
We received samples in exchange for inclusion this post. Affiliate links may be included below. All opinions are our own.
Thoughtful Christmas Gift Ideas for Mom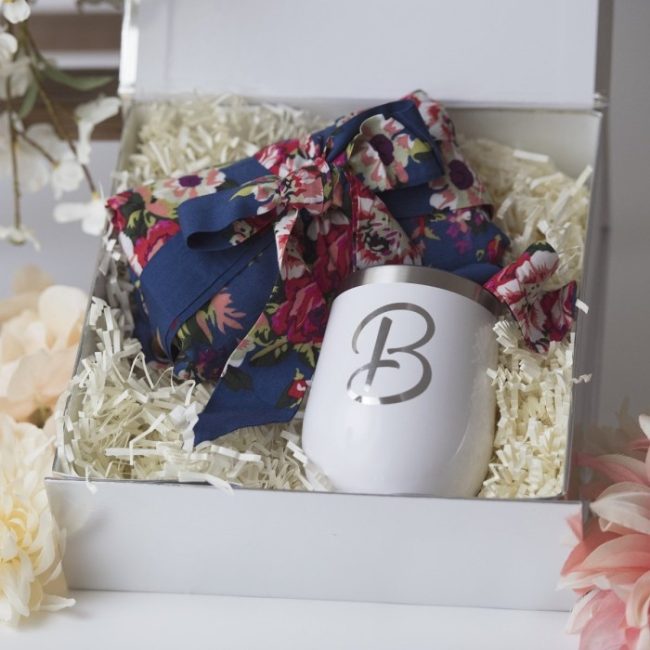 She'll adore a personalized gift that shows you were thinking specifically of her, and Groovy Girl Gifts makes that easy! Start with their personalized gift sets for women that range from a personalized tumbler to a relaxation kit just for her! I adore the Sip in Style Gift Set which includes a luxurious robe and a personalized tumbler that will warm her with hot cocoa and coffee and keep her hydrated in the summer!
Shop their darling women's jewelry selections for a meaningful gift she'll love to wear. One of my personal favorite picks is the By My Side Tote that has a gorgeous script font up the side of a richly colored tote bag that's perfect for toting library books, filling with gym accessories, or carting her kids gear. You can browse this helpful guide to find the best personalized gifts for her with so many unique finds!
Busy moms on the go will love an annual gift subscription to Audible! They offer the largest selection of audiobooks anywhere, including titles exclusively available with Audible! I've been an Audible listener for years now and I love getting lost in a good book while I tackle dishes, run errands, or go for a walk. It's the perfect way to destress and something that will give to her all year long!
Audible has an ever growing library of titles to love, and one of our favorite picks for the season is The Christmas Pig, a full cast performance by the beloved author J.K. Rowling. It will be a fun listen for the entire family that will bring in the spirit of Christmas! When she's only got a few minutes, a great title to turn to is My Body, My Podcast. It's a deep dive into all things moms wish they had someone to talk to about, in an engaging, funny, and approachable way!
Women and moms on the go will love having everything easy to carry hands free and without worrying about it slipping off their shoulders with a Lug Life Jumper Backpack! It comes in assortment of gorgeous prints with a coordinating print on the interior of the bag and all the thoughtful features she'll need. The front soft lined cargo pocket is perfect to hold her phone for easy access and easy outside access pockets for a water bottle or umbrella!
I am obsessed with their Nap Sac Blanket & Pillow travel set! It's perfect sized to keep on your car and pull out when you get cold or to take along on a trip! The included zipper case transforms with a blow up pillow insert giving you both (or either one as needed) in one smart set. Shop Lug Life and use the promo code JANEL20 to take 20% off your order!
Fill her stocking with a no-guilt treat – perfect for the mom with a sweet tooth! Tidbits are a low calorie snack in a wide variety of fun and unique flavors! Start with a classic like chocolate, vanilla, or strawberry. Then try one of their specialty flavors including cappuccino, cookies 'n cream, and caramel. They even have 3 new fun and unique flavors of cotton candy, birthday cake, and mint chocolate!
The Tidbits meringue whips have less than 2 calories per meringue cookie and are cholesterol free! They are soy free, dairy free, sugar free, and gluten free! They also use no high fructose corn syrup and are non GMO. You can enjoy their regular, diabetic, or keto line to fit in with any dietary needs, too. Just pop a Tidbits into your mouth and they'll melt away with a sweet flavor to meet your cravings.
Get the perfect, personalized planner that fits your unique needs with So Typical Me. Star your personalized planner with your choice of A5 or A6 size that are perfect for toting with your or keeping on your nightstand for planning your week ahead. You can customize the planner start month and then dive right in with all the fun customizations. So Typical Me has a curated collection of art for your covers and background or upload a personalized photo. You can select your spiral binding and rubber band colors and choose from beautifully designed layouts.
When your base selections picked out, you can then add modules that fit your lifestyle. Want to keep track of your exercise, meal planning, water intake, weather, mood, to-do lists — you name it! Just pick what features to add to your daily, weekly, or annual planning. I love that I can add a water tracker to every day – automatically! And then add a weekly meal planner in a module on the week page. Whatever planning works best for you, So Typical Me makes it fun and easy to get planning!
What woman doesn't like to doll herself up and go out on the town? Give her something that will help her look and feel like the gem she is. This year, spoil her with the City Chic Fall Color Collection from Merle Norman Cosmetics. Their City Chic Fall Color Collection has everything she'll need to look and feel her best. You can gift her the whole collection, or pick out some of her favorites. Either way, she's sure to love it.
The Merle Norman Cosmetics City Chic Fall Color Collection has all of the beautiful colors of fall. Their Limited Edition, City Chic Shadow Pallet has 10 on-trend shades to complement and emphasize your eye color. The collection also includes three hydrating, rich-colored lipsticks. Each of their lipsticks comes in a beautiful fall trend color that will make her lips pop. Don't forget to add on the City Chic check color, mascara, brow pencil, or any of Merle Norman Cosmetics' other luxurious products.
You can never go wrong with a candle as a gift, and PartyLite has a beautiful assortment of candles you know she will love! Start with the collection of 3-Wick Jar Candles for a room filling statement candle that will last for 25-45 hours of burn time. You'll find a wide assortment of scents and styles to find the perfect one for her! I really appreciate that each candle details the scent profile including how intense the scent is and with indicators to help you know if it's truly the one she will love!
I love candles and a light scent, but don't want something too overpowering but instead prefer a soft fragrance that doesn't feel overdone. For me, the Christmas Morning 3-Wick Candle is the perfect profile for being both memorable, but still moderate and with fragrance that really encompasses my feelings of Christmas! It's described as being filled with scents of balsam fir, yummy brown sugar shortbread, and a yule log flickering in the hearth. Pair a jar candle with this gorgeous Pine Cone Candle Jar Holder and it will make the perfect gift for the holiday season!
Give her the ultimate luxury of a good night's sleep! That's all us moms really crave, right? We love PeachSkinSheets because they are soft and comfortable, keep up great in the wash, and yet don't make us hot overnight! Their unique fabric helps keep you cool and wicks away any sweat or moisture. They're made with a deep pocket design that makes it easy to make the bed, no matter the mattress you choose. We've been using our PeachSkinSheets for over a year and they still look like new! No piling, color fading, or rips and they're even softer than the first time we used them!
You can pick your favorite color from over 20 different colors including this rich Mariner Blue Sheet Set that is a perfect dark neutral that's right on trend! Each sheet set includes 1 deep pocket fitted sheet, 1 flat top sheet, and 2 pillowcases (1 pillowcase for twin size). You can even order sheets for a split king mattress that gives you two separate deep pocket fitted sheets and one flat sheet to fit the trending adjustable mattress configuration! Whatever size, style, and color you choose, you won't be disappointed with PeachSkinSheets!
For the women that love to be out working in the garden, there's no better gift than high-quality and durable Digz gardening gloves! Whether she needs something thin and lightweight, heavy duty, or ready for wet projects they have something for every job! The Digz Duck Canvas are a great choice for the busy multi-tasker. They are thoughtfully designed to be touchscreen compatible and are fast and easy to slip on and off as needed. They will hold up to all the heavy duty tasks with a the durable duck canvas fabric that break-ins with wear but also dries quickly to keep her comfortable.
Their Signature Hi-Dex Glove gives you the dexterity that feels like you're glove free but with all around protection including reinforced leather on the palm, fingers, and thumb. I love the pretty fabric on the back that is a soft stretchable fabric that makes these gloves so comfortable! Plus, they're easy to get off and on with an adjustable Velcro fit at the wrist. They're even machine washable so they're easy to keep fresh and clean for your next outdoor project!
She will be able to unwind, multitask, or simply tune out the noisy chaos when the kids walk through the door with the help of iLive Truly Wire-Free Earbuds! These earbuds are the perfect solution to go with her anywhere. They are truly wire-free with a portable recharging case that can slip into her pocket and recharge the earbuds when not in use. Then, she will be able to pop in the earbuds and use Bluetooth to connect to her device and stream the latest podcast, audiobook, listen to her favorite TV shows all way continuing on with her busy day.
The Truly Wire-Free Earbuds are perfect for using when I'm cleaning, going for a walk, or when I just need to let the kids be kids with all their noise. Since they have active noise canceling, it helps to stay focused on what you actually want to listen to while filtering out any exterior noise. They even work with Siri and Google Assistant to help her with tasks like skipping to the next song or adjusting the volume! iLive has a variety of earbuds and headphones to choose from that are perfect for her this holiday season!
Gift her a sentimental gift that will last a lifetime from The Vintage Pearl collection of personalized jewelry and keepsakes! My favorite find is their new collection of hand stamped pewter ornaments like this Our Family Wreath Ornament! I adore the thoughtful velvet ribbon and freshwater pearl that really take this ornament to the next level! Of course, you will be able to personalize your ornament with up to 50 characters to add family member names or whatever best suits your group!
Another favorite that's perfect for a best friend, coworker, daughter-in-law, you name it is their darling Chunky Initial Keychain! You personalize it by choosing a letter charm and then your choice of text, up to 12 characters. It's perfect for inscribing their name or a theme word for the year ahead! See their Holiday Gift Guide to find a wide selection of perfect gifts for her this year!
Customize the feeling and mood of your space with the help of WiZ Smart Home Lighting. It's as easy as changing a light bulb to upgrade your home control with the use of your smart home assistant including Google, Siri, and Alexa or directly with the WiZ app. It makes adjusting color, hues, setting schedules, and more a cinch! Simply pair your new smart light bulbs directly with your WiFi (no hub needed!) and you'll be ready to control your lighting.
I love how easy WiZ makes it to set up schedules or connect with other devices to automate process. It works seamlessly with IFTTT to setup automations such as if your security cameras sense motion you can setup your WiZ lights to automatically turn on in response. My favorite feature, though, is the Dynamic lighting modes that are preset to different modes such as Christmas, candlelight, or even a Party mode that fades through a series of colors! A perfect holiday gift is the WiZ LED Strip Light Starter Kit that is perfect for lighting a kitchen, bedroom, behind a TV, or wherever you're looking for custom lighting!
Give the woman who loves to be in the kitchen Wilton's new Diamond-Infused line of bakeware! The Diamond-Infused Navy Mega Cookie Sheet is a perfect set to get her started! It includes a large dishwasher safe cookie sheet with wide curved handles that make it easy to get in and out of the oven. It's paired with a gold cooling grid rack. They are stunning together and the cooling rack nests inside of the cookie sheet for easier storage!
Or, she'll love baking for the holidays with the Diamond-Infused Navy Blue Muffin and Cupcake Pan. It comes with an included secure locking cover with a handle so it will be easy to take treats to events to share! The Diamond-Infused line includes a tough non-stick coating that is durable and makes clean-up a breeze. It can be used even with metal utensils and still look beautiful for years to come. In fact, it's even covered by a 10-year limited warranty!
Shop this perfect list of good Christmas Gift Ideas for Kids to get all your holiday shopping done quickly and easily!
Which of these Christmas Gift Ideas for Mom did you love best? Share your additional ideas to gift to mom this holiday season in the comments!