You've been searching for good Christmas Gift Ideas for kids (and even some ideas for those hard to shop for teens) and you've come to the right spot! Here we've compiled a list of must-have and favorite Christmas gifts for boys and girls of all ages!
You'll find so many good kids gifts for Christmas – like must-have holiday books to kick off the season, fun games for the whole family, building toys, tech gifts, and even a gift for the kids that have literally everything already!
We received samples in exchange for inclusion this post. Affiliate links may be included below. All opinions are our own.
Good Christmas Gift Ideas for Kids
One of our favorite holiday traditions is reading Christmas books together! Start off the holidays with the gift of beautiful and meaningful holiday books by Candlewick Press. I adore the beautiful artwork and sweet telling of Pick a Pine Tree. It goes through all the steps the family takes to pick out a tree, bring it home, dress it all up, where it ultimately becomes a Christmas tree (and not just a pine tree anymore!) It's perfect for reading together before setting up your own Christmas tree.
You can never go wrong by choosing a classic Christmas tale like 'Twas the Night Before Christmas. This book will become a treasured family heirloom you'll want to share with your children and the generations to come! And, when you just want to be a little silly together and have some fun, your crew will love Where's Waldo? Santa Spotlight Search! It comes with a double-sided wand with 4 different spotlights to use as you slip between the page and a dark screen and watch as the spotlight magically reveals the scene as you search for a variety of different Santa's and
Have a blast playing Mario Party Superstars together on the Nintendo Switch as a family with 100 hilarious and over-the-top minigames! There are a ton of ways to play – like choose a free play to pick your favorite minigames or trio challenge where you play 1 vs 3 games and have to win 5 times in a row to win, there's even a daily challenge minigame! You can explore all the fun minigames included by browsing all the game categories such as coin-based games, sports and puzzle games, 2 vs 2, and others.
You'll be able to play on favorite classic game boards from Nintendo 64 now available in Mario Party Superstars including Horror Land, Yoshi's Tropical Island, Peach's Birthday Cake, and more! Then, choose your favorite character to play as with 10 favorite characters included! Pick from Donkey Kong, Wario, Yoshi, and more! No matter which mode or challenge you play, everyone is sure to have a blast! You can connect and play locally on the same system, connect separate systems, or play online for a variety of ways to play!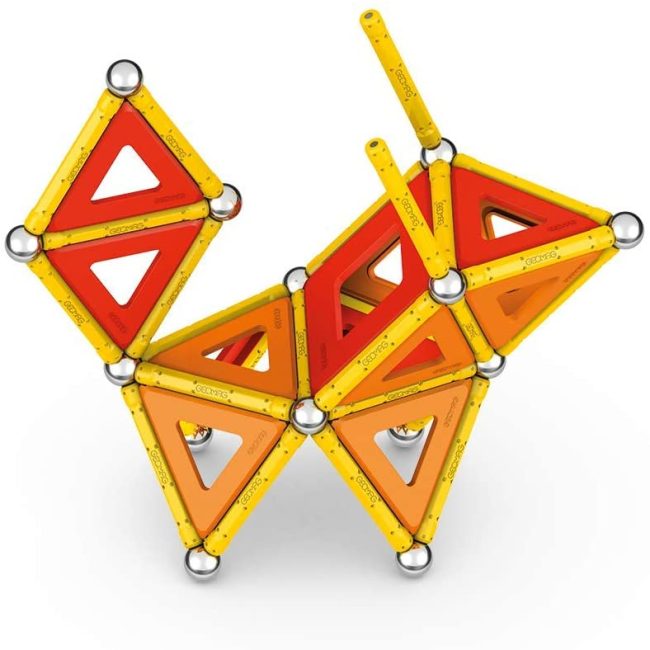 The kids will be drawn towards the imaginative open play of magnets, rods, and panels with Geomag's Classic Sets. In this 78-piece set, you can combine the 20 magnetic metallic balls with the 28 yellow magnetic rods to create a variety of configurations and designs. Then, slide panels into place while building to help your designs come to life! The set includes a variety of triangle, square, and even pentagon-shaped panels to help in crafting a masterpiece!
You can find a variety of fun magnetic construction sets from Geomag that meet your budget and ages! I'm loving this 91-piece Geomag COLOR set that includes 2 shades of green and 2 shades of blue rods that combine to make really mesmerizing designs that use color in such a fun way! My boys LOVE to play with Geomag magnetic building sets and are always showing off what they've come up with. They're even fun for adults, and I've joined in on playing with them too!
Get your kids active and playing together with Creative Brainworks Bean Bag Bucketz. This is a twist on the classic cornhole and ladder toss with a challenging bean bag toss with varied point buckets. It's easy to set up and adjust and includes adorable mini bean bags that are perfect for tossing. Then, just mark a perimeter line and form teams or 1 vs 1. You can walk around the Bean Bag Bucketz as long as you stay behind the agreed distance mark to cast your perfect toss. Go for the high point value top bucket or aim for lower easier to collect buckets and outscore the other player to win!
We have had a blast playing with our Bean Bag Bucketz! We played a tournament-style competition and had all ages joining in on the fun. It's fun and easy to learn, but with lots of skill to practice on getting that perfect arch that lands the bean bag right where you want it. They have a couple of different colors and a smaller tabletop B3 Blitz game as well as classic cornhole, so check out all the fun options at Bean Bag Bucketz.
Who wouldn't have fun building and exploring with Techno Gears Marble Mania Extreme GLO marble track set by The Learning Journey? This light-up marble run is nearly 29″ tall and spirals the marbles down through a variety of spins, tunnels, a funnel, and more! It uses 2 AA batteries to power up the corkscrew lift that brings the marbles on an endless loop while your kids watch enthralled! We love the light-up blocks that add to the excitement and fun.
You can mix-and-match and let the kids come up with their own marble runs, which is really neat! Pair the Extreme GLO set with the Techno Gears Marble Mania Zoomerang 2.0 to add more fun elements to the play. You can have two different starting points and let the marbles race down the track in competition or switch out moves from one set to the other for a unique marble path. We also adore The Learning Journey's Glow in the Dark! Pirate Ship Puzzle! The large-sized puzzle pieces are easy for young children to put together and it's fun to assemble and then watch it transform when the lights go out!
Have fun with a family game night with some of our favorite Christmas Gift picks from Regal Games! Kids LOVE playing with dice, and in Velocity 2-4 players will roll as fast as they can to try to get all their dice matching before anyone else! There are no complicated rules but the fun and chaos ensue as soon as the starter shouts "We're Off!" Another fun and zany game for families is ScorZo that plays like a rummy game with sets of 3 runs or sets scoring and scoring all the cards you didn't match. It plays with up to 6 players and with ages 8+ so it's great for families to enjoy!
You can't go wrong with a classic like this set of Double 12 Mexican Train Dominoes. It includes 91 double tile dominoes plus 4 metal trains and a wooden hub that makes it easy to play Mexican Train or your own favorite domino game! I love that dominoes can include a variety of ages from your younger children all the way up to adding grandma and grandpa into the play! You can play with up to 8 players!
In this ever-increasingly digital world, help your kids stay connected to the tech they love with iClever wired or wireless kids headphones! A great choice is their BTH12 Over Ear Kids Bluetooth Headphones with a comfortable fit that doesn't rest pressure on their ears. They feature a fun colorful LED light strip that can be switched between revolving, breathing, quick flash, or slow flash as it cycles through a range of colors! They're perfect for travel by helping to block out exterior noises and with a 94dB volume-limiting that's mindful of loud exterior noises while still being safe.
The TransNova Bluetooth Headphones come with removable designs that can be swapped out with alternate designs that light up with RGB colors! Parents will appreciate that they have built-in volume-limiting settings for 74/85/94dB to keep their hearing safe. In Bluetooth wireless mode, they can last for 12 hours with lights or up to 45 hours of playtime with the lights off giving flexibility and a lot of use time between charges! Or, they can use the headphones in wired mode with no charge needed! Head over to Amazon to shop all iClever Kids Headphones.
They will spend hours building and then playing with LEGO. There's a reason LEGO building sets top Christmas wish lists year after year, this beloved classic toy is engaging and fun with themes for every interest! We're loving the Harry Potter Hogsmeade Village Visit set that includes Honeydukes candy store and The Three Broomsticks pub plus 7 Minifigures giving endless ways to roleplay. This set marks the 20th year of LEGO Harry Potter sets and features an exclusive golden Ron Weasley Minifigure to celebrate!
Your child will love counting down to the holidays with a LEGO Harry Potter Advent Calendar! It includes 24 gifts with one punch open box per day starting on December 1st! It's even cleverly designed as a playmat with space to play with the unlocked pieces. They'll discover 6 Minifigures and a variety of fun accessories including a Christmas tree to decorate and play with while they wait for Christmas day!
Fly down the field, zig-zag through cones, dodge obstacles and make a goal! With a Sphero Mini Robot Ball: Soccer Theme, your child will enjoy hours of action-packed fun. Electronics are part of our world, but instead of mindless apps and video games, you can have your child learning and playing with Sphero. These S.T.E.M.-based tech tools teach kids programming with an array of coding robots. From the Sphero Bolt to the Sphero RVR, these programmable robots will keep the kids learning, having fun, and being engaged.
Sphero's products include educational robots for kids and teens, no matter their programming and coding skills. Whether they are just beginning to learn to code, or are looking to be challenged, Sphero has something for them. The Sphero Mini comes in regular, soccer ball, or golf ball themes. It's compatible with apps for iOS, Android, Amazon Fire OS, macOS, Windows & Chrome. The mini contains a gyroscope, motor encoders, and accelerometer sensors. You can even change its look with different shells. Your child can code the Sphero Mini using block coding in the app. They will spend hours setting up obstacle courses and using the app to control the ball through them all. Get your child out of the TV and into hands-on play, learning how to code, with an educational robot from Sphero.
You'll find all their favorite characters come to life with Outright Games assortment of games for PC and all the popular gaming platforms. We're excited about these latest favorites perfect for young game players. Like PJ Masks: Heroes of the Night that uses PJ Masks heroes unique abilities to find all the collectibles while gliding, climbing, jumping, and more! Let them try Blaze and the Monster Machines: Axel City Racers for a kid-friendly racing game with power-ups, unique tracks, and even an auto-drive setting for the youngest players. Both are rated PEGI 3 as safe for ages 3 and up.
Let them get lost in the chaos of Addams Family: Mansion Mayhem! They'll get enveloped into the Addams Family world with a unique original story that's based on the latest movie release with a goal to save the mansion! It includes both solo or co-op play and fun competitive mini-games! Each of the playable characters has a unique special ability that will help them complete the tasks and work together to save the mansion!
This year, gift your child this fun and practical stuffed animal storage bean bag chair from Creative QT; that's right, create a bean bag in minutes by filling it with your stuffed animals, pillows, or blankets. Not only will the Stuff 'n Sit save space and provide storage, but your child will love lounging in this soft seat.
As a mom, I appreciate that the Stuff 'n Sit is machine washable, a great size (30 x 30 x 30), and made from quality material. Plus, my kids love that it can hold up to 90 stuffed animals. What a great way to organize the toy room and provide seating all at the same time! The Stuff 'n Sit can be found in many different patterns and colors, perfect for every little boy and girl.
Learning Resources has SO many great educational and entertaining gifts perfect for engaging small minds and helping develop independent play. Whether you're looking for fun games to help with fine motor skills such as Noodle Knockout (pictured above) or shape sorting puzzles like Spike the Fine Motor Hedgehog, your child will love the gift of learning through play.
In the game Noodle Knockout, players practice color recognition, fine motor skills, and counting as they build their very own bowl of noodles and toppings. You can play the game with 2-4 players, or have fun playing solo. What a fun way to include the littles during family game night! Be sure to visit Learning Resources website for more educational toys and games.
For the kids who have everything, Outschool is the perfect gift idea! They offer online classes that are fun and interesting and don't feel like school at all! Outschool offers live and interactive classes for kids that are not pre-recorded videos. The instructors lead small groups with other children of a similar age with a huge range of courses to match every child's interest! Whether they want to draw, dance, cook, are into gaming, or want to learn something new you'll find it here.
There are so many Outschool classes that have caught our eye! Like this How to Make a Video Game class for 10-15 year old children. The class meets once a week for 5 weeks so they can build on what they've learned and try their hand at intro game development and design! I know my kids would also love to join this Escape Room: Minecraft Part 1 class designed for 7-11 year old kids. I love that there are options of one-time classes and recurring classes to meet a variety of needs and budgets!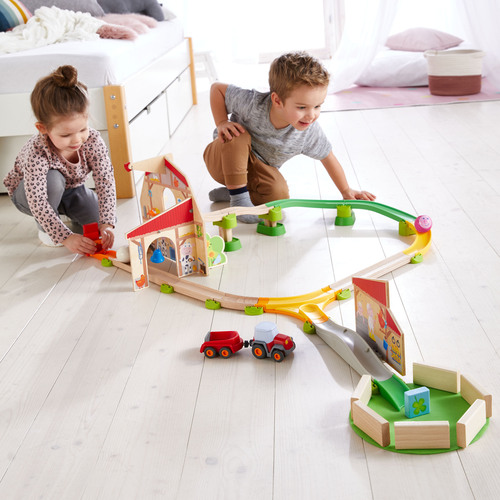 Imaginative play has never been more fun thanks to HABA's Kullerbu Farmyard Play Track Starter Set with Sound. Build a fun and exciting track complete with ramps, straight track, columns, a turn table, sounds, dominos, and more! Your little builder will love all of the extra accessories including funny animal noises, a bell, and crane gripper.
The best part about the Kullerbu Farmyard Play Track is that the set works with the both balls (Shelma the Sheep and Simon the Pig) as well as the tractor and trailer vehicle. The track is also compatible with other Kullerbu sets. Make the Kullerbu Farmyard Play Track a game – can the balls escape the crane gripper in time? The possibilities are endless. Perfect for kids ages 2-8, your child will love this HABA Kullerbu Farmyard Play Track Starter Set with Sound.
Find the perfect kids holiday wear that you can count on lasting with French Toast! This beloved retailer is known for carrying all of the uniform essentials, but they also have holiday essentials for both boys and girls. I'm loving their Long Sleeve Oxford Shirt for my boys. It's a thick and perfectly sized shirt that looks great! I really appreciate the wrinkle-free fabric and the choice of sizes including husky on up to adult to fit even my teens!
A perfect style to gift this holiday season is the Full Zip Microfleece Jacket. It's soft and comfortable and will keep them warm and is perfect for layering under winter jackets. My boys don't want to take it off and I love that it stays looking like new, even after washing! Whether you're looking for the perfect holiday outfit, new clothes for heading back to school after the holidays, or wanting to pick up something warmer for the change in weather visit French Toast!
Kids (and parents) will have a blast with their own Laser Tag Recharge game by USA Toyz. Choose either the 2-pack or 4-pack set with everything you need to play laser tag in your own home. The set includes rechargeable vests and laser tag guns each in a different bright and fun color to help identify your opponents. It can be used both indoor and outdoor with a safe 1mW infrared technology that can reach up to 95′. Start by selecting your choice of 5 different firing modes to choose from – each with different ammo and lives.
With Laser Tag Recharge, the game really feels like it comes to life! It includes FX voice prompts and commands. Then, you'll notice that the chestplate vibrates to mark a successful hit. There's even a water mist functionality that indicates when you're out of lives! No more guessing about if you were actually hit, with this responsive set you'll know when you're out and be ready to start planning your strategy for the next round.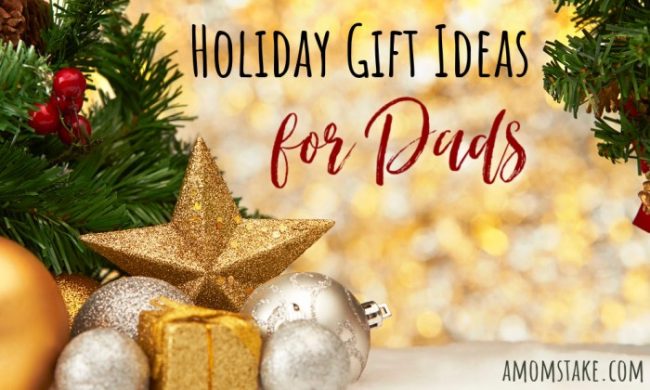 Keep the gifting easy this year by heading over to our Holiday Gift Guide landing page to see all our posts for the perfect gifts for everyone on your list! Our next themed post is this list with the Best Christmas Gift Ideas for Dad!
Which one of these good Christmas Gift Ideas for Kids will your children love best? Share all your boy holiday gift ideas in the comments!