Are you a fan of any of those popular cooking competition shows? Do you love MasterChef, Iron Chef, Chopped, or any of the other series? Well, you can create a spin off of your favorite cooking shows you love and have an intimidate date night for 2 or invite over your favorite couple and have a fun group date night all from home. Here are some tips to get you started.
This is a sponsored post. All opinions are my own.
Chef Night Date from Home
Invites – A great way to get your date off to a good start is to pick a day for your date night at least a week in advance. You'll want to make sure you add the date to your calendar so nothing else gets in the way. Since you're planning a date night from home, you'll be able to skip paying a babysitter, saving you money and time! Woohoo!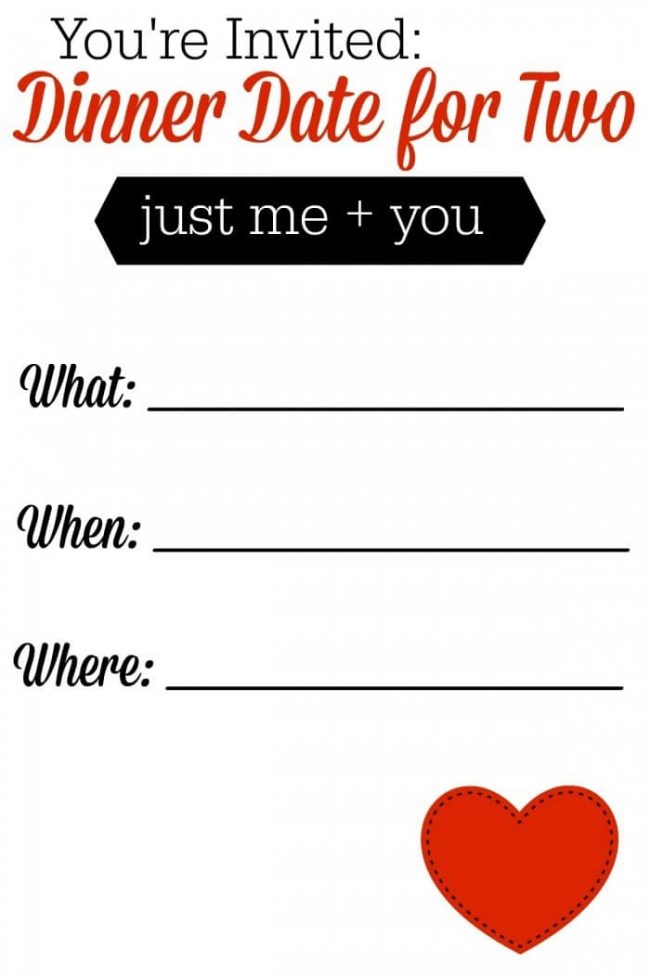 Set the Stage – To take your at home date from dull to dazzling, put a little bit of time into the details. That might mean taking a few minutes to pick up the kids toys, load the dishwasher, and wipe down the counter. If you have time, set out a tablecloth and place settings and light a candle or two to really set a romantic tone to the evening.
Eliminate Distractions – Tuck away your cell phones, keep the TV off, and use this time to communicate and enjoy each other's company. This is the best part of having a date from home, there are no crowds bustling around you, the two of you can really just focus on each other!
Chef-Worthy Meal – With planning a chef date from home, your meal is going to matter. Don't go with those tried and true family favorites that (let's admit it) are really boring. Kick up the menu a notch and try something completely new and different.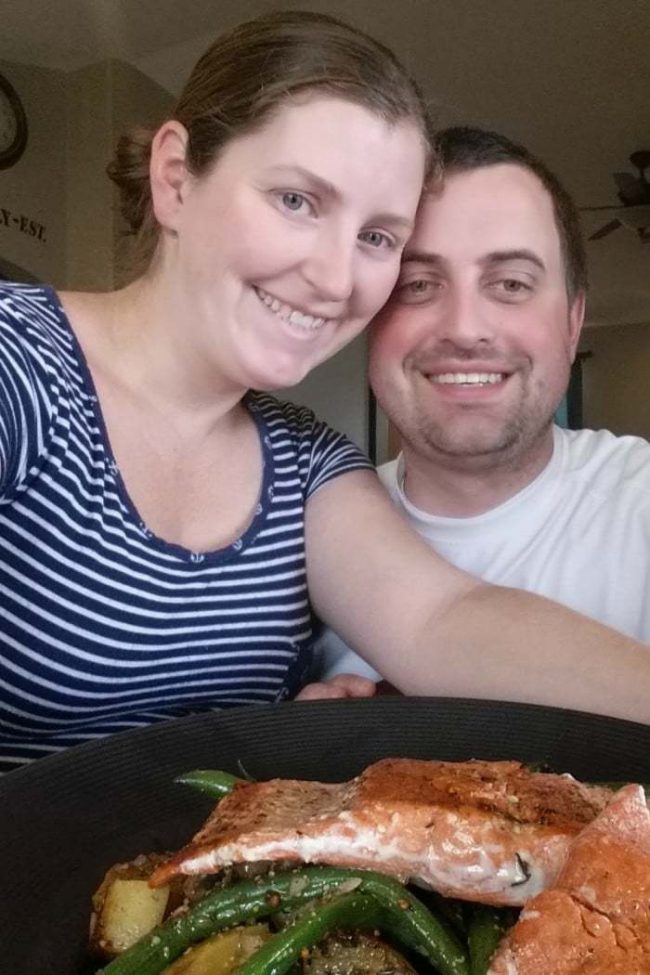 We turned to Blue Apron to help make a romantic date night a cinch. The meals average $10 a plate, and included everything you will need to make a fancy dinner from home. The meals we tried came off feeling like we were making a fancy restaurant meal, that would have cost us much more than $10 each (plus tax, tip, babysitter…). Best of all, we had a much more intimate evening as we weren't surrounded by other dining strangers and didn't get interrupted every few minutes from a waiter. Instead, we were hands on cooking and working in the kitchen together to create a delicious meal we could then share.
Here's the recipe from Blue Apron we tried during our date night.
Steakhouse Salmon Recipe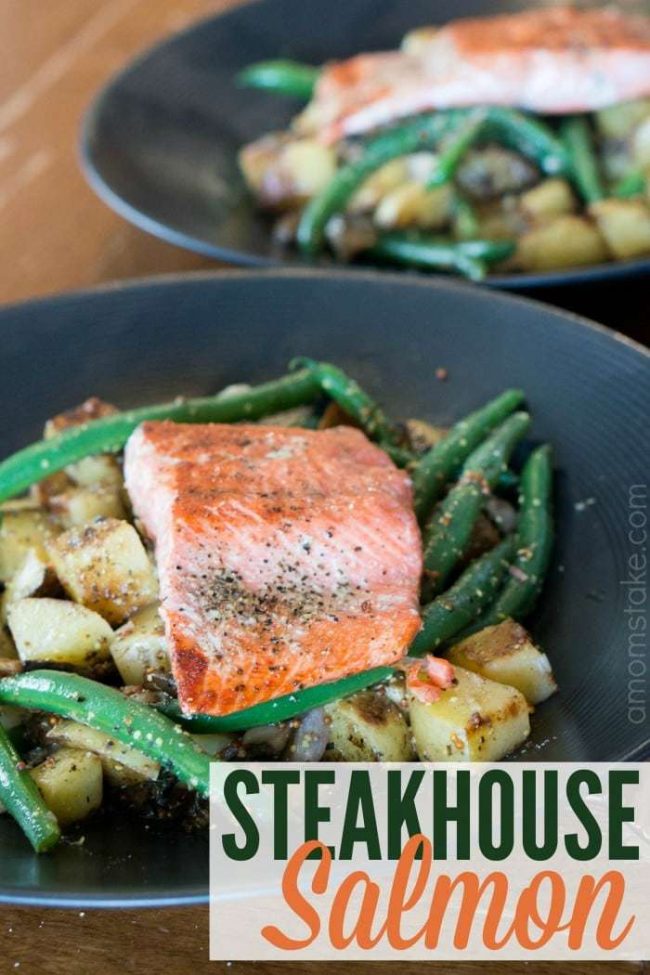 Recipe by: Blue Apron
Makes: 2 servings
Prep Time: 10 minutes
Cook Time: 30-40 minutes
Ingredients:
2 skin-on salmon fillets
6-oz green beans
4-oz cremini mushrooms
1 lemon
3/4 lb yukon gold potatoes
1 bunch thyme
1 shallot
1 tablespoon whole grain dijon mustard
Directions:
1. Prepare the Ingredients:
Wash and dry all the fresh produce.
Heat a medium pot of salted water to boiling on high.
Medium dice the potatoes.
Pick the thyme leaves off the stems; discard the stems and roughly chop the leaves.
Snap off and discard the stem ends of the green beans.
Thinly slice the mushrooms.
Quarter and de-seed the lemon, then juice.
Peel and mince the shallot to get 2 tablespoons; place in a bowl with the juice of all 4 lemon wedges.
2. Brown the potatoes:
In a medium nonstick pan, heat 2 teaspoons of olive oil on medium-high until hot.
Add the potatoes; season with salt and pepper and all but a pinch of the thyme.
Cook, stirring occasionally, 10 to 12 minutes, or until lightly browned and slightly softened.
3. Blanch the green beans:
While the potatoes cook, fill a medium bowl with ice water and set aside.
Add the green beans to the pot of boiling water and cook 2 to 3 minutes, or until bright green and slightly softened.
Drain thoroughly and transfer to the bowl of ice water; set aside to stand until the cooked green beans are cool.
Drain thoroughly.
4. Add the mushrooms & green beans:
Add the mushrooms to the pan of potatoes and cook, stirring occasionally, or until browned and slightly crispy.
Add the blanched green beans; season with salt and pepper.
Cook, stirring occasionally, 1 to 2 minutes, or until heated through.
Transfer the cooked vegetables to a large bowl and set aside in a warm place.
Wipe out the pan.
5. Cook the Salmon:
Pat the salmon fillets dry with paper towels; season with salt and pepper on both sides.
In the pan used to cook the vegetables, heat 2 teaspoons of olive oil on medium-high until hot.
Add the seasoned fillets, skin sides down; cook 2 to 3 minutes per side, or until browned and cooked to your desired degree of doneness.
Remove from heat.
6 Dress the vegetables & plate your dish:
While the salmon cooks, to make the vinaigrette, add the mustard to the shallot-lemon juice mixture; season with salt and pepper to taste.
Slowly whisk in 2 tablespoons of olive oil until well combined.
To the bowl of cooked vegetables, add enough of the vinaigrette to coat (you may have extra vinaigrette); toss to combine and season with salt and pepper to taste.
Divide the dressed vegetables and cooked salmon fillets between 2 dishes.
Garnish with the remaining thyme. Enjoy!
The recipe turned out great, and we both really enjoyed just having a low-key date night from home without the stress and running around that a date out on the town can have. It was different than our typical date nights, and we really had a lot of time to just talk and connect!
We were both super excited to give Blue Apron a try, and it did NOT disappoint! It was wonderful to have meal ideas ready which took out the frustration of "what's for dinner" that week! All the ingredients were top quality and the directions were really easy to follow.
Try Blue Apron with 2 Free Meals!
Want to give Blue Apron a try? You can start off with 2 free meals! It's the perfect time to give Blue Apron a try and schedule your own intimate chef inspired date night from home! You'll need to visit Blue Apron using this targeted link to get the free meal offer!