Do you have secrets for holiday entertaining? I'm far from a pro at throwing great parties. I tend to procrastinate, so instead of going all out with my planning, I always look instead for simple ideas that will still throw off a great party without a ton of time commitment needed. T
I decided to play around with a simple treat I love during the holidays – caramels. I tried to upscale the treats to make them look like a gourmet chocolate box treat in minutes and this easy coconut caramels recipe was born!
Easy Coconut Caramels Recipe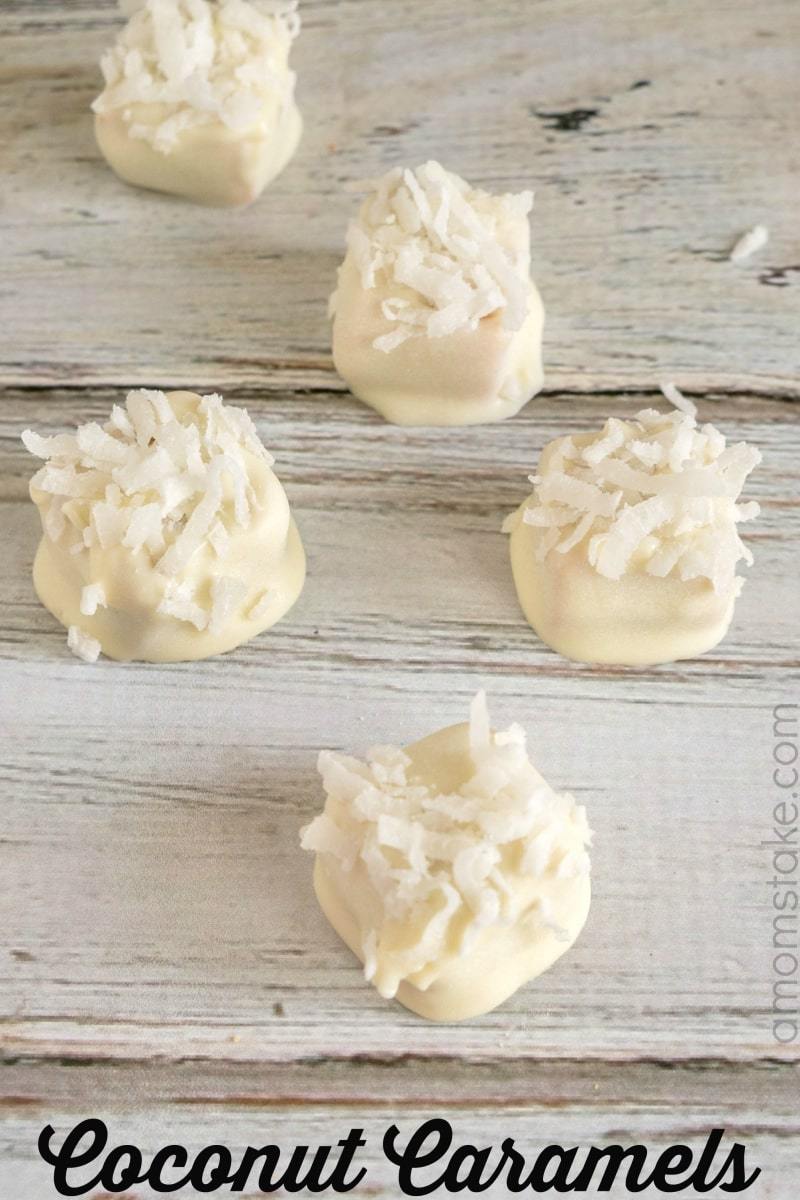 Ingredients
12 ounces white chocolate chips
24 caramel squares, individually wrapped
½ cup coconut
Supplies
Toothpicks or candy sticks
Melting pot
Parchment paper
Add the white chocolate to a chocolate melting pot on medium high heat for quick melting. Stir until completely melted, then reduce heat to warm so that the chocolate does not re-solidify. If you do not have a melting pot, white chocolate can be melted in a microwave safe container, 20 seconds at a time. You may need to rewarm the chocolate, if it starts to stiffen.
Unwrap all of your caramel squares and prep them with candy sticks, or toothpicks through the center. This is to make dipping in the white chocolate easier and cleaner.
Line the baking sheet with parchment paper. Add coconut to a bowl and keep nearby.
Dip caramels into the melting pot, one at a time. Remove from chocolate and place each caramel square on the parchment paper. Pull candy sticks out from the centers of the caramel. I used a fork, don't worry about marks as you'll be topping your chocolate there on the top. Now, sprinkle a pinch of coconut onto the top of the caramel before your chocolate hardens.
Repeat until all the caramel squares have been covered or you are out of white chocolate. When your chocolate has hardened, it should only take about 10 minutes, peel caramels away from the parchment paper.
Display your Coconut Caramels on a pretty tray for your party guests! Or, you can store them in a cute tin as send them home as party favors. The caramels will stay fresh for up to two weeks when stored right.
I was really pleased with how these yummy Coconut Caramel treats turned out! They totally look like something you could buy from a chocolate shop but they were super easy! I'm thinking I just might have to fold up some cardstock gift boxes and give these goodies out as gifts at my Christmas Eve party!