This is a sponsored post written by me on behalf of Wyzant for IZEA. All opinions are 100% mine.
Being a mom of three kids, working and going to school full time doesn't leave a lot of room for study time. That means I have to make the most of the time I do have. I'll admit though, I do get easily distracted. My study time looks a lot more like study, study, Squirrel! Then just a good old fashioned hit the books study session. That is why I have been working on making the most of my study time and creating better study habits. These are the things I find work well for me.
8 Better Study Habits That Make all the Difference
Find a clean, quiet space. I have a hard time concentrating in chaos. That is why I start every study session by clearing a big space and putting away all of the clutter. I also utilize the time I am not working and the kids are in school to get some quiet time. Sometimes, if I need to study and my house is hopeless, I head to the school library. They have some great study rooms or even personal study spaces in all libraries.
Turn off distractions. This is where the squirrel! Squirrel! comes in the most for me. I cannot have my phone or my computer anywhere close to me while I am studying. I find myself looking towards my phone and deciding I need to check something. Also, texts and notifications that come through are very distracting. Let's face it, studying is boring. Any small distraction is way more interesting than endless boring textbooks. So do yourself a favor and put away the distractions.
Set a start and end time. Like all jobs that have a start and end time, studying should too. When you set a quitting time, it makes it easier to commit yourself to giving more effort during that time. I always tell my kids when doing homework, "give me 10 really good minutes and I'm sure you can get it done". So look at what needs to be done and set yourself a time limit and commit to putting your all into that time.
Incorporate breaks. If you are planning a good 8 hours worth of study time, make sure to add in some structured breaks. Don't just tell yourself that you deserve a break now all the time either. Be sure to set structured breaks in increments. Set them to be a short 5 or 10 minutes every 30 minutes. Give yourself some time away from the books to stretch out and give your brain a rest.
Give yourself incentives. During those break times is a good time for incentives. Things like a look at your phone or a snack. Being sure to have treats or incentives you can earn as you get things done is a great way to stay on track. Set goals you need to achieve before incentives. Things like, every 10 problems, I get to check my phone.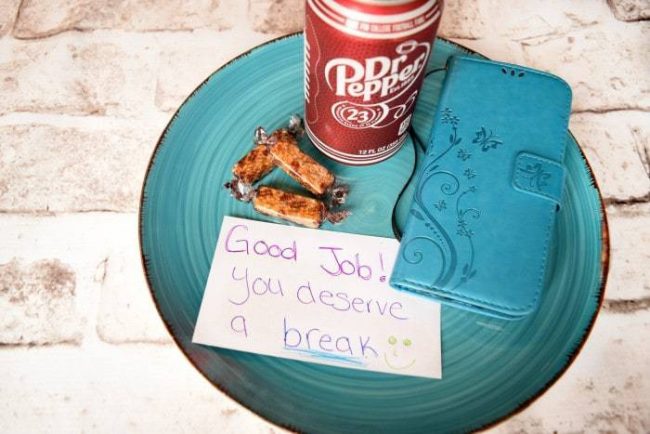 Find a study partner. Studying can be much more effective if you have a good partner. Locate someone else in the class that you can study with. Study partners can be great tools, but also can quickly become distractions if you use study time as hang out time instead. Make sure that the people you choose to study with are just as dedicated to learning the material and working as you are.
Make sure your materials are organized. Nothing is worse than sitting down to study and not having or being able to find everything you need. Getting up and down several times to locate things really breaks your concentration. Gather all the materials you will need before you get settled in. Have writing utensils, study papers and books all within study range. Don't waste your study time by constantly getting up to find what you're missing.
Get a tutor. If you have a subject that you are struggling with, don't go it alone. Get yourself a tutor. When I first started back to college, I had to take an Algebra class. I am not that great at math, plus, it had been about 11 years since I had had an algebra class. I spent days stressing and crying over my first test, because our teacher told us we should know everything in the first 3 chapters, as it was all supposed to be review. I tried everything I could think of to re-learn all that old stuff.
I wish I had known about tutoring sites like WyzAnt. It wouldn't have been such a stressful task. Wyzant Tutoring is the nation's largest online tutoring marketplace where you can pick a tutor that works for you. There are more than 300 subjects to choose from all the way from kindergarten to college level. You can even learn musical instruments like piano. Whatever you want to learn, Wyzant can connect you with the right expert to teach you.
The WyzAnt app makes it even easier to get in contact with one of over 80,000 expert tutors. Each tutor gets to set their fee so you can find the right tutor to fit your needs, for a price you can afford.
Browse through more than 1 million ratings to see what other students are saying about tutors. You can even request the tutor to run a background check. Tutoring can be either online or in person. You can even decide where you would like to meet your tutor. Choose a tutor and go to them, have them come teach you, or meet somewhere in the middle.
Your first lesson is backed by WyzAnt's good fit guarantee. If you aren't satisfied with your first experience, it's free. So stop wasting time struggling to learn it on your own like me. Download the app or log click here to See how Wyzant works and find the expert you or your child need to succeed.
Try Wyzant Tutoring for Free, get money off of your first lesson!