This is a sponsored post written by me on behalf of Food Lion. All opinions are 100% mine.
It can be hard to find unique and interesting appetizers to serve when you have company over, but look no further than this easy skillet white queso dip recipe! It has so much flavor and can be served with chips, crackers, or vegetables! Best of all, it is budget friendly.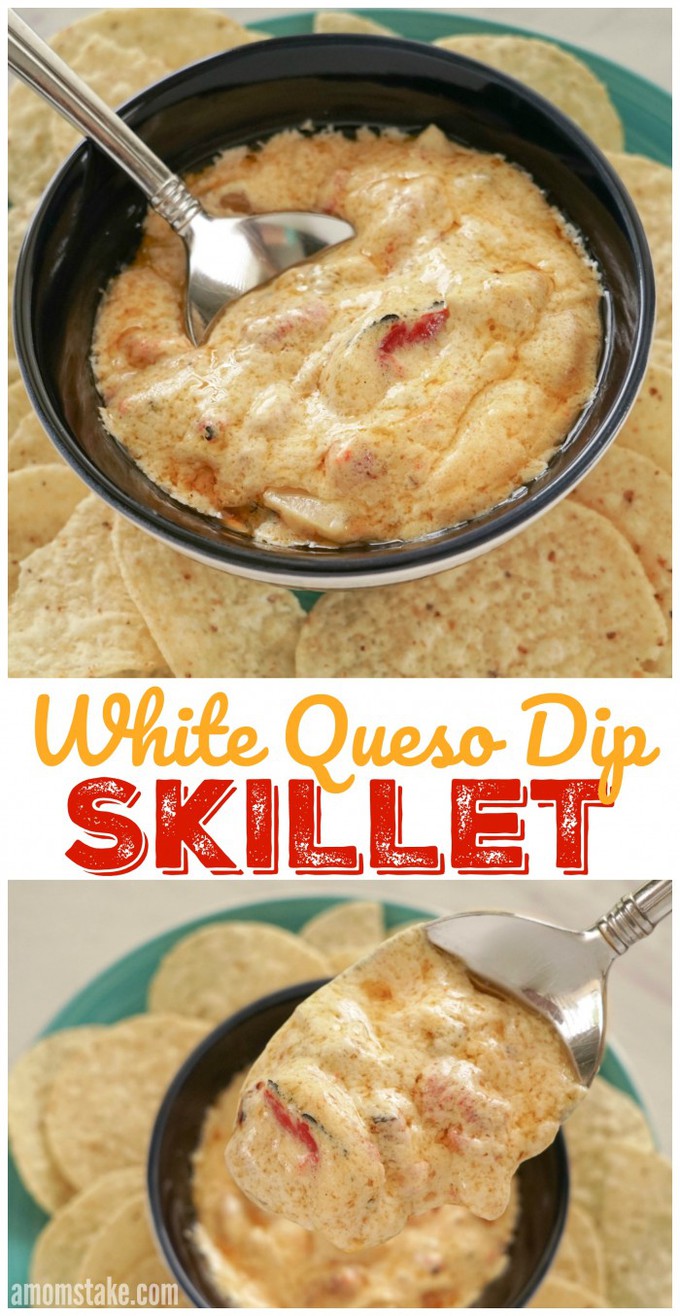 Easy Skillet White Queso Dip
Ingredients:
8 oz cream cheese
16 oz pepper jack cheese, grated (4 cups)
3/4 cup mayonnaise
1 (7 oz) jar roasted red peppers, chopped
1/4 of a small onion, finely chopped
2 tbls garlic paste
1 tbls dijon mustard
1 tbls butter
You'll just need 8 easy ingredients to make your white queso dip. My son and I shopped at Food Lion, a local grocery chain, because they have really high-quality store brand products that are often half the price of brand name labels!
It's such an easy swap to make to select store brand labels, when you know you can trust their quality, and really save a ton of money for your family.
By shopping at Food Lion and selecting store brands, using digital coupons, watching for weekly specials, and utilizing the free Shop & Earn program, I'm able to save so much for our family each week on groceries!
Making the Queso Skillet Dip
When we got home from our weekly grocery trip, we were ready to make our yummy white queso dip! It's so easy to make, with less than 5 minutes prep.
Soften your cream cheese in the microwave and then toss all your other ingredients into your mixing bowl. You'll likely need to dice your onion and red peppers, but the rest should be easy and ready to use.
Now, just combine everything, prep your skillet with a little bit of butter, and pour your queso dip into the skillet to cook.
You want the queso appetizer to be warm, melted, and bubbly. But it doesn't take long. I usually cook the queso dip for 15 minutes on the stove top, until everything is nice and bubbly.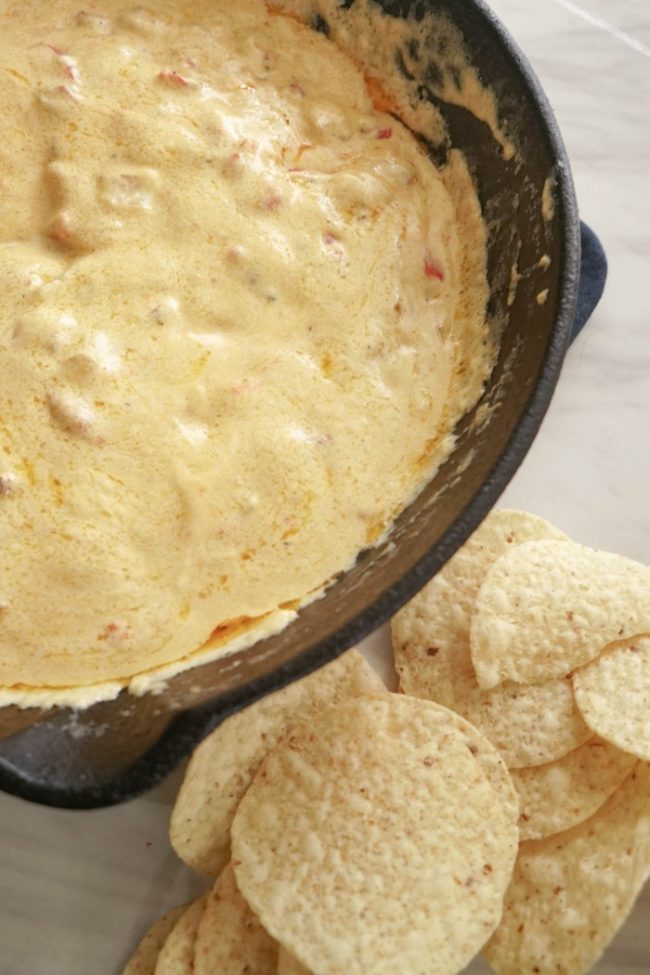 This ensures that the cheese is all the way melted and the flavors have had time to combine. The garlic, onion, and red peppers need a little bit of time to release their flavors into your queso dip.
Be sure to stir occasionally so your queso dip doesn't burn onto the bottom of your cast iron skillet.
Once it's ready, allow to cool for a few minutes, it will be really hot, and serve! You can serve your skillet queso right from the cast iron skillet or serve into small portion bowls to serve at each person's individual spot.
Then, add your choice of sides for dipping – such as tortilla chips, pita bread, raw bell peppers, carrots, crackers, french bread, or pretzels. No matter how you serve it, the yummy white queso dip with all of it's flavor will get everyone talking!
Skillet White Queso Dip Recipe
Skillet White Queso Dip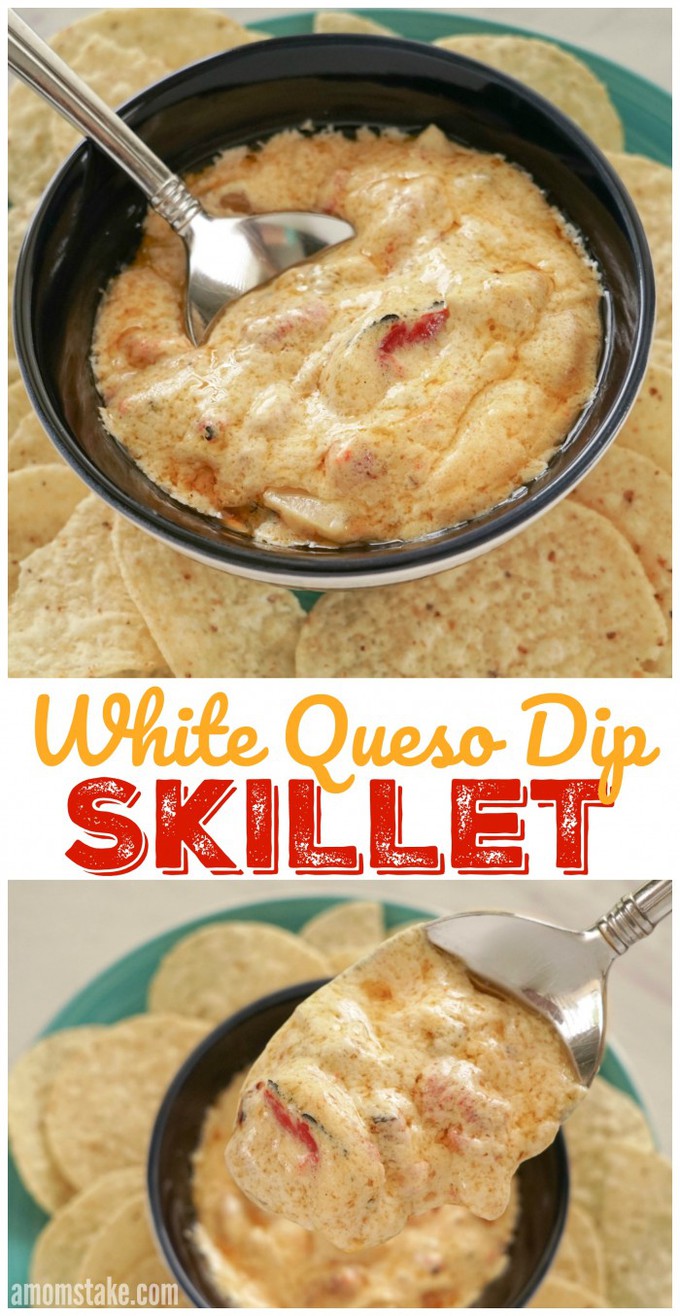 Ingredients
8 oz cream cheese, softened
16 oz pepper jack cheese, grated (4 cups)
3/4 cup mayonnaise
1 (7 oz) jar roasted red peppers, chopped
1/4 of a small onion, finely chopped
2 tbls garlic paste
1 tbls dijon mustard
1 tbls butter
Instructions
Combine softened cream cheese, grated pepper jack cheese, mayonnaise, roasted red peppers, diced onions, garlic paste, and dijon mustard.
Rub butter along the bottom and edges of a cast iron skillet. Add your white queso dip to the skillet.
Heat on the stove on a low heat setting for 10-15 minutes or until bubbly all the way through. Cover while not stirring. Stir occasionally.
Nutrition Information:
Yield:
10
Serving Size:
1
Amount Per Serving:
Calories:

384
Total Fat:

36g
Saturated Fat:

16g
Trans Fat:

0g
Unsaturated Fat:

18g
Cholesterol:

73mg
Sodium:

505mg
Carbohydrates:

3g
Fiber:

0g
Sugar:

2g
Protein:

13g
When you're ready to make up this yummy recipe, head into your local Food Lion to find incredible savings on all the ingredients and make these yummy recipes even more affordable to share.