I love the Holidays! It's a time to spend with friends and family and enjoy many evenings together visiting and socializing. My husband and I also got married in December so we get to celebrate our anniversary each year right amongst the busy, chaotic, and fun holiday activities. We always love to bring out fun treats when we have family over to visit. Baskin-Robbins is offering absolutely adorable holiday themed cakes that are perfect for your winter parties. They will make a statement and be a delicious treat to enjoy! You can customize the ice cream cake with the ice cream flavor of your choice from any of Baskin-Robbins flavors! The Flavor of the Month for December is a classic favorite which is also one of my very favorites – Mint Chocolate Chip!
I ordered a custom snowman cake at my local Baskin-Robbins store so I could pick exactly what kind of ice cream and cake it could be made from. When we went in to pick up our cake, I did notice there were several pre-made cakes available but I was glad to have a cake made exactly to our preferences. Since we wouldn't be enjoying our full sized snowman cake that day, we picked out fun treats to enjoy that day in the store. My two year old wanted the snowman individual treat, the only one left, so my four year old went for a fun clown treat. I picked up a scoop of Mint Chocolate Chip and we all enjoyed!!
My parents came up with the perfect reason to party – they discovered that my mom was coming up on her 20,000th day alive! Of course, in my family, that means it's time to celebrate (any excuse we can find is a good enough reason for us). We all got together for dinner and then it was time to dish up the cake! It was absolutely delicious and several of us went back for seconds! The cookies and cream ice cream went perfect with the vanilla cake and the frosting was even really yummy adding to the goodness of the cake rather than overdoing the sweetness as you find on some cakes. The snowman design is absolutely adorable and made for great conversation, too, my mom was surprised when she saw the cake and loved it! Any of the festive holiday cakes would make a perfect addition to your holiday parties this year!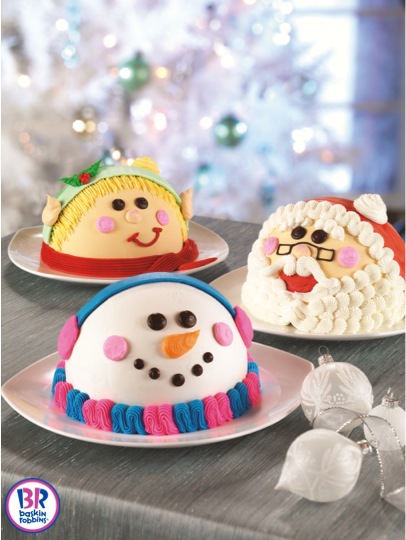 The three fun holiday themed cakes come in your choice of Santa, a Snowman or an Elf and are available at Baskin-Robbins only during the month of December. Each cake serves 8-12 people and has a suggested retail price of $26.99. The individual portioned treats come in your choice of a Snowman or Snow Woman and have a suggested retail price of $2.49.
Disclosure: I participated in a campaign on behalf of Mom Central Consulting for Baskin-Robbins. I received a gift card to facilitate my shopping experience and a promotional item as a thank you for participating.