360 Cookware uses Vapor cooking technology to give you healthier food the way they were meant to taste without any extra added water or grease! These pans heat up evenly allowing you to use stove temperatures of low to medium!
Built with the highest quality stainless steel, these pans are made to last and even come with a lifetime warranty! Food also cook quicker with the vapor seal which translates to saving energy usage, time and money!
Features of 360 Cookware:
Multiple layers T-304 stainless steel & alloy construction
Ergonomic, stay-cool handles
Stylish design compliments any decor
US owned and made by 1 of America's greenest companies
Lifetime warranty
Vapor technology cooks food faster & more evenly with less energy
No need to add grease or water
Oven-safe to 400º
Bakes on stovetop
I was able to try 360 Cookware's 3.5 qt Saute Pan! I'm not a very good cook and don't cook a whole lot as my husband loves to cook. I also wasn't sure if I would know how to use this pan just right so I was a little bit hesitant when I started cooking 360 Cookware's Chicken Parmesan recipe!
I had watched a couple of their recipe videos ahead of time and then followed their recipe card step-by-step and was surprised by how EASY it actually was! For some reason I had decided it must be really hard to use but with the directions for the meal it was really so simple to get started!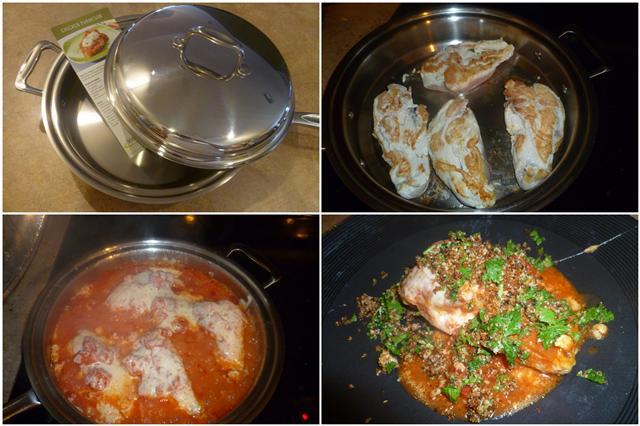 The whole meal cooked up really quickly and it was fun to spin the lid engaging the vapor seal! I also loved that I only dirtied one pan to cook plus a small bowl for the breadcrumbs. This made cleaning up an absolute breeze which is usually the worst part about cooking – a pile of dishes in the sink! For never having made Chicken Parmesan I couldn't believe how fool proof the recipe was!
My only slight problem was my sauce was pretty thin, but that was because we always make our own with tomato sauce and crushed tomatoes, rather than using a can of prepared sauce. Even with a thinner sauce though, the meal turned out perfectly! Even my picky boys cleared their plates! Plus, the recipe made more then enough for my family of 5 (3 little ones) to enjoy! I can't wait to try this one-pan Lasagna recipe next!
You can find 360 Cookware through their website. Their pans are available in sets or as individual pieces. Their 3.5 quart Saute Pan with Lid retails for $310. They have a promotion running through 9/9/11 where you can get free shipping on any order with the coupon code 360BTS
Disclosure: I received a 360 Cookware 3.5 qt saute pan for free in order to try the product and form an opinion for this review. I was not compensated in any other manner. The opinions expressed above are my own and any claims should be verified on the sponsor's site.