Being a mom to 4 kids, running everyone around, taking care of the household, cooking meals, cleaning up…everything, oftentimes I find that I put myself and especially my health on the back burner. There just doesn't seem to be enough time in each day to take care of all that I have going on and take care of myself.
Recently, I've decided that I am front-burner material. If Mom is not feeling good and healthy, then nothing seems to run right. I've been trying to make sure that I take some time to sleep more and exercise frequently (I know it seems impossible), and also to eat healthy.
I started making whole juice smoothies whenever I need a boost of nutritious food (and maybe my kids are eating frozen waffles, or chicken nuggets, etc.) and I couldn't/wouldn't take the time to make myself a completely different meal. I wanted all the nutrition of the fruits and vegetables, also the fiber, without eating a bowlful of raw vegetables (have you ever tried to eat plain kale? not that fantastic).
They have become one of my favorite go-to meals. It fills me up, and I honestly feel great afterwards. There are even days where I make three smoothies (one for each meal) and I'm still not sick of them!
I've perfected my basic recipe, and I'll mix it up with one of the options here and there for some more flavors.
Whole Juice Smoothie Recipe
(makes 2 smoothies)
Ingredients:
8oz V8 Fusion (100% fruit/vegetable juice)
1/2 cucumber (peeled)
1-2 carrots (depending on size)
1 stalk of celery
handful of spinach
handful of kale
banana
1/2c frozen blueberries
1c frozen strawberries
Other options I occasionally add:
green apple
1/2 bell pepper (pretty strong–too strong for my husband)
power greens
lemon or lime (peeled)
orange
frozen berry blend
frozen grapes
Make sure you have a powerful blender. The blender can really make a difference. Mix it extremely well (mine takes about 45 seconds). Add 2c ice and blend again.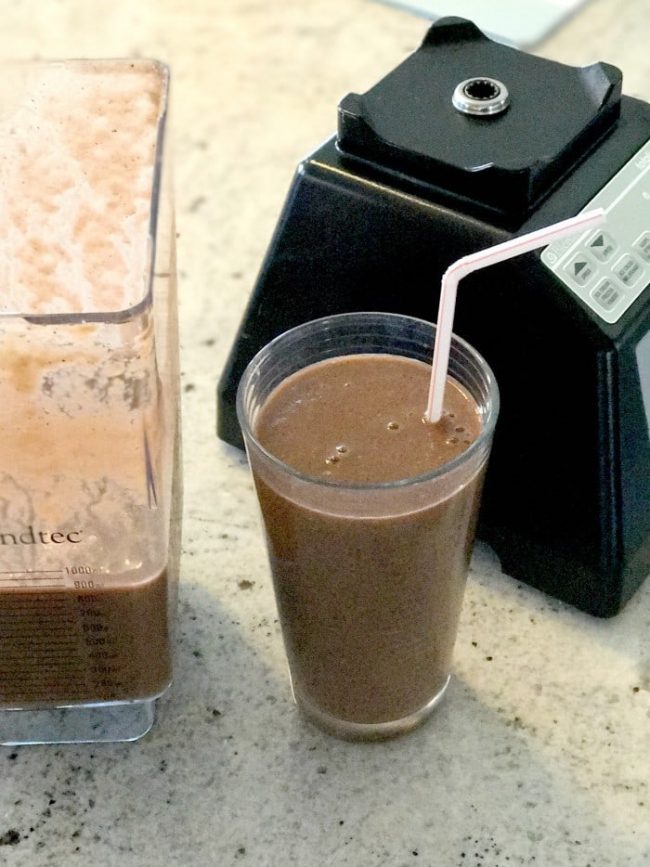 The color changes depending on what you put into it, and sometimes it does not look the prettiest, but they taste delicious and you are getting amazing nutrients in each power packed smoothie!
I'd love to hear what different whole juice smoothies you come up with!