I was recently called as the Primary Chorister and was asked to take the first 5-10 minutes while kids are filtering in to sing wiggle songs. To make singing time as fun as possible for these kiddos, I came up with a set of fun word strips to mix up the words for my Junior primary's favorite song – I Wiggle (CS#271)!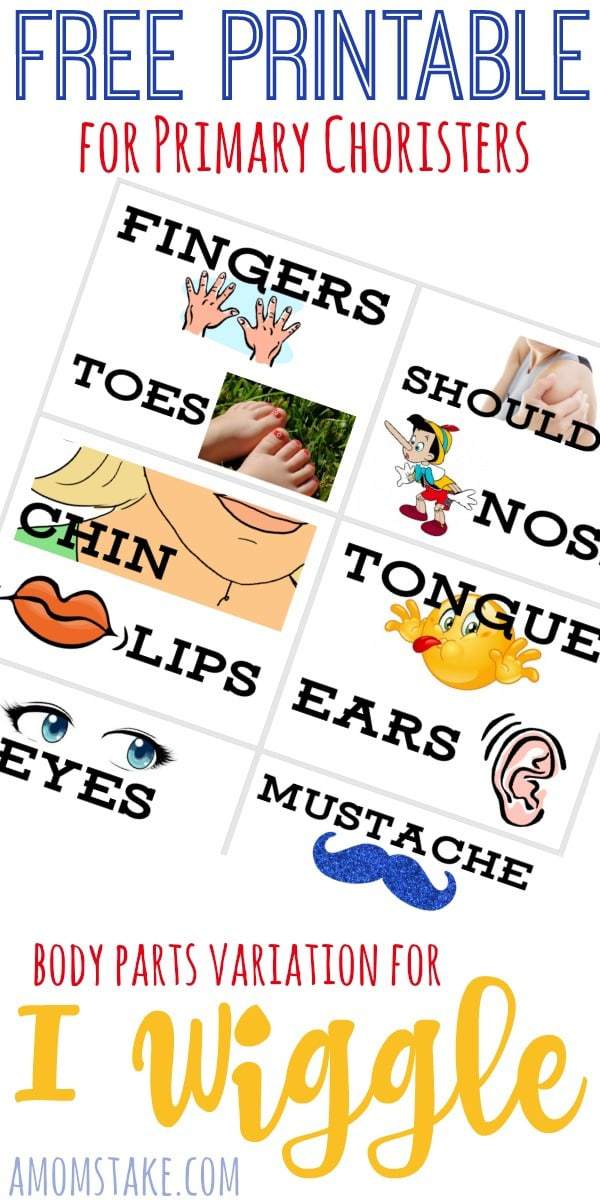 I Wiggle Song Lyrics
The original song lyrics for I Wiggle are:
I wiggle my fingers. I wiggle my toes.
I wiggle my shoulders. I wiggle my nose.
Now, no more wiggles are left in me;
So I will be still, as still as can be.
New Body Part Variations
There are four body parts mentioned in the song: fingers, toes, shoulders, nose.
So I started by making cute picture/word strips for the kids to follow along with the words and order, and from there I added 12 more body parts! Six body parts with one syllable to replace toes or nose and another six with two syllable to replace fingers and shoulders.
So the silly song could sing something like:
I wiggle my eyebrows, I wiggle my chin.
I wiggle my elbow, I wiggle my tail…
I let the kids come up to pick what body parts we will use in the song and pin them up onto the chalkboard so everyone can easily see them while we sing I Wiggle with our fun new body parts substituted in their place.
Click the image above or the link here to download a copy of the body parts variation for the I Wiggle Song!
The printable will open up in a new window as a PDF file. You can save or print a copy for your own personal, non-commercial use.
I want to hear YOUR ideas! What other body parts would you add to the list? The image above is cropped, it's not showing them all, as they wouldn't all fit on my computer screen to crop an image of the I Wiggle Song Printable.
I've got lots of ideas up my sleeve, bookmark my primary chorister tag for more fun ideas, printables, games, and organizational helps to come!