Do you ever get a craving for cookie dough? I love all kinds of cookie dough – sugar cookies, chocolate chip cookies, even a peanut butter cookie batter will get me licking the bowl.
Now, you can enjoy all the yummy flavor of cookie dough in this yummy no bake cookie dough bars recipe without the guilt as this recipe is egg free!
Plus, they're perfect for serving at gatherings as they look like a million bucks, but they're a cinch to make.
This post contains affiliate links.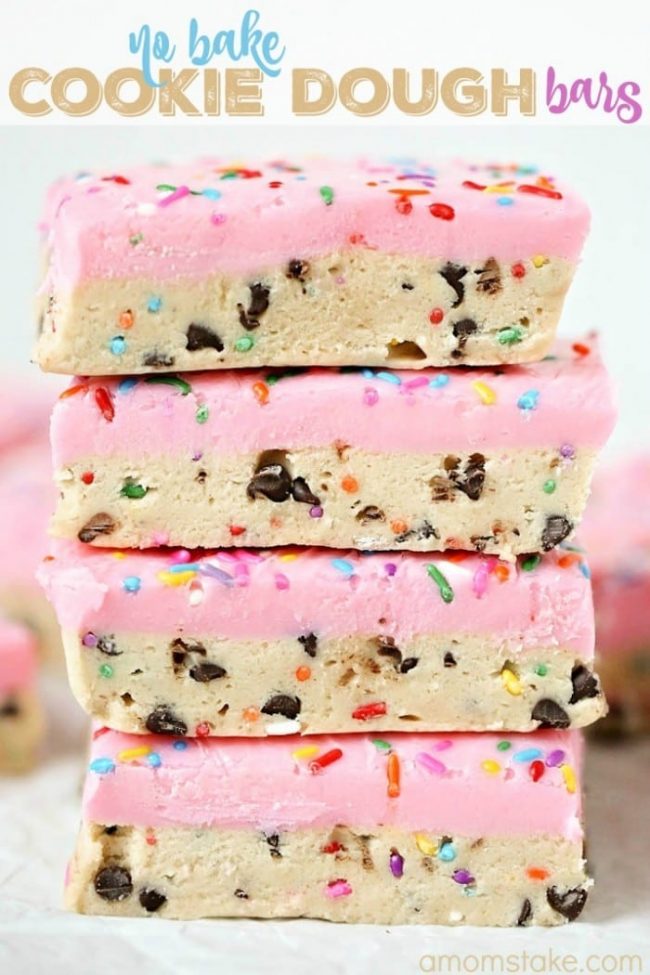 No Bake Cookie Dough Bars
Ingredients:
Topping Ingredients:
How to Make No Bake Cookie Dough Bars
You won't regret for a second making these yummy (and so cute!) no bake cookie dough bars. They are quick to make a perfect for when you have that sweets craving. Or bring them to the bake sale or gathering to share!
Step 1: Combine brown sugar and softened butter in a large bowl with a hand mixer until evenly blended.
Step 2: Add in flour, condensed milk, and vanilla extract.
Step 3: Blend on med-high until you have a thick dough.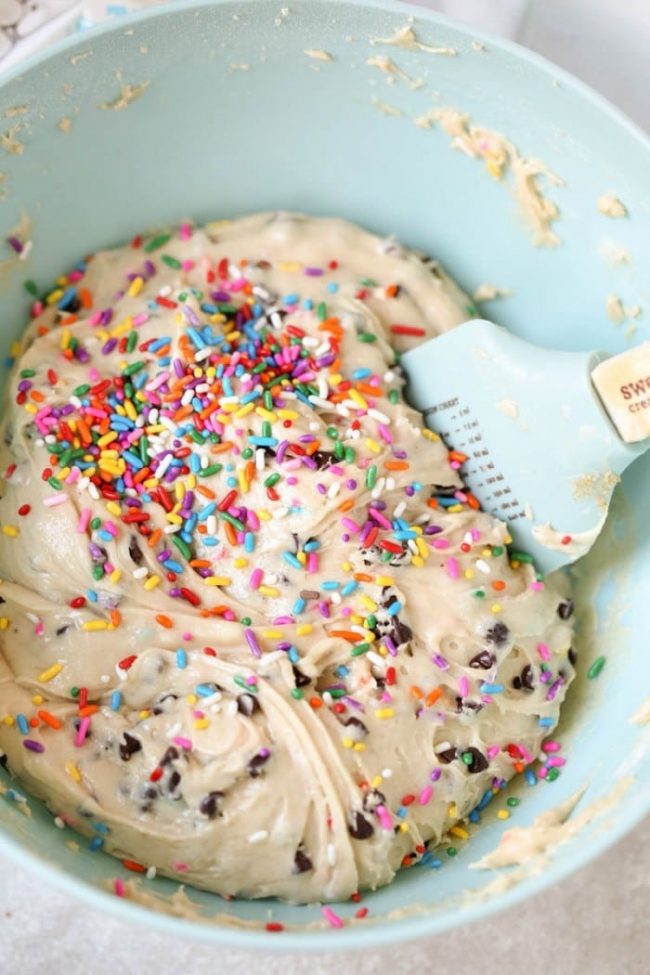 Grab our favorite mixing bowl set and fave spoon spatula with conversions!
Step 4: Fold in chocolate chips and sprinkles with a spoon or spatula.
Step 5: Line a square baking pan with parchment paper, then spread dough out evenly in your pan. *Make sure to press firmly all around the surface to get one uniformed layer.
Step 6: Chill in the refrigerator for 1 hour.
Step 7: While dough is chilling, make your topping by combining white chocolate chips and heavy cream in a saucepan over low-medium heat. Stir frequently until melted and creamy. Add a drop of gel food coloring.
Step 8: Take the dough from refrigerator and pour your topping layer over the surface. Add sprinkles to the top.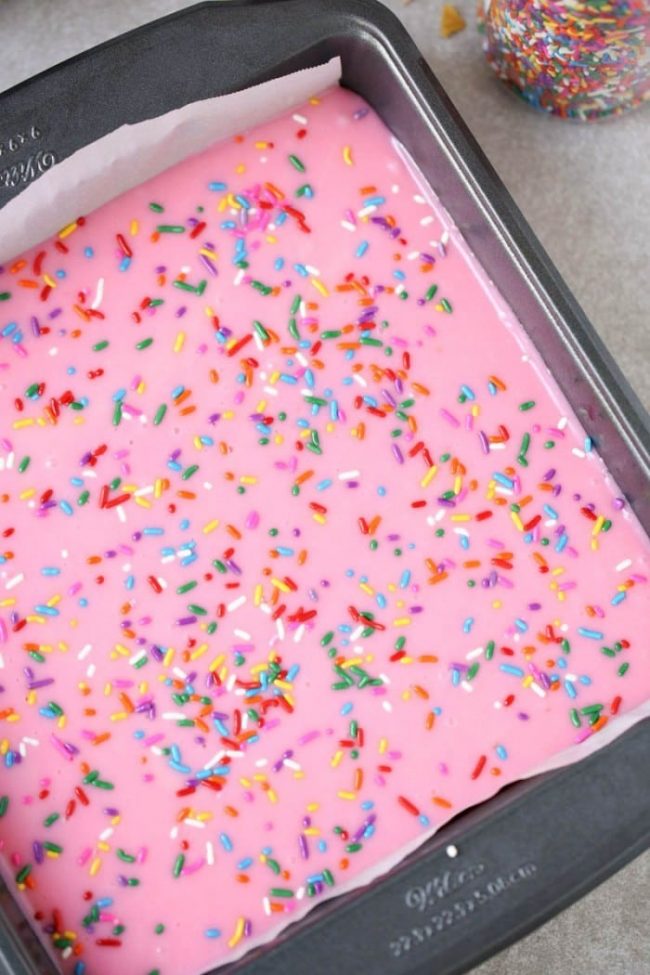 Step 9: Return to chill for another hour, then cut and serve.
Making No Bake Cookie Dough Bars Video
Watch us make them (if you don't see the video, give it a few seconds to load):
Or keep going to print the full recipe!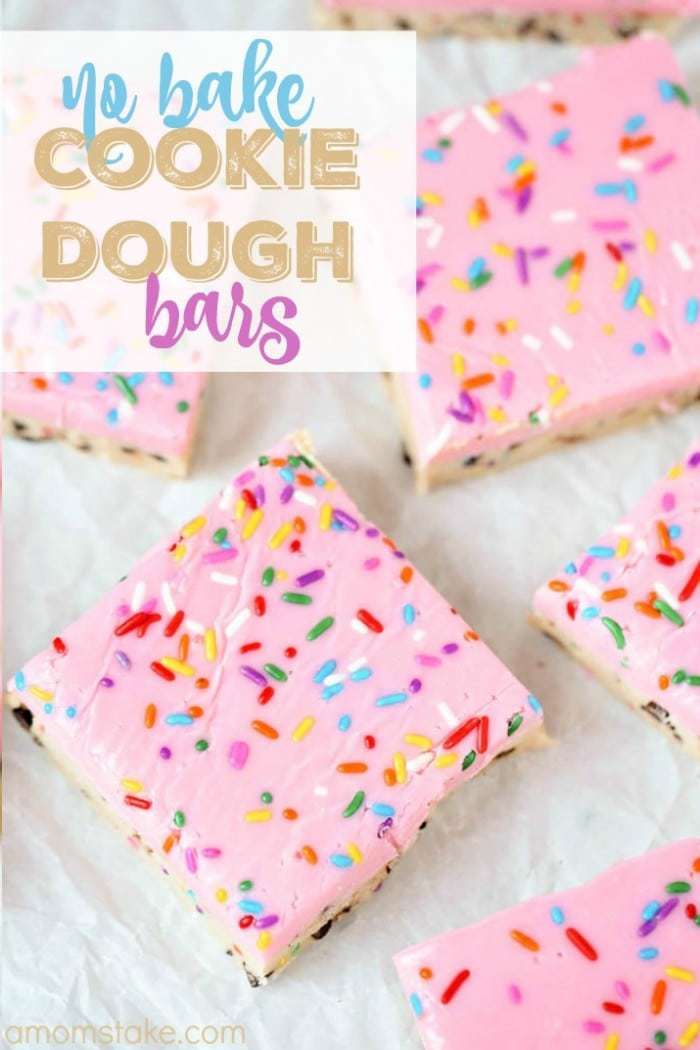 FAQs About Making Cookie Dough Bars
Q: Are Cookie Dough bars safe to eat raw?
A: Yes! You'll use no raw egg in this cookie dough recipe. You can bake the raw flour before adding it to the recipe to kill any bacteria.
Q: Can I add in other flavor mix-ins?
A: Absolutely! This recipe is very flexible to let you make it your own! Keep in mind, some mix-ins may change the smooth, even texture of the dough bars, but they'll still be yummy! Try adding in marshmallows, rice krispies, peanut butter chips, toffee bits, nuts, crushed cookies, or your own favorite treats.
Q: The frosting layer of my No-Bake Cookie Dough Bars never set, can you help?
A: If your frosting ends up too thin or runny, you can decrease the amount of cream (or add more chocolate melts) to help thicken up the frosting. This frosting layer will need to be chilled to set.
Q: How do I store no bake cookie dough bars?
A: These no bake cookie dough bars can be safely stored at room temperature, but they will be a softer texture. If you want them to be firm and easier to handle, store them in the fridge.
HEAD OVER TO SEE EVEN MORE FAST AND EASY DESSERT RECIPES THAT WILL BE AN AMAZING PART OF YOUR RECIPE COLLECTION!
CONNECT WITH A MOM'S TAKE ON YOUR
FAVORITE SOCIAL CHANNEL FOR MORE RECIPES!
You can find us on:
Instagram | Facebook | Pinterest | YouTube | Twitter
No Bake Cookie Dough Bars Recipe
Yield: 12 cookie bars
No Bake Cookie Dough Bars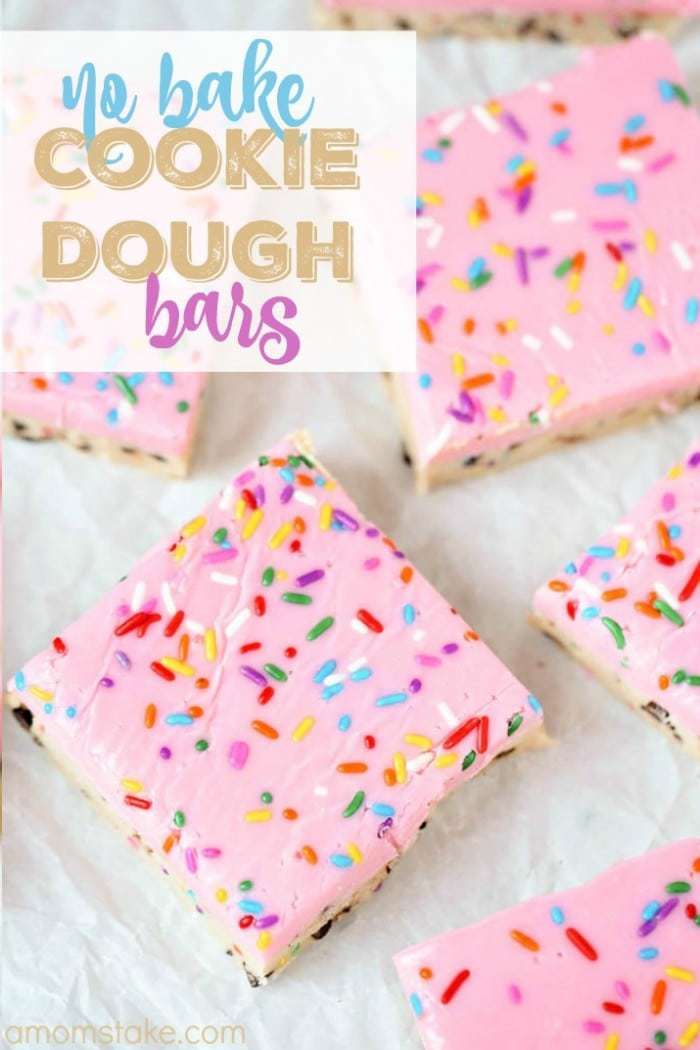 So delicious, these no bake cookie dough bars are easy to make and no baking required! You'll love this easy cookie bar dessert with sprinkles!
Total Time
2 hours
20 minutes
Ingredients
½ cup brown sugar
1 stick of butter (8 tbls), softened
1 cup flour
½ cup sweetened condensed milk
1 tsp vanilla extract
½ cup mini chocolate chips
Sprinkles
Topping Ingredients:
1 bag white chocolate candy melts
½ cup heavy cream
Gel food coloring
Don't forget to head over to see all of our other yummy recipes. Head over next to our amazing Chocolate Heath Bar Cake recipe.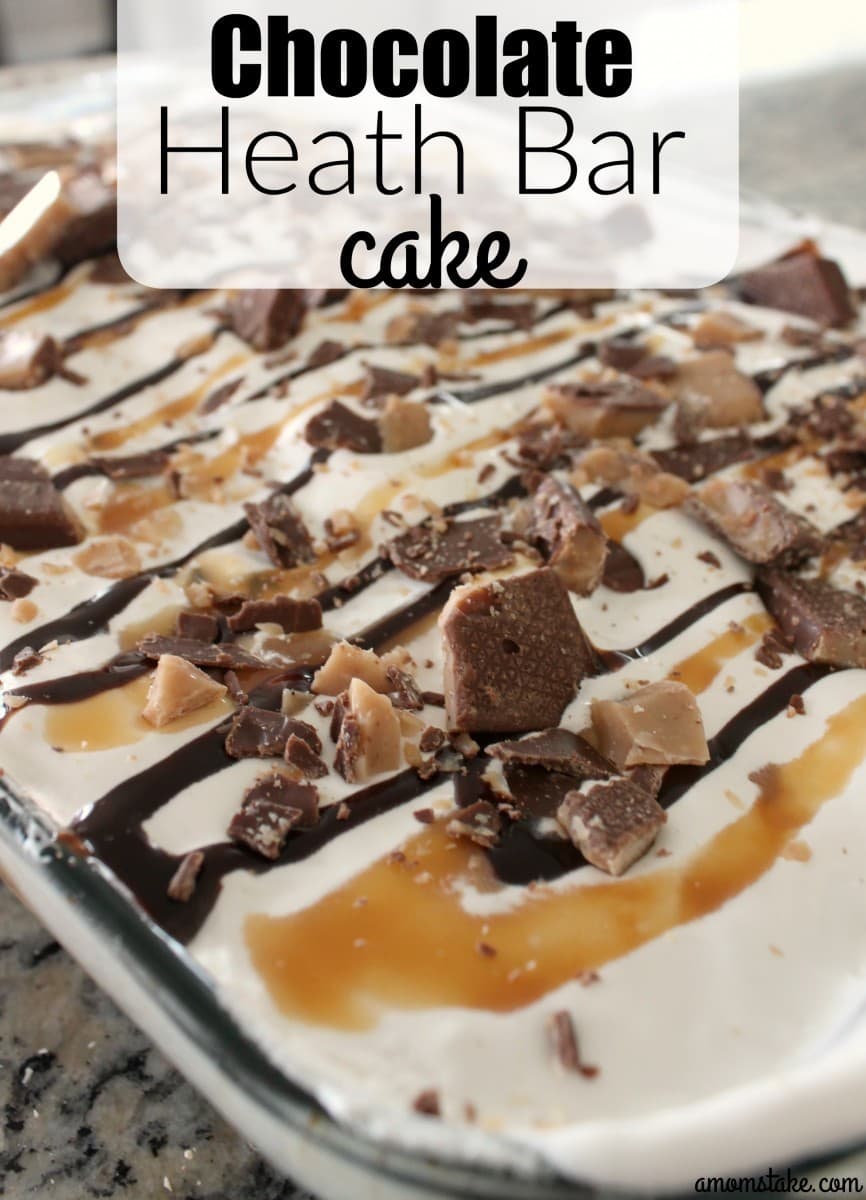 Or try our mouthwatering S'mores Layer bars recipe next!
I hope you're loving this recipe as much as I am! Click the image below to save it for later on pinterest!
Try our Easy Lemon Danish Breakfast Recipe
This Sweet Glazed Easter Bread is sure a treat!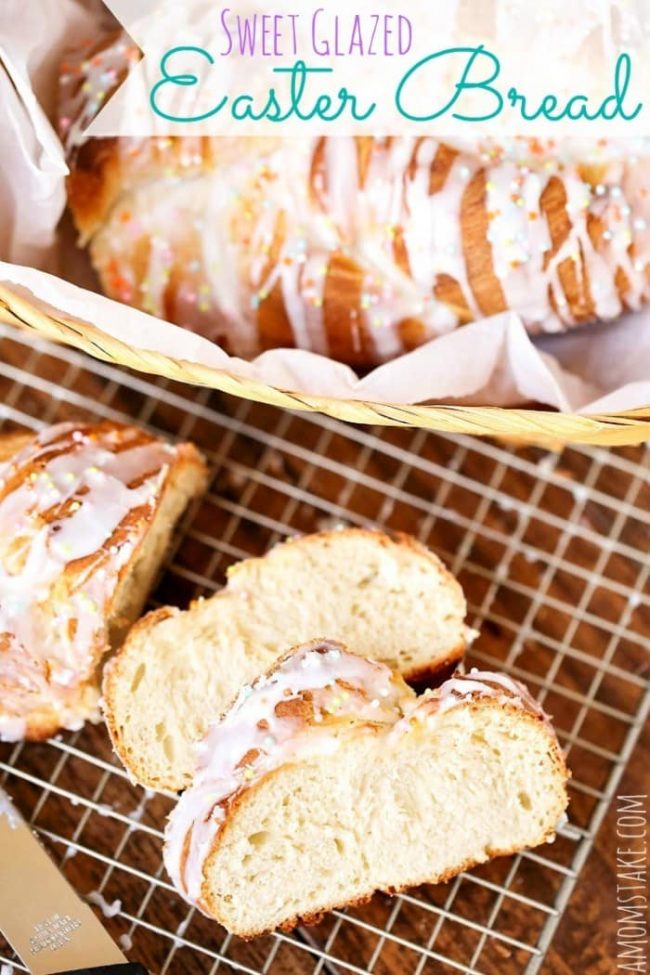 What's your favorite cookie dough variety?