If you are looking for a healthy and delicious option to not bust your diet, this Greek yogurt parfait may be just what you're looking for!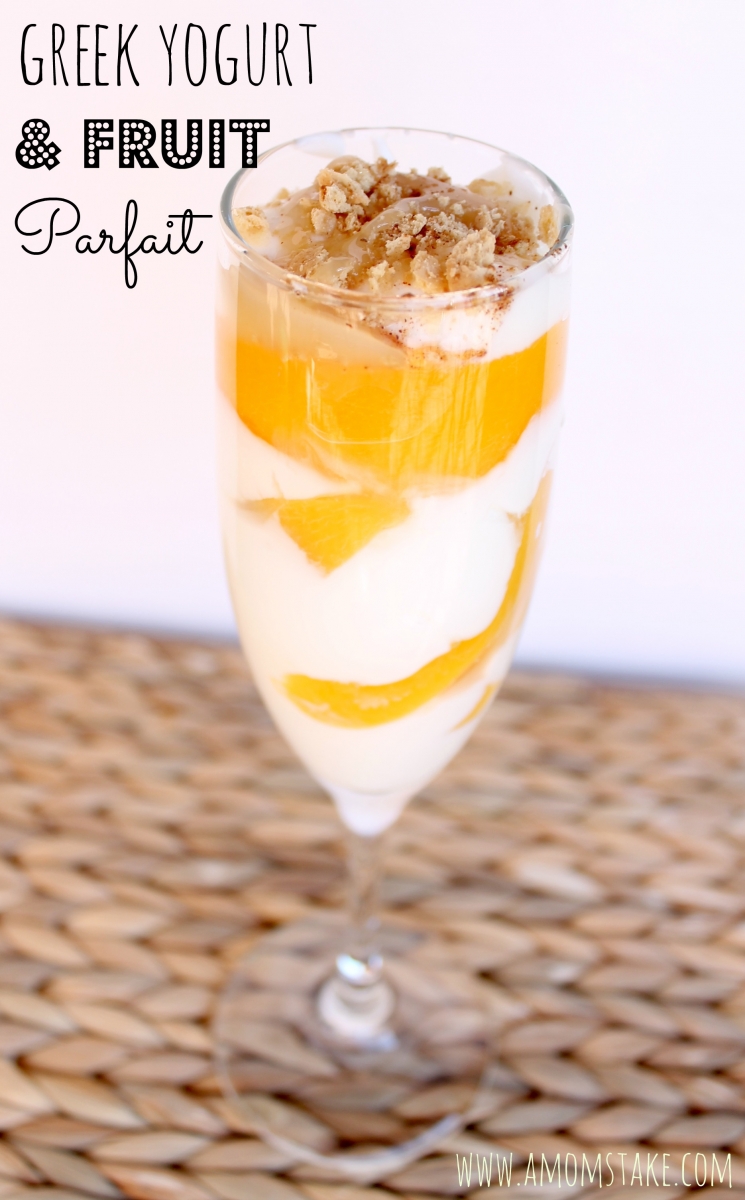 CLICK HERE TO SAVE THIS RECIPE ON PINTEREST!
Summer is the perfect time to get into shape. However, making necessary changes to your diet and exercise routine can seem quite overwhelming; trust me I've been there. I've found that by focusing on one simple food and fitness goal a day, I'm able to make great strides towards my overall health. Need a little help and motivation? Follow these unique ideas to 5 days of food and fitness.
5 Days of Food and Fitness
1. Move it Monday – Start your week off right with a nice cardio workout. Make a goal to perform at least 30 minutes of cardio throughout your day. This could include walking up and down the stair during lunch, doing some Zumba routines on Youtube, or pushing the stroller around at the park. You don't need a gym membership to get your cardio in.
2. Fruits and Veggies Tuesday – Eat a serving of fruits and veggies with every meal…ya, that's right, even breakfast. This could be something as simple as an omelet with peppers and onions paired with Fruit in a Jar.
3. Relaxation Wednesday – Take time to meditate and relax from your various daily stressors. Stress can take quite the toll on your body so it's important to know what de-stressing methods work for you. For me, I enjoy doing yoga, deep breathing exercises, and soaking in a hot bath.
4. No Electronics Thursday – Turn your electronics off and get outside. By turning off your electronics for one day, you'll be surprised just how much more time you have to devote to exercise and cooking healthy meals.
5. Healthy Eats Friday – In order to improve your overall health, it's important to make sure you're eating a balanced and nutritious breakfast every morning. Make a conscious effort to eat a healthy breakfast. Want to know my new favorite breakfast recipe? You've got to try this Greek Yogurt parfait.
Affiliate links are used in this post.
GREEK YOGURT PARFAIT
Finding healthier food to eat doesn't have to be overly difficult! This greek yogurt fruit parfait tastes delicious and is good for you!
How to Make a Parfait with Greek Yogurt
Ingredients:
1. Fruit in Jars Mixed Fruit, drained (I've also made this with plain peaches and it was divine).
2. Vanilla Greek yogurt
3. Crushed graham crackers
4. Drizzle of honey
5. Pinch of cinnamon
Instructions:
1. Layer fruit and Greek yogurt in a glass cup (I really like the look of using a fancy glass).
2. Top with crushed graham crackers, a dash of cinnamon, and a drizzle of honey.
FAQS ABOUT GREEK YOGURT PARFAITS:
Q: Can you make these Greek Yogurt Fruit Parfaits with non-Greek yogurt?
A: Of course. You can use any type of yogurt that you see fit for this recipe.
Q: Is it possible to freeze these Greek Yogurt Parfaits?
A: You can freeze these but just keep in mind it may change the texture of the yogurt once unthawed.
Q: How simple are these Greek Yogurt Parfaits to make?
A: So Simple! No cooking required!
IF YOU LOVE THIS GREEK YOGURT PARFAIT, SPEND A FEW MINUTES TO SEE THESE OTHER BREAKFAST RECIPES THAT WILL BE AN AMAZING PART OF YOUR RECIPE COLLECTION!
CONNECT WITH A MOM'S TAKE ON YOUR FAVORITE SOCIAL CHANNEL FOR MORE RECIPES!
You can find us on:
Instagram | Facebook | Pinterest | YouTube | Twitter
GREEK YOGURT PARFAIT
Click below to print/save this recipe or pin it to bookmark!
Greek Yogurt and Fruit Parfait
Author:
Meagan - A Mom's Take
Ingredients:
DOLE fruit in jars (peach or fruit blend)
Vanilla Greek Yogurt
A pinch of cinnamon
A drizzle of honey
Crushed graham crackers
Directions:
Layer your fruit and greek yogurt in a cup
Top with crushed graham crackers, a drizzle of honey, and a pinch of cinnamon
What fitness tips and tricks have you tried this summer?