I received a sample of Byron's BBQ and compensation in exchange for this post. All opinions are my own.
We love entertaining and having guests over for dinner, games or just to visit. Every time we have company, there is always food involved. But sometimes, we don't want to go through the effort of a huge home cooked meal with the prep time, mess, and energy.
We hosted our family over for Thanksgiving and will have company over this year for both Christmas and New Year's. To simplify our party planning at the busiest time of the year, I created this Aloha Barbecue Sliders recipe!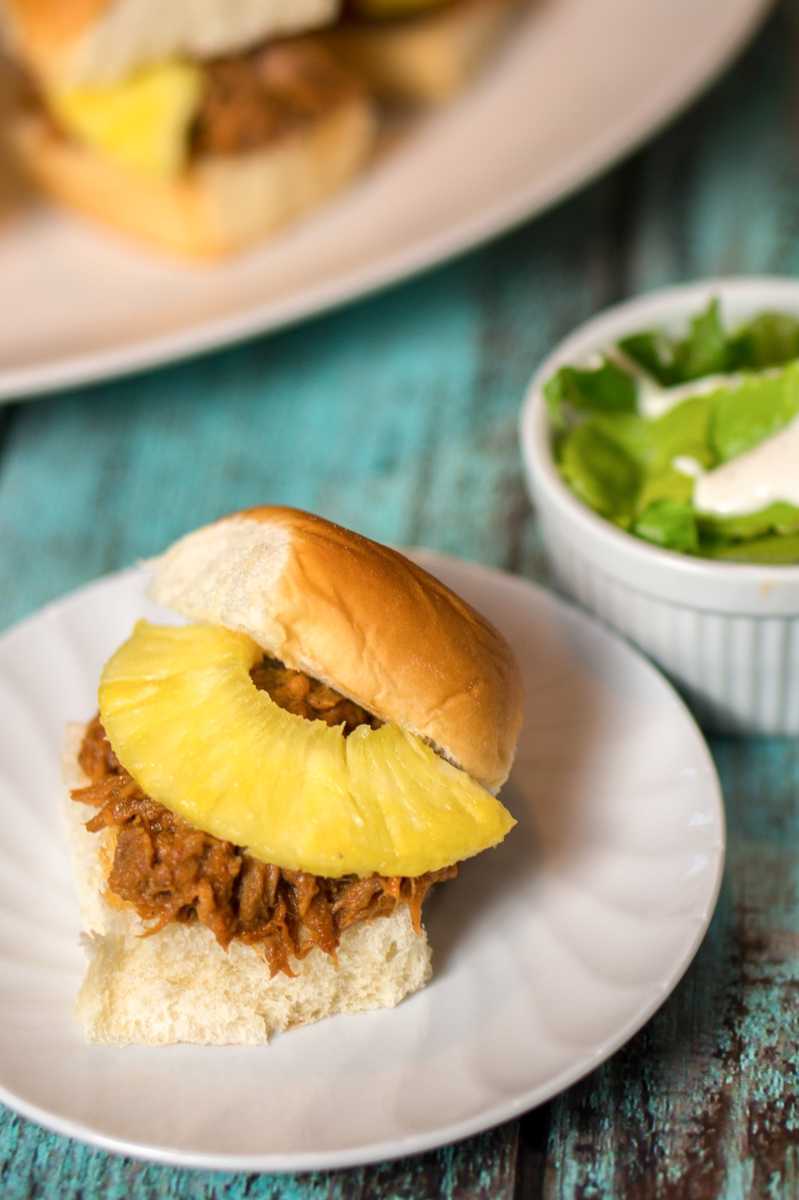 I love pulled pork and barbecue, but if you can add in something sweet or savory to go with it then it's a complete home run for me. The other thing I love about as much as barbecue is fresh pineapple so I knew it would be a perfect fit. I wanted to create barbecue sliders that would be perfect for serving easily to a crowd but not sacrifice on taste or take a ton of effort to prepare. These sliders were so simple!
First, toss Byron's pork BBQ into the oven and cook following the package directions. While it was cooking, I sliced open the rolls to create a "bun" using. I also cut and prepared our fresh pineapple into long thin slices.
Depending on how full you stuff the rolls, you'll need 24-36 count of rolls. I used the King's Hawaiian brand because they are a sweet roll that gives that Hawaiian taste I was going for.
When the BBQ meat is read, pull it out of the oven and dish approximately 1/4 cup onto each roll, top with a slice of pineapple, and add the second half of the roll to create your barbecue slider.
Byron's Fully Cooked Pork BBQ was incredibly easy to prepare and really, really good! I was very impressed!! I let the tray thaw in the fridge overnight, and I think that really helped the meat to cook evenly and absorb the flavor into the meat as it cooked as well.
The meat does have a spicy kick to it, but that just made me like it more. I evened out the spice with something sweet from the pineapple and rolls that were absolutely delicious bite after bite!
I served our sliders up for dinner with a side salad and the meal was a hit with my boys! A cool salad helps clear your pallet between sliders and is the perfect complement to the meal.
I absolutely am planning to dish up our Aloha Barbecue Sliders recipe again for our New Year's gathering, it's the perfect time to serve them and a great theme to kick of a new year with a Hawaiian flair!
Whatever gathering you're planning for New Year's, graduations, baby showers, or whatever it may be, you'll love this easy appetizer — and so will your crowd!
You can find Bryon's fully cooked pork BBQ at your local Sam's Club along with these other ingredients.
Have you ever made barbecue sliders?