Here in Alaska it has already snowed three times this winter. We spend our days finding ways to stay warm and snuggly. One of our favorite pastimes is reading books while cuddling under a big blanket, followed by hot chocolate. However, we still have to go to school and we still have to run errands. Unfortunately, we can't stay cozy at home all the time. We have quickly found ways to stay warm outside too, and thanks to Lost. Found., my kids are even more obsessed with learning how to knit!
I received compensation for this post, all ideas are my own.
My kids have very talented grandmothers who both knit. From their first pair of newborn booties to gorgeous blankets and gifts they have been spoiled with beautiful knit gifts their whole lives. The grand babies have always been curious about their clicking needles but after reading Lost. Found. over and over again, their curiosity about knitting has peaked!
In this fun book by Marsha Diane Arnold, playfully illustrated by Matthew Cordell, Bear has lost his beautiful red scarf. It is found by some raccoons who use it for a game of tug of war. Then it is found by a beaver who uses it as a hat. Over and over that wonderful scarf is lost and found and when everyone decides they want it at the same time, it needs some repair.
One of my favorite things about this book is it is nearly wordless. My four-year-old is an early reader. He loves to sound out words and longs to read a book by himself, but a whole book of words is overwhelming. Because the words are repetitive, he can sound them out and then read the whole book on his own! It is so fun to watch!
In the spirit of Lost. Found I set out to find a way for my toddlers chubby hands to knit! Now your kids can too!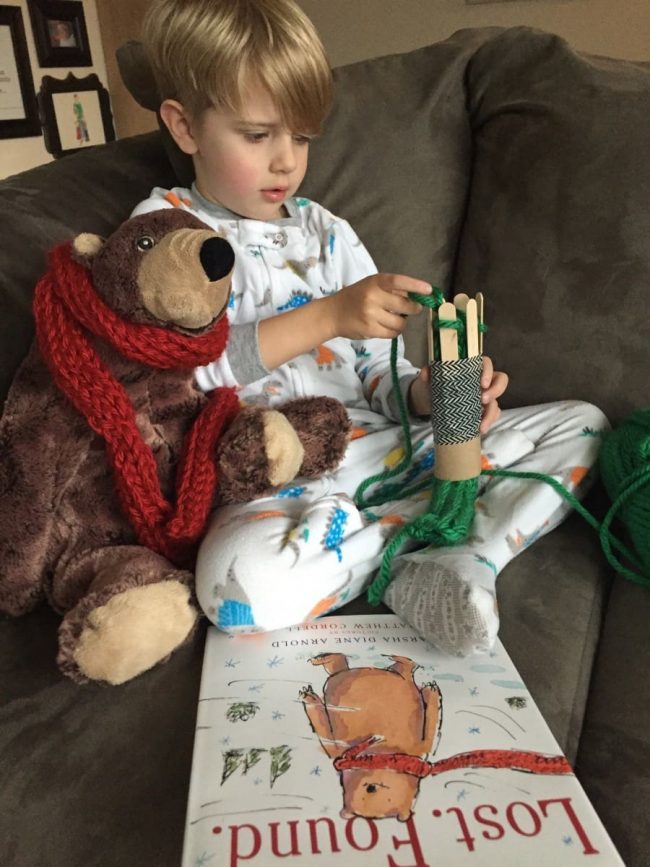 To create a Toilet Paper Roll Loom you will need-
An empty toilet paper roll
Craft Sticks
Hot Glue Gun
Washi Tape (Optional)
Start by glueing popsicle sticks around the outside of your roll. I chose to use six wider sticks knowing that my kids hands are still working on very fine motor skills. You can use smaller sticks and put them closer together if your kids are older. The width of the sticks and the length of space between them will change the size of your stitch.
Next, wrap the outside of the tube with washi tape to cover up the sticks and make the tube smooth. Plus, if siblings are knitting, it will help you tell their looms apart.
Now that you have a loom, watch this video for a tutorial on loom knitting.

Once you get going, it really moves pretty quickly. We whipped up our favorite bear a red scarf in one afternoon, it makes him a little more snuggly than normal. Make sure to grab a copy of Lost. Found. for your family this winter, it is the perfect book to get cozy with a friend and read.
Have you or your kids ever tried kitting?