My family has already faced the first round of colds, only two weeks into the school year. Thankfully, we were prepared with a get well kit on hand. A cold is relatively easy to deal with, some sniffles and coughs and extra tired, but overall you can continue to function through most of the sick period. Catching the flu is a totally different story, and you've got to be ready for all that comes with it. We'll help you prepare for what to do when you have the flu so you'll be ready when the bug hits your home.
I'm proud to partner with CVS Pharmacy on this post for the CVS Health brand line. All opinions expressed are my own, and all product claims or program details shared should be verified at CVS.com or with the appropriate manufacturers.
8 Tips for Managing the Flu
Rest, Rest, Rest – The most important thing you can do when you catch any kind of sickness or bug, is to rest as much as you can. Take a day off of work when you can, or go to bed as early as possible if you can't. Stay-at-home parents don't get to call in sick, but can plan around a lazy day at home with a movie or snuggles on the couch reading books.
Lots of Fluids – You need a lot more fluids when you're sick, and it's really important to not get dehydrated. Aim to drink twice as much as you feel like drinking. Keeping a water bottle or electrolyte drink near you at all times can help. Hot drinks like apple cider or an herbal tea can also be helpful to soothe a sore throat and warm your belly.
CVS Pharmacy has a unique new product to make it easy to get flu relief and liquids at the same time. Just pop one of their new Daytime or Nighttime Cold & Flu Relief Single Serve cups in your Keurig K-cups compatible brewing machine. It will deliver a hot cup of cold & flu relief that will give you both the benefits of medication and a soothing hot drink.
This one product can help relieve:
Headache
Fever
Sore Throat
Minor aches & pains
Nasal congestion
Cough
The daytime formula is a berry flavor infused with menthol and green tea flavors while the nighttime formula is a honey lemon flavor infused with chamomile and white tea flavors. The daytime provides a non-drowsy formula while the nighttime relief will help you get the rest you need. This is such a unique product, you'll definitely want to have a box of Daytime and Nighttime Cold & Flu Relief Single Serve cups on hand for when you get sick this fall.
Stick to Easy Stomach Foods – You likely won't have a big appetite, but it's a good idea to eat even if it's just a small meal or a few soda crackers throughout the day. Some great foods for sick day include: chicken noodle soup, broth, popsicles, soda crackers, and jello.
Load up on Vitamin C – Consume Vitamin C when you start to feel the symptoms of getting sick or when you notice friends and family around you feeling under the weather. The Vitamin C will help boost your immune system and help you recuperate faster as well.
Vapor Rub Your Soles – Add socks! This trick often used for kids, is great for adults too! Rub some vapor rub onto your soles, add a pair of socks, just before bedtime.
Soak in the Tub – A nice soak can help clear up your sinuses, soothe your sore muscles, and relax your body. It's also just great for your soul to help you recharge internally. It doesn't need to be long, even a 10 minute soak can help.
Ask for Help – Call in for reinforcements when you can. Let your spouse know what tasks he can take over to help you out. Call up a girlfriend and ask her if she'd bring in a meal so your hungry kids will have a filling meal. Or see if a neighbor can help usher your kids to school so you can take it easy.
Don't be a "Hero" – Sometimes there's a mentality that you don't want to take medicine unless you absolutely have to. Medicine can do wonders to help you feel better and be able to function and take care of the needs around the home. Don't shy away from following the recommended dosage instructions to help you tackle your cold and flu days.
Flu Days Survival Kit
Stock up on the appropriate medicines you'll need for cold and flu season before it hits your family so you're prepared when it happens. There's nothing worse then feeling absolutely miserable and not having the supplies you need to help you on hand. Here's what you'll need to tackle flu days: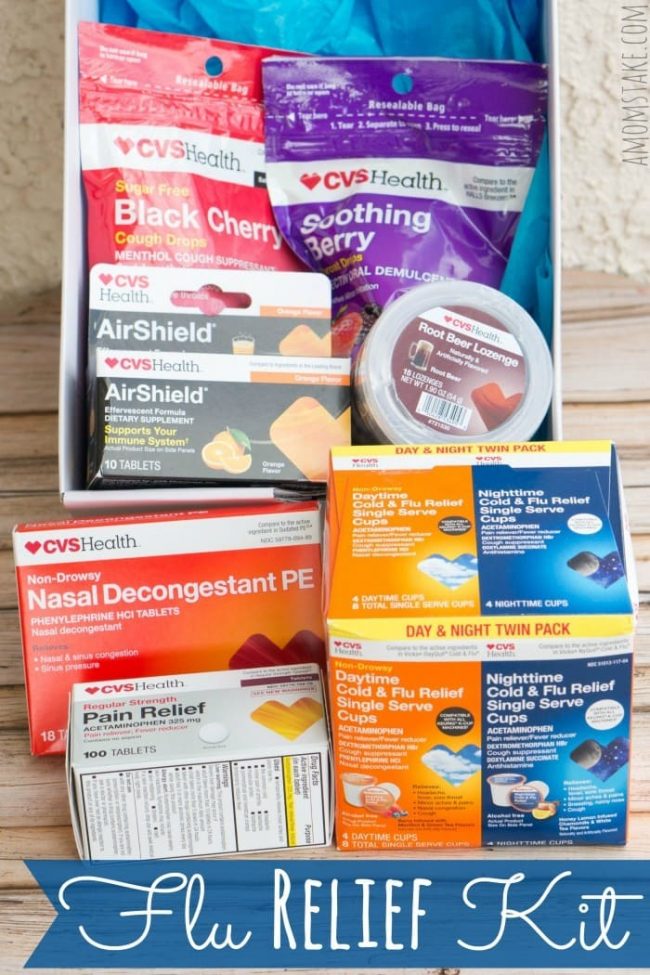 Fever Reduce / Pain Reliever
Daytime and Nighttime Cold & Flu Relief
Vitamin C / AirShield to support your immune system
Cough drops / Soothing throat drops
Decongestant
You'll also want a good supply of fluids, tissues, a heat pack, and a thermometer handy!
You can find everything you need for your cold and flu relief at CVS Pharmacy with the CVS Health brand found throughout the store at prices below the name brand products.
What are your secrets for surviving flu season?