There is nothing more exciting than preparing for a new baby. However, with so many baby products and gear on the market, it can be difficult narrowing down your options. From young mothers who have been there, check out some of our favorite must-haves for newborn babies and toddlers.
We received a variety of samples in exchange for this post. All opinions are our own.
Newborn and Toddler Must-Haves
Essentials For Their Care
There is nothing softer than a new baby's skin. That's why it's important to make sure that your baby's skin is being taken care of. Thankfully, Palmer's offers a wide variety of skincare products perfect for protecting and moisturizing your baby's skin.
A few of my favorite Palmer's products include their Cocoa Butter Formula Sunscreen, Baby Wash, and Oil Rosehip. Not to mention, I can't get enough of their Stretchmark and Breast Cream. Talk about the perfect way to keep both mom and baby's skin hydrated, clean, and smelling wonderful…because let's be honest, Palmer's Cocoa Butter scent is heavenly.
Keeping your baby happy and diaper-rash free has never been easier, thanks to Boudreaux's Butt Paste. When I was pregnant with my first, I got a bottle of Butt Paste at a baby shower. I remember listening to all of the women at the shower rave and rave about the miracle of Boudreaux's Butt Paste and how it saved their children from terrible diaper rashes.
Fast forward 3 years and Boudreaux's Butt Paste is still a family favorite. Perfect for even the gentlest of skin, this Butt Paste provides an instant barrier keeping your baby's bum dry, fresh, and rash-free! Such an effective and safe way to eliminate diaper rashes!
Awesome Baby Gear
DockATot™ has been a lifesaver in our home, it is a multi-functional lounging, playing, chilling, resting and snuggling dock you can take anywhere! Available in two sizes, The Deluxe (0-8 months) and The Grand (9-36 months), DockATot™ is designed to offer a safe, snug and soothing environment for babies. Every material and detail is carefully micro-managed to ensure the highest quality of breathability, non-toxicity, comfort and convenience, plus they come in to die for patterns and colors.
My daughter was such a fussy sleeper, but has been sleeping like a champion in her DockATot™ for months now! She loves to have me take it from her room downstairs so she can play in it as well. It has become her own comfy, little nest! The DockATot™ has been rigorously tested and is fully compliant with both federal law and U.S. Consumer Product Safety Commission proposed standards, setting a new standard for baby lounger design and comfort. It is truly a MUST HAVE.
A stroller is a must for getting out of the house with a newborn or toddler in tow. The new 2017 Britax B-Ready Stroller will grow with your family and configure to your unique family needs. Hook on an infant car seat for a lightweight travel system, try a bassinet to let your newborn sleep on the go, or add a second seat to tote a toddler and your newborn.
New features in the latest model include foam-filled rubber tires, four-position recline, expandable under-seat storage that you can access from all sides of the stroller, oversized canopy with UPF 50+ sun protection, puncture-free tires, and an easy compact fold with two stroller seats attached. The Britax B-Ready was already an amazing stroller, but it just got better! Available at local retailers later this month.
Mealtime Helpers
There is nothing more fun than watching your little one try food for the first time. Watching their eyes fill with wonder and excitement as they try different tastes and textures is truly priceless. Perfect for babies (6 month +) and toddlers, Marcus & Marcus offers colorful, soft, flexible, and BPA-free mealtime products.
A few Marcus & Marcus favorites at our house include their Rocket Themed Feeding Dispenser, Fork and Spoon Set, Divided Plates, and Collapsible Sandwich Wedges. I love how soft yet functional these pieces are. Not to mention, my kids are constantly fighting over who gets which fun pattern and color. Thanks to Marcus & Marcus, mealtime has never been more fun and functional!
Playtime Fun
Part of helping children grown and develop is exploratory play. Equipped with different colors, textures, and tags, Baby Jack & Company creates modern sensory tag blankets and toys perfect for all children. Providing tactical play, stimulation, and comfort, these adorable blankets are an absolute favorite at my house!
Not to mention, they've helped immensely through my daughter's teething stage. Want to help spread some love? With Baby Jack & Company's #SpreadTheLovey campaign, anyone can donate special Baby Jack & Company loveys to hospitals, military families, special needs classes, and more!
My kids are OBSESSED with their brand-new, two-in-one toy pillow. Whether they are reading, or playing, riding, or sleeping my toddlers must have their Flipazoo with them! These must-have snuggable, huggable animal pals magically transform from one animal to another and then back again – making every FlipaZoo twice as nice.
With the new line's patented one-of-a-kind "easy flip" designs, little ones can simply hold their favorite two-sided FlipaZoo friend, "flip" its soft back, and boom, a new friend to play with. The adorable new FlipaZoo collection has more than a dozen, adorable, stand-out characters – including the clever Cat/Mouse, mystical Unicorn/Dragon, and fiercely-fun Elephant/Tiger. Your kids will flip for them!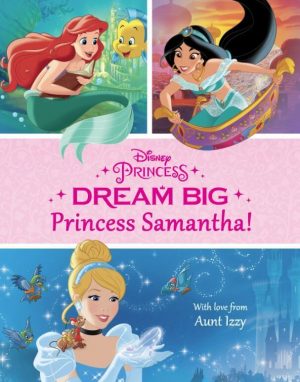 Reading to babies and toddlers is so important, it helps them develop language skills, promotes bonding, and inspires an early love of reading. What better way to peak their interest by personalizing their books with Put Me In The Story. With a huge selection of books that can be personalized to include them, you are sure to find one your child loves.
My daughter can't get enough of her brand new Dream Big, Princess book. She can join in the adventure and stories of 11 Disney princesses. Learning that being a princess is more than just princes and castles…it's about being brave, honorable, kind, and hardworking, is such a powerful message for little girls everywhere. Find the perfect book for your child by checking put Put Me In The Story.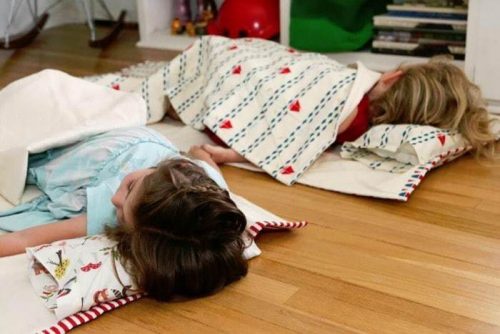 My toddlers both love to be snuggly. They adore blankets and pillows and all things soft and comfortable. Enchanted Slumber has made playtime, nap time, and everything in-between just dreamy with their Signature All-In-One Organic Sleeper.
This snuggly bundle is a portable sleeping bag made from 100% organic cotton and provides a safe, non-toxic solution for school nap time, sleepovers and any cozy adventure. The sleeper easily unfolds including a quilted pad, blanket covering and lavender scented buckwheat pillow. Every print they have is so cute, I wish I could have one of each!
Nighttime Solutions
My babies ALWAYS slept so much better when swaddled at night. In fact, I swaddled both of our babies for the first few months of their lives. My absolute favorite swaddle blankets have always been Aden + Anais.
Lightweight, fashionable, and functional, these swaddle blankets are perfect for everything from tummy time, to nursing, and swaddling. Not to mention, their large surface area folds up seamlessly and can be transported anywhere without taking up much space. Celebrating the Aden + Anais 10th anniversary, you can now purchase these limited edition swaddles in two classic prints – zebra and stripes. Trust me, you can't go wrong with Aden + Anais swaddles!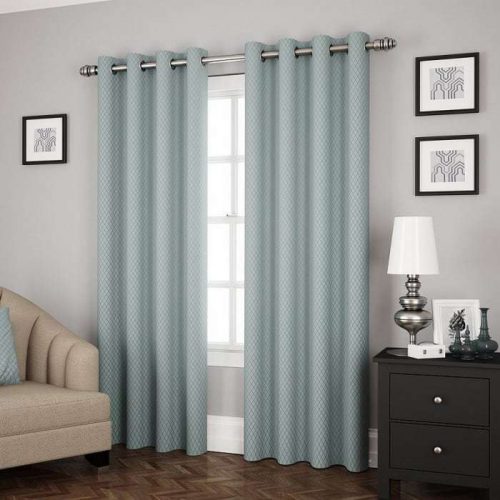 Add room darkening curtains to the nursery to help your little one nap and sleep-in without the sunlight to wake them up. Eclipse Curtains block over 99% of intrusive light and even reduce unwanted noise. They'll also help keep in the heat through the winter and keep the cool air in the room during the summer.
Eclipse Curtains come in a huge variety of designs, patterns, colors, and styles to meet whatever your nursery theme is. We're adding the Eclipse Ridley Room Darkening Curtains to add style to our toddler room and improve his daytime naps. You can find Eclipse Curtains at major retailers including Kohl's, Target, Walmart and more.
Fashion for Tots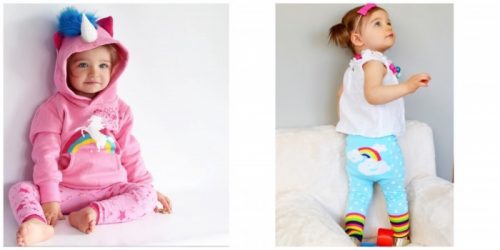 Kids clothes are so fun to shop for. One of my favorite shops is Doodle Pants. They have the most adorable selection of leggings, hoodies, shirts, and even hooded towels. My girls are obsessed with their Unicorn Hoodies. We get stopped, at least twice, every single time they wear them asking where we got them from.
All of their clothing is so well made, I know it will last wash after wash. I can't get over their selection of cute children's leggings, so many great patterns and colors to choose from! They are so thick and comfy, my little girl loves picking them out of her drawer to wear! This fall your little one's wardrobe is not complete without some Doodle Pants!

If you have a baby, one on the way, or know someone who does TinyBitz is a brand you have to know about! This brand has developed clothing that literally grows with a new baby. Where else can you find 3 different-sized onesies all in ONE set, rolled in complimentary gift packaging and ready to be gifted instantly?
Any mom would love to have one of these kits in their nursery. In addition to these great growing kits, they have a whole bunch of adorable sets for every season. Their prints and colors are spot on with all the latest trends for boys and girls. This Cardie with Neckerchief Set is my favorite!
Nursery Essentials & Decor
I have three young children. I have used a Summer Infant video monitor with each one of them, I love being able to keep an eye on them while they sleep. For me a video monitor is in my top 3 of the most needed baby items, there is no easier way to peek in on your sweet little one. However, as my children grew I still loved being able to see what they are up to, but I was out of room on my nightstand!
Thank goodness for the Summer Infant Side-By-Side Split Screen Video Monitor Set. This amazing set features a large 5" video monitor and two pan/scan/zoom cameras with two-way communication, and Summer's exclusive side by side split-screen technology. I can view two rooms on screen at the same time, and add two additional cameras for up to 4-way view simultaneously. This monitor is easy to navigate and provides excellent picture both day and night.
Your baby's nursery and your kid's rooms are such personal spaces. With each pregnancy I spend sometime collecting the perfect items to make their space their own. KaliLaine Creations has the sweetest customizable pillows, perfect for any theme. Each of my kids have a brightly colored LETTER Pillow for their rooms. They feature they first initial and our their favorite colors, each one a perfect expression of their sweet personalities.
Their products are manufactured here in the United States which allows them amazing prices, quality, and a quick turnaround on orders. In addition to pillows they have mugs, shower curtains, blankets and more. Give your child's room the perfect personalized pop with a pillow from KaliLaine Creations.