InGenuity brings innovative baby gear products to life! One of their great new designs is changing the world of swings! Their Cozy Coo Sway Seats bring you the benefits of a sway seat that rocks baby from side-to-side and packages it into a simple and compact design for smaller living spaces.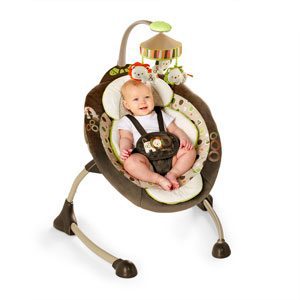 Features of the InGenuity Cozy Coo Sway Seat:
Side-to-side gentle swaying motion mimics mom's movement
Plug-in or battery operated: money and energy savings powered by Hybridrive™ technology
3 adjustable recline positions
TrueSpeed™ technology maintains 2 speeds as baby grows
Cradling seat with deluxe fabrics features removable bolster and integrated head support
11 calming melodies, white noise and nature sounds with volume control
Mobile with 3 plush toys to entertain baby
Swing timer with settings for 30, 45 and 60 minutes
WhisperQuiet™ operation
I love the new direction swings are headed like the InGenuity Cozy Coo Sway Seat. My three older children all used a traditional forward swinging swing. The side-to-side motion has been available for a while now but always in really large swings that take up a lot of space both in storage and in your room while in use.
This new sway seat style is compact giving me more floor space in our small home and still give me the benefits of a side-to-side gentle motion. I really appreciate that the swing can use batteries or be plugged in as I rarely have 4 "D" size batteries on hand.
The Cozy Coo Sway Seat can be used up to 25 pounds and has adjustable height positions to accommodate even a newborn. It is completely silent while swinging unless you choose to activate the vibration mode or one of the melodies or nature sounds that can be turned on. I love how truly silent this seat is and also really appreciate the built-in timer settings!
Check out my video overview of the Cozy Coo Sway Seat!
You can find InGenuity's Cozy Coo Sway Seat at Target and Target.com. It retails for $119.
Disclosure: I received in exchange for my honest review. I was not compensated in any other manner. The opinions expressed above are my own and any claims should be verified on the sponsor's site.