This post is sponsored by Similac. All opinions are my own. See below for additional disclosures.
There are so many questions and decisions you have to make as a new parent – and many of them come with hot debates throughout our culture trying to persuade you that their way of thinking is the only right option. Reality is, there is rarely a black and white answer to all of those parenting decisions we have to make. Every family has unique circumstances, upbringing, and other factors that will help determine the right answer for their family.
Today, I want to talk about some of the myths and scare tactics that often come with formula feeding. You don't have to be afraid of formula. If formula feeding or a combination of breastfeeding and formula feeding is the right choice for your family, the following reasons should reassure you that you and your baby are going to be just fine. And get excited because reason #3 is actually a brand new innovation for formula!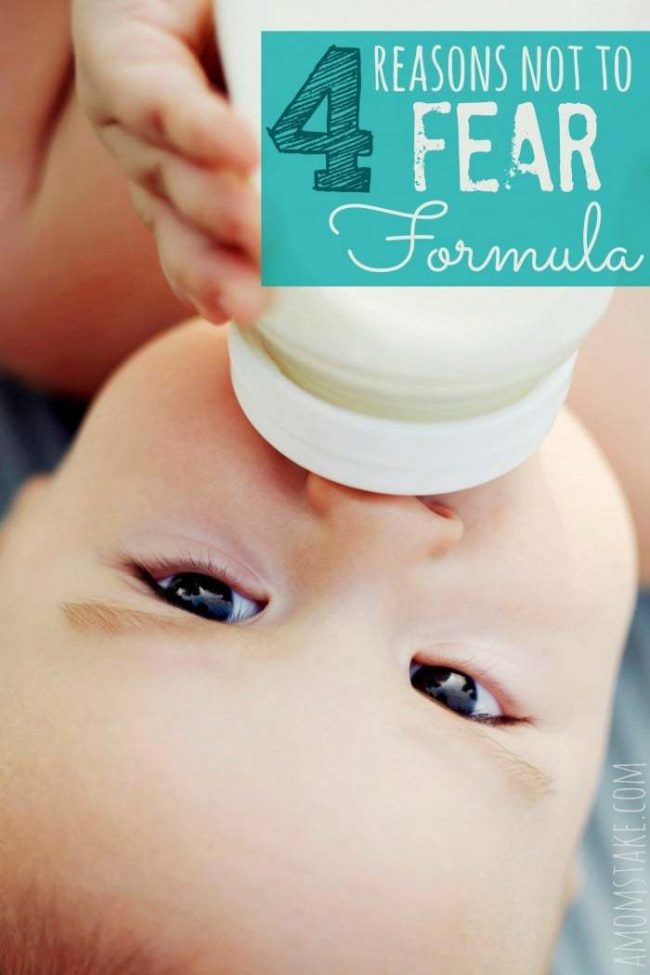 4 Reasons Not to Fear Formula
1. You Can Do Both – Some will suggest if you try to do both you'll lose your milk supply or your baby will get nipple confusion. While there may be an initial adjustment period if you exclusively breastfeed and are trying to introduce bottle feeding as well, babies adapt quickly and the road bumps won't last long. It's completely safe for you and your baby to use a combination of both breastfeeding and formula.
If your baby has problems adjusting to a certain nipple, try others until you find a fit that will allow you to keep up both feeding options as long as you'd like. Your body's milk supply will adjust to just as much milk as your baby needs, so if you need to switch back to full time breastfeeding, your body will quickly adjust to the change.
2. Bonding Still Happens – No matter how you choose to feed your baby, if you take the time to soak up every minute of their feeding time with loves and snuggles, you'll still have every second of bonding time built in. One perk of formula feeding is dad, grandparents, and siblings can help share the load (especially during those difficult middle-of-the-night feedings) and will also get to spend time connecting with the new baby.
3. Nutrients Are Abundant (and Evolving!) – While scientists are still researching and studying breast milk to continue to bring formula closer to breastfeeding, there isn't as big of a gap as you might think. Formula has come a long way from where it was even just 10 years ago. Today, infant formula has a lot of nutrients.
In many of the infant formula products you can find a whole host of healthy nutrients including:
Prebiotics for digestive health and to support the immune system
DHA for brain development
Lutein for eye development
Vitamin E to support developing cells
Iron-fortified to avoid anemia
A healthy source of protein, fat, calcium, vitamins and minerals your baby needs
Similac brand infant formulas include all of these nutrients, within their OptiGRO proprietary blend, and they just introduced a brand new benefit – HMOs. I shared a few weeks ago about all about what HMOs are, they're really important to learn about.
Similac is the first and only brand to introduce 2′-FL HMO, which are the most abundant HMO in breast milk. HMO (which stands for human milk oligosaccharides) are a special type of prebiotics that have only ever been found in breast milk, so this is a FIRST for formula. 2'FL-HMO feeds good bacteria to an infants gut to help their immune system in the gut. 2′-FL is also absorbed through the blood stream.
Abbott sponsored a clinical study on HMOs that was recently published in the Journal of Nutrition. The study took a look at 200 babies divided into thee feeding groups – exclusively breastfed, formula-fed without 2′-FL HMO, and formula-fed with 2′-FL HMO. The results after six weeks showed that comparing the five immune markers were nearly identical between the breastfed group and the group fed with 2′-FL HMO but the levels were different for the babies that were formula-fed without 2′-FL HMO formula.
4. Diet & Variety of Formulas – Some babies have a reaction do different types of foods mom may eat, which can in turn necessitate drastic diet changes for breastfeeding moms. There is a large variety of formula options available to fit the needs of different babies including sensitive and soy formulas. If you find your baby is having a tough time digesting one type of formula or is left with a gassy or upset tummy, it's easy to switch and find one that will work for your baby.
Breastfeeding is still the best option for babies, but when circumstances arise that make formula the right choice for your family, you can feel confident with Similac as this new addition makes formula even closer to breast milk. Both Similac Pro-Advance and Similac Pro-Sensitive are non-GMO and contain the 2′-FL HMO prebiotics and are available at all major US retailers now as well as the Abbott store.
Similac partnered with influencers such as me for the Launch of Its Pro-Advance and Pro-Sensitive products. As part of this Launch Program, I received compensation for my time. Similac believes that consumers and influencers are free to form their own opinions and share them in their own words. Similac policies align with WOMMA Ethics Code, Federal Trade Commission (FTC) guidelines and social media engagement recommendations.