I love holidays and I love having my house decorated up all festive for each one. There is something about having decorations up that sets the whole mood and spirit for a holiday. I refuse, though, to decorate my house when it's messy. It doesn't look pretty at that point, it just looks like you are putting mess on top of more mess. Therefore, before the holidays, I like to spend a little time cleaning up and organizing my house before the decorations box can come out.
This post is written on behalf of Staples. All opinions are my own.
Home Organization for the Holidays
Now my house is small, we're talking, they didn't even think to work in a linen closet small. It gets messy really fast. One of my biggest problem areas is my husband's desk. I'm pretty sure all it's really used for is collecting stuff. It doesn't help that it is right there in my living room on the way from the front door to the kitchen. But, it definitely will need some help if any decorations will be going up.
See what I have to work with around here. I didn't even move or stage anything. I just walked up to the desk and snapped a photo of it. It's a disaster for sure and really could use a lot of help.
Now, my husband gets a little moody when I clean up his desk. He seems to think he knows exactly where everything is until I touch it. My goal is not to "lose" all his "important" things, but to try and organize some of his chaos.
That is where the super cute and functional home organization products come in. They are going to help me organize some of his chaos hopefully without losing any important things. Though, I should not be held responsible if some old gift cards find the trash or the brake cleaner and measuring tape find their way into the garage.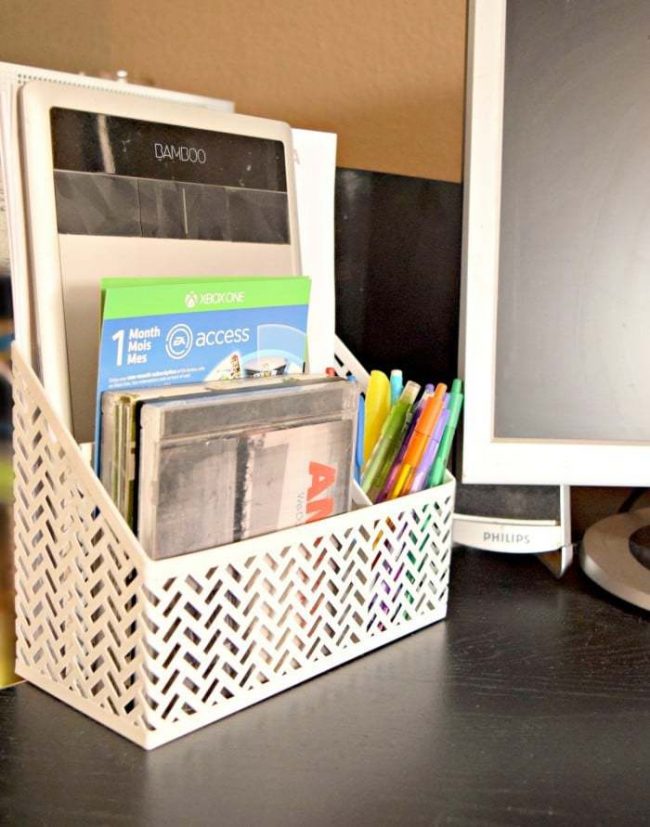 This particular set of organizational products came from Staples. The cute zigzag design adds just enough design and character to be fun, yet stylish. In this case, my husband won't dislike them because they do not have flowers or look feminine. Plus, I think the white will look great contrasted with the black desk.
Wow. What a difference right? It's amazing what a trash can and some fantastic organizational products can do. Now this desk is ready for some holiday spirit. I can break out the decorations without feeling like I'm just decorating trash.
Up until now, my husband sat in a hard metal chair also. I thought it would be nice to grab him something more comfortable. The chair I got is soft and comfy with a high back. He had a huge grin when I first told him I got it for him and he could sit in it.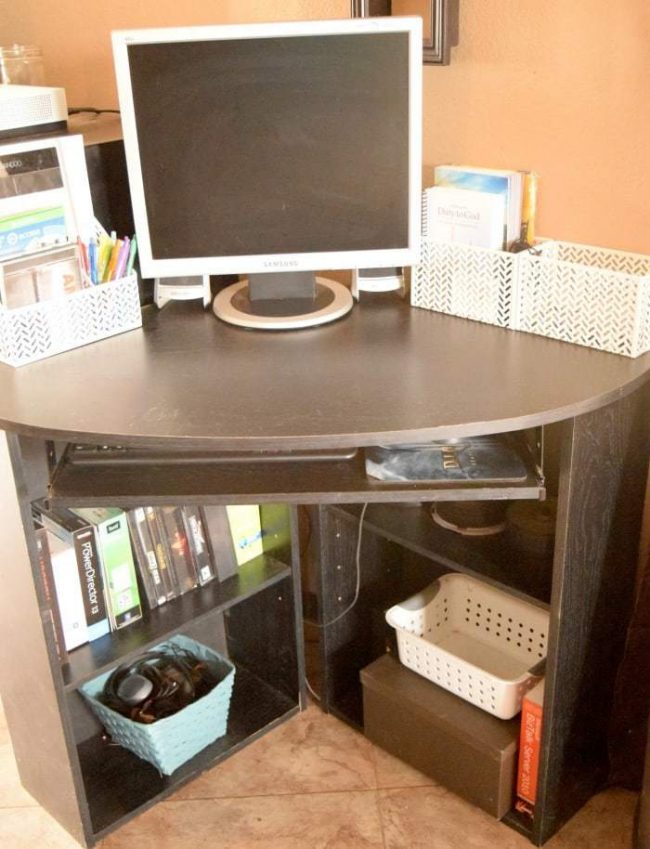 Staples has a ton of office and home organizational products to help you conquer your chaos. So take a few minutes, grab some desk organizers, and get your office space organized and ready for the holidays. Happy decorating!
What are some of your problem areas?