Step2 has created probably the best toy for young children EVER! We received a Step2 Extreme Coaster to review and it arrived on 2 days before Christmas in 3 massive boxes!
I decoyed the children and moved the boxes into our closet blocking off our entire closet space with the massive boxes that we couldn't even step into the closet anymore! I was so excited to set up the coaster and have it waiting under the tree for our boys! I had no idea what their reaction would be but I thought they would love it!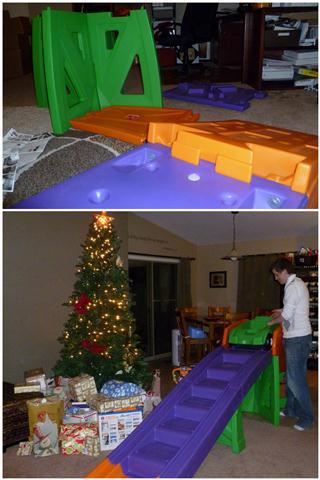 On Christmas Eve after we got all three boys in bed my husband and I pulled out all the other wrapped presents first and then got to work assembling the Extreme Coaster. We were both really surprised by how EASY it was to assemble!
There are a lot of included screws that took a while to use but after the first 5 or 6 screws we grabbed the drill and then the whole process was really easy and quick! The roller coaster is really large at slightly over 11′! We had it place from our tree nearly all the way across our family room. Then, to save our walls just in case the kids went for a spin, we used the three now empty boxes and staggered them against the wall as a "crash" zone.
My boys came wandering in Christmas morning without words of how to describe what they had seen! They kept telling us, "There's a big CAR thing out there!" and "Santa brought something REAAAALY BIG". We played right along with their excitement and came out in shock that Santa would deliver a Roller Coaster!! They were so excited!
Christmas morning as we are opening presents ALL my 3 year old will do is go on the coaster OVER and OVER again! I was really glad for the empty boxes we put along our walls because the coaster goes pretty fast and can carry them pretty far in the included coaster car.
He was in absolute heaven! Both my 5 year old and 16 month old boys love the car as well! The toy is made for ages 3 and testing it a bunch of times and my 16 month old's persistence we put a helmet on him and let him ride as well and he loved it and did great!
We've since moved it to our garage which has been the perfect place for the Extreme Coaster! When we are ready to play we just open the garage door, make sure the cars are out of the driveaway, and let he kids cruise down the ramp and down the driveway. The driveway gives them a bit longer downhill motion so they make in almost halfway into our cul-de-sac.
What's really great about the Step2 Extreme Coaster is the kids LOVE pushing the coaster car back up the hill, even my youngest! Plus, with the steps in the center it is simple for them to climb right up the hill with the coaster being pushed up the track! I have only had to push the car back up the track twice in all the literally 100's of times now that they've cruised down the ramp!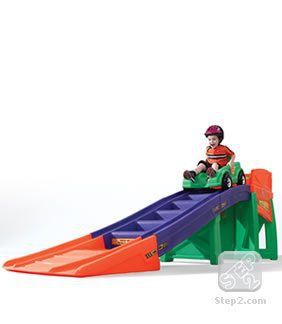 Step2 Extreme Coaster is made for children ages 3 and up and can accommodate children up to 75 lbs. The coaster is Made in USA and is patent pending. It has even received a T.O.Y. (Toy of the Year) Award from Family Fun Magainze.
It has a 5 star overall rating from the 595 total customer reviews on Step2's website. This is one toy you will definitely not be disappointed in! It retails for $259.99 and is available on the Step2 website.
Disclosure: I received a Step2 Extreme Coaster in exchange for my honest review. I was not compensated in any other manner. The opinions expressed above are my own and any claims should be verified on the sponsor's site.