This post is sponsored by P&G but all opinions are my own.
You've made it to your last 3 months, your bundle of joy will be here before you know it! The third trimester will slow you down as your baby quickly grows, but it will also be filled with so many fun moments, including your baby shower and finishing up your nursery as you prepare for your baby.
Let's get started with some tips for your baby registry, which will play a big role in your final trimester as you prepare for your baby's arrival. Then, check out our last checklist, where we are breaking down what to do during your 3rd trimester with just one task per week to make it easier to accomplish the big to-do list. You can print a copy of our pregnancy checklist, so it's easy to mark off each week as you progress through your pregnancy.
3 REASONS A BABY REGISTRY MATTERS
1. Easy Returns & Duplicates – At my baby shower, the hostess had requested that guests bring a pack of diapers, along with any other gift they may want to add to their present. It was wonderful, I was well stocked for my new arrival! But, instead of a good assortment of diapers, I ended up with almost all newborn diaper packs, many more than I would need.
Since I was registered with Target, it was simple to exchange the newborn packs for size 1 diapers. When you have a baby registry, it's super easy to exchange (and avoid duplicates in the first place) anything purchased from your registry.
Plus, when you register at Target, your list will start out right with a few essentials you may forget to register for, including a Super Pack of Pampers size 1 diapers. You might want to add in a few other sizes so you're prepared as your baby grows.
2. Group Gifting, Simplified –Did you know that your friends can pitch in towards a big group gift through you Target Baby Registry? Your friends pick out a gift the group would like to pitch-in towards, then add their contribution right on Target's website, including a personalized message and photo.
All the contributions are combined into one greeting card with all of the messages from friends and the gift detail – including a gift card for the total amount so you purchase it.
3. Savings on Your Registry – Getting your home ready for a new baby can be expensive. Target is helping new moms to shop for the rest of their items off their registry, with a 15% off coupon (or 20% if you have a Target REDCard)!
Your coupon will be available 8 weeks before your due date when you login to your registry, to help you shop for those essentials after you've opened all your baby shower gifts. Take advantage of this one-time savings coupon to stock up on diapers, wipes, gear, and basics for your little arrival.
WHAT TO DO DURING YOUR 3RD TRIMESTER
Week 28: Get a guest list to your baby shower hostess.
Make a list of all the guests you'd like to invite to your baby shower. Don't forget friends, coworkers, neighbors, and of course your family. If appropriate, you may plan a couple of smaller baby showers – like a lunch day with your coworkers to celebrate and a larger family shower. Don't forget to include information on your Baby Registry to make gifting easy.
Week 29: Start a birthing class.
It's time to get started with a birthing class. This will help you know what to expect during early labor through delivery and even after your baby arrives. Many classes are 4 or more classes long, so get started this week so you'll have all the information you need to be prepared for labor.
Week 30: Attend your baby shower.
Most baby showers are planned between 30 and 32 weeks. Aim for 30 weeks, so you have more time to put together the baby gear and start purchasing whatever is remaining on your shopping list so you're ready for your baby's arrival.
Week 32: Shop the rest of your baby registry.
With your baby showers out of the way, it's time to finish shopping for any essentials still on your baby registry . Pick-up items you still need this week, or budget for larger items over the next two months, so you're ready before your delivery date. Your exclusive 15% off coupon from your Target baby registry (20% for REDCard holders) will be available this week, just in time to finish off your list.
Week 33: Put together all the baby gear.
Setup the crib, put together the stroller, and install the car seat. This week is all about getting things ready to go. Open up all the boxes from your registry gifts and put them away where they go, too.
Week 34: Take a tour of the hospital.
You're getting so close to delivery! Many hospitals want you to wait until you're just a few weeks before delivery to schedule a hospital tour, so your visit is fresh in your mind when the time is right.
Or, if you're choosing a homebirth – check out our comprehensive Homebirth Supplies Checklist!
You're getting close, but this side post will help!! See our top 6 tips to help you survive the last month of pregnancy!
Week 35: Make freezer meals by doubling your recipes.
Easily start stocking up your meal reserves by doubling your recipes for the next week (or longer). Eat one meal and freeze the double and you'll quickly fill your freezer with meals to get you through the first week. We love this easy Stuffed Shells Freezer Meal!
Week 36: Pack your hospital bag.
You're in the home stretch! It's time to pack a bag for the hospital. Don't forget a change of clothes and a pair of warm socks for you, plus lip balm and charging cables. Don't forget your baby's first outfit.
See our experienced mom's diaper bag essentials post for some ideas for your first diaper bag!
Week 37: You're officially full term, pamper yourself this week!
You've made it to 37 weeks, your baby will keep on growing and developing until they are ready to arrive. In the meantime, take some time for just you this week. Get a manicure, read a good book, or take a bubble bath – whatever it is you love to do.
Week 38: Plan a date night-in with your partner.
If you're still pregnant, make a special appointment with your partner to spend time together – just the two of you – before your new baby arrives. If your baby is here, plan one of the nap times to reconnect. The newborn stage is hard, and tiring, but your relationship is still important.
Week 39: Throw a "birth" day party for your baby.
Whether you're still pregnant or your little one is already here, you can throw a little party for your baby's first birthday. It doesn't have to be a big even, you can celebrate as a couple or invite a few friends or family members to join you.
Week 40: Snuggle your newborn!
Chances are, by now your little one is here. If not, I know how hard it can be to be patient. But get ready – because this week you'll be snuggling your newborn! Enjoy those moments, because they grow so incredibly fast.
Printable 3rd Trimester Checklist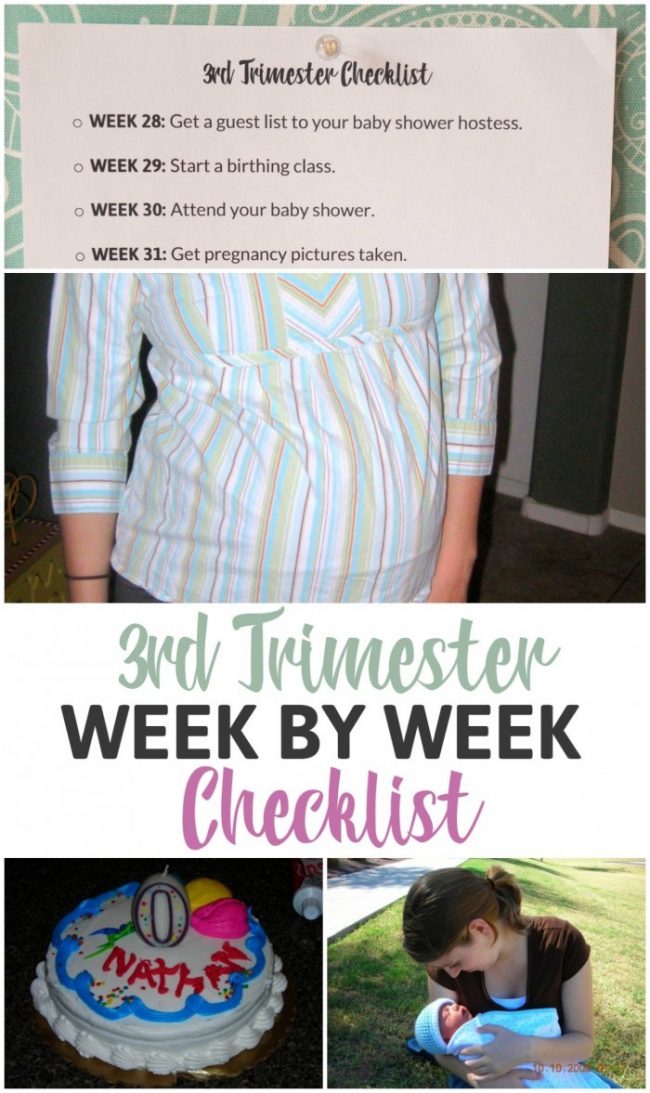 Grab a copy of our printable version of the 3rd trimester pregnancy checklist, to stay organized and on top of all the things to do during your final few weeks of pregnancy.
Did you miss our earlier posts? Head back to grab the 1st trimester or the 2nd trimester checklist. You'll also love this guide on how to eat healthy while pregnant!
What has been your favorite pregnancy experience?