Be outnumbered by the boys in my home, I always told my husband that if we ever had a baby girl, everything she owned would be pink and frilly. Last year when we found out that I was expecting a little girl, plans for a pink nursery were soon underway. Picturing my baby's nursery, I wanted something clean, functional, and simple with pops of pink. Also, I wanted a design that could grow with my baby – I didn't want to redecorate after a few years. I had all of these ideas flowing through my mind, but didn't know where to start. Thankfully, Laurel & Wolf helped me design the perfect nursery for my daughter.
I received complimentary service and compensation in exchange for this post. Regardless, all opinions are my own.
Laurel & Wolf, an online interior design company, helps transform your home into the space of your dreams. Best of all, it's extremely easy to use, walks you through every step of the design process, works with any budget, and produces incredible results.
Starting the Laurel & Wolf design process, I took a quiz to help me create a design brief. Through this quiz, I was able to tell the Laurel & Wolf designers exactly what I was looking for – budget, style, colors, etc. With this information, talented Laurel & Wolf designers then sent me numerous style boards depicting to my likes and style. Browsing through the numerous designs, I instantly fell in love with this gold and pink nursery design by designer Yashlie Negron.
After I chose this amazing design, I began my one-on-one virtual design session with Yashlie. We communicated through Laurel & Wolf's easy-to-use online platform and tweaked the design until it was absolutely perfect. I was provided a shopping list with direct links and prices. Another cool aspect of Laurel & Wolf, if you decide, Laurel & Wolf will purchase all items for you – all you have to do is provide them with your information. Talk about simple and hassle free!
I absolutely adore how my daughter's pink and gold nursery turned out. I was amazed how Laurel & Wolf was able to transform such a small space (10′ x 10.5′) for such a small budget. Best of all, it's such a fun and classy design that my daughter can love for years to come. Looking to design the perfect nursery for your little girl? Check out these awesome pink and gold nursery ideas.
Pink and Gold Nursery Ideas
Living in a rental home where painting isn't an option, I love how these gold polka-dots add a fun design element to the room. Wall decals are the perfect way to add a little pop of color to any space. They easily peel off and can be reused.
Frame collages are a fun way to personalize any room. Whether you choose to add pictures or just showcase the frames, you can't go wrong with gold frames.
This "good night" wire decor is probably my favorite piece in my daughter's room. I only wish it meant that she would sleep well at night – wink.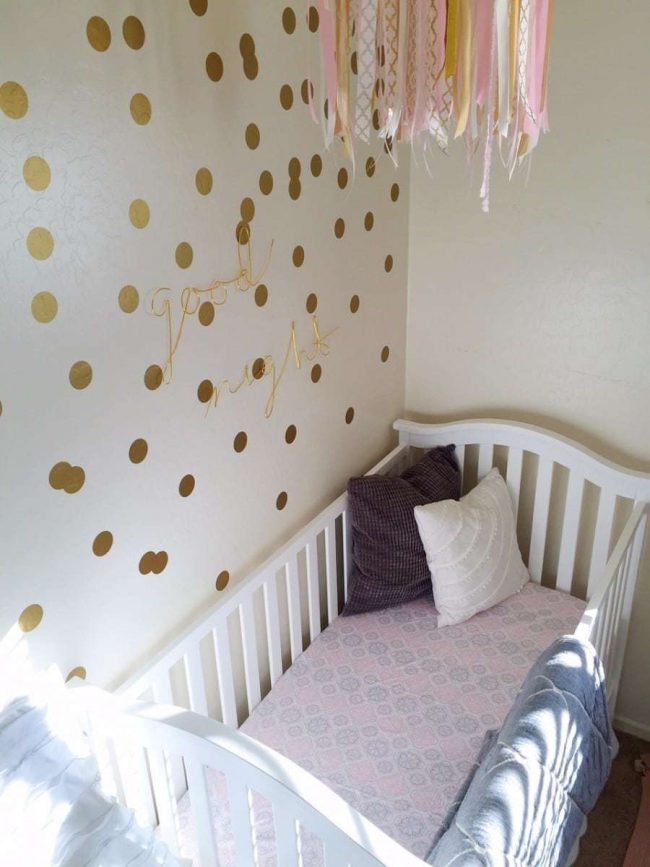 I love small details – they really complete a room. This clover bloom hook rack is perfect for displaying my daughter's blessing dress. It can also be used to hang wet towels. Gotta love fashion mixed with functionality.
This ribbon rug looks amazing next to the white scalloped crib skirt. I'll say it again, I LOVE the details in this room.
This rustic ladder is the perfect way to display and store my daughter's blankets.
Let's not forget this beautiful ribbon mobile.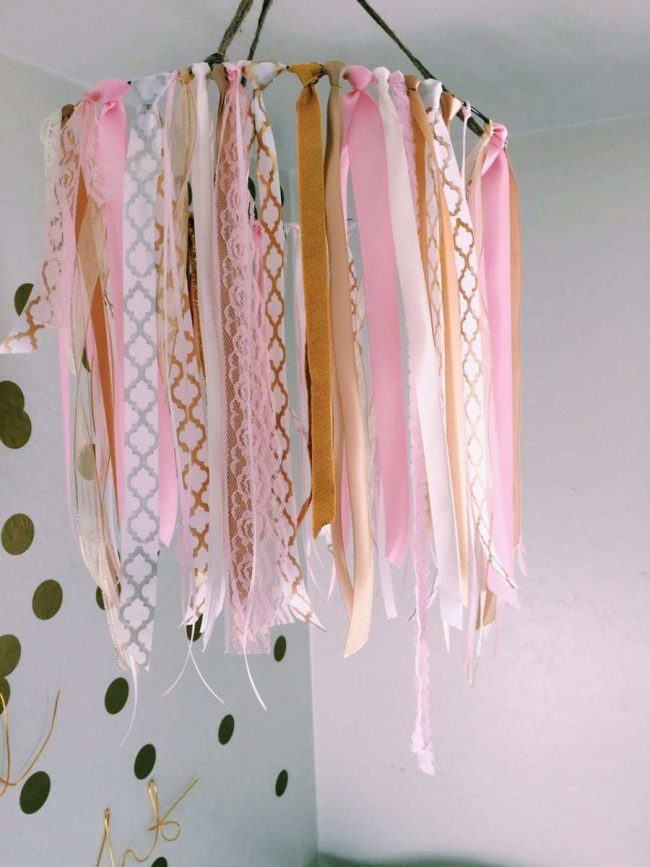 Laurel & Wolf helped transform my little girl's nursery into such a beautiful space! Be sure to check out Laurel & Wolf for easy, affordable, and fun interior design.
What room in your home would you redesign?