I received Colgate Optic White products in exchange for this post. All opinions expressed are my own.
Nothing makes me want to smile like pearly white teeth. When I first got my braces off, I was really good at regularly using teeth whitening products to keep my mouth looking bright and clean. However, I kind of overdid the whitening products and ended up with extremely sensitive teeth. Because of my sensitive teeth, I have to be careful when it comes to teeth whitening products. Lucky for me, I stumbled upon the perfect whitening products with Colgate Optic Whitening.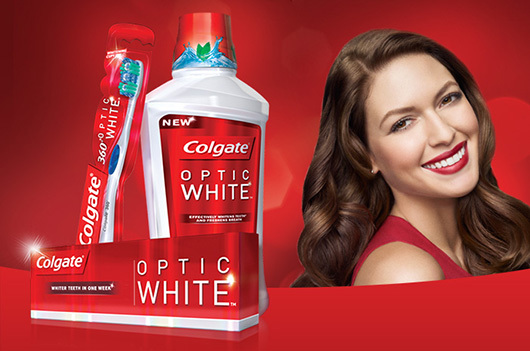 Colgate Optic White products are made from enamel-safe whitening ingredients, they remove stains, and leave your teeth polished and smelling fresh. Colgate's Optic White collection includes whitening toothpaste, mouthwash, and toothbrushes. Brushing twice a day with Colgate's Optic White Toothpaste, your teeth can become 3 shades whiter! To prevent future teeth stains, whiten teeth and freshen breath, you will enjoy using Colgate's whitening mouthwash. To further whiten your teeth, Colgate's Optic White 360 toothbrush gently removes stains and cleans hard to reach places.
I've been using Colgate Optic White products for almost a month now and I've definitely notice a whiter smile. As I mentioned earlier in my post, I have very sensitive teeth; I am happy to report that my teeth have not had any sensitivity issues while using Colgate Optic White products. I like that Colgate's Optic Whitening products are extremely affordable and effective – a total "win win" situation. I love the minty fresh breath I am left with after using these Optic White products. I've used a variety of whitening toothpastes and this is by far my favorite; Colgate's Optic White toothpaste refreshes my mouth with the perfect lather and doesn't leave a "grainy" sensation behind. I give Colgate Optic Whitening products two thumbs up and a great big smile!
For more product information concerning Colgate Optic White Toothpaste ($3.99), Mouthwash ($4.19), or Toothbrush ($3.19), be sure to visit www.colgateopticwhite.com.