Gunner, my chocolate lab, is a valued member of my family. I love surprising him with treats and toys because he gets SO excited. When a box from Pork Chomps arrived at my porch, Gunner knew that the goodies inside were for him.
Pork Chomps Pup Review
He immediately sat down, wagged his tail, and "shook" my hand over and over again in hopes that I would give him a Pork Chomp. Upon receiving his Premium Pork Chomp, he started running around in circles filled with complete joy.
Finishing his delicious treat, he immediately ran back to me begging for more. To say the least, Gunner is smitten with Premium Pork Chomps. Because I had never seen Gunner so taken with a dog treat, I decided to do a little bit of research to see what sets Premium Pork Chomps apart from his regular rawhide treats.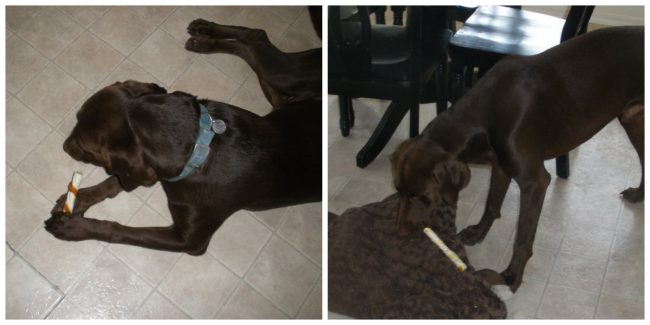 Most dogs love chewing on rawhide. However, I recently found out that rawhide is terrible for your dog's digestive system. Almost impossible to digest, rawhide can stay in a dog's digestive system for days causing blockage. This blockage may cause your dog to feel uncomfortable or result in surgery (in cases of severe blockage).
What Are Pork Chomps Made Of?
In a study performed last year at Purdue University, Premium Pork Chomp products were scientifically proven to be 99.9% digestible in comparison to raw hide, which were only 50-85% digestible.
Premium Pork Chomps are made from expanded baked pork skin instead of beef rawhide; 9/10 dogs prefer this taste to beef rawhide. Beef rawhide is tasteless and has to be based or flavored whereas pork skin has natural tasty flavors.
Not only are Pork Chomps delicious and better for your dog's digestive system, but they promote dental health while lowering your dog's cholesterol and triglyceride levels.
With many flavors and treats to choose from, there is a Premium Pork Chomp to suite every dog's taste! No wonder Gunner loves his Pork Chomps!
Because Gunner is like my second child, I want to make sure that he is receiving quality pet care items; that is why I fully endorse Pork Chomps Products. Every time I give Gunner a Premium Pork Chomp, I know that I am helping his digestive system while still providing a yummy treat.
Pork Chomps Flavors
Gunner's absolutely favorite Premium Pork Chomps include Pork Chomps Rollz, Knots, and Chicken Wrapped Twistz. I love to see the excitement in Gunner's eyes with various Pork Chomp treats: Twistz and Rolls, Crunchy Bones, Chipz and Stripz, Knotz and Earz, and many other varieties.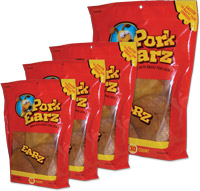 Your dog will fall in love with Pork Chomp Products. To learn more about Premium Pork Chomps (prices vary), purchase Premium Pork Chomp Products online, or find a local retailer, visit their website by clicking HERE.
I received product samples and/or compensation in exchange for this post. The opinions expressed above are my own. Any claims should be verified on the sponsor's site.