Valentine's Day is right around the corner and finding something special as a gift for him can sometimes be a challenge. Personal Creations makes it easier, though, with gifts that are unique, and personalized, showing your significant other that you were picking out something special just for them! While I was browsing their website I found so many neat gift ideas that would work great for gifting to your children, significant other, or even your parents this Valentine's Day to share something meaningful with them that will last far beyond the 14th.
I settled on picking out something for everyone. I started with their Frog Couple Welcome Statue with Sign which I though my little boys would absolutely LOVE! They always point out and get excited whenever they see other homes with yard decor and even though we've lived in the same home for over seven years, our front yard was bare of any personalization beyond plants! The statue was even cute then pictured online and my boys loved it just as much as I thought they would. They have been showing off their frogs that sit near our front door to everyone that stops by.
Next, I picked out something for my husband. This one I'm saving to give to him until Valentine's Day but I think he'll be surprised and be excited about it. Now, it's a bit of an un-traditional gift for Valentine's Day, but it works for him. I picked out a set of matching stockings for my boys this past Christmas and didn't pick up any for me or my husband as I felt we had really outgrown stockings and didn't need them. My husband was really sad though, when they arrived, and wanted to know where his was! So, this Valentine's Day he'll be getting a matching stocking personalized just for him! I think he is going to love it!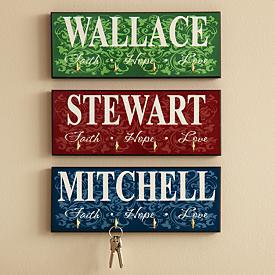 Finally, I picked out something that will help our whole household but is really for "me". I've been wanting a nice key holder by the door to keep track of all our keys and make it easier, and quicker, to get out the door. I saw Personal Creation's Faith, Hope, Love Key Holder and it was just what I was looking for! It, too, was even nicer in person that I was expecting with a smooth and shiny finish that looks really beautiful! I'm calling it my Valentine's Day gift and can't wait to get it hung by our front door and start using it!
If you're looking for something personalized and made just for your loved ones this Valentine's Day, you'll definitely want to check out Personal Creations. You can find Personal Creations coupon codes right on this special landing page to save 15-25% or score free shipping on your purchase!
Disclosure: I received a gift card to pick out personalized items from Personal Creations in exchange for my honest review. I was not compensated in any other manner. The opinions expressed above are my own and any claims should be verified on the sponsor's site.