I am an #OutbackBestMates brand ambassador. As such, I have received gift cards and compensation as a thank you for my time and efforts. All opinions are 100% my own.
I have been a fan of Outback Steakhouse for a very long time! My husband and I always enjoy a good steak dinner, so Outback is among our favorite restaurants. I was beyond thrilled to be asked to be an ambassador to share with you promotional offers from a brand I already love!
In celebration of Valentine's Day, Outback Steakhouse is offering a special promotional Steak Menu for Two offer that gives you a full, complete meal for two!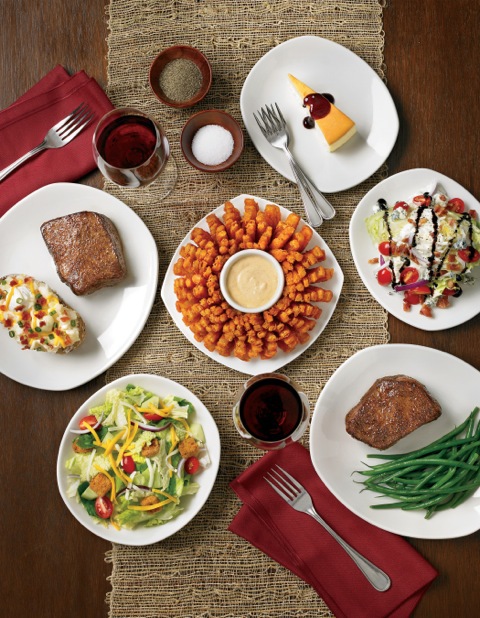 Pictured above is all the food that comes with your meal (drinks are separate). The menu includes a Bloomin' Onion appetizer and a Classic Cheesecake dessert to share. Then, Select from one of the following entrées for your main course:
Two 6-ounce sirloins
Two 9-ounce sirloins
Two 6-ounce filets
One bone-in Ribeye & one filet
Or, upgrade your Steak Menu for Two by adding a grilled lobster tail to any entree above at half the price!
Best of all, you each get your own choice of a side and your own side salad, so you don't have to share.
We headed in today to enjoy an early Valentine's Day dinner out. We're planning to stay in this Valentine's Day, but I still wanted to enjoy a nice dinner out with my husband this week. It was the perfect time to head in and take advantage of this great offer!
I'm the type that always wants to split a meal. I love dining out, but I always know I'll be stuffed. My husband, however, hates splitting a meal! He's a side hoarder and does not want to share his sides. So, I was thrilled to see a full meal for two that was reasonably priced that let us both get our own meals, but share the extras like dessert and the appetizer.
Everything we ate was delicious, but I'm partial towards the Bloomin' Onion. It is always my favorite part of the meal! All of the courses tasted delicious. By the end, I was completely stuffed. I really appreciated that the dessert was split for us onto separate plates so I didn't feel like I had to share, even though the portion was half. It was just the right amount for one.
Our waiter did a fantastic job keeping our table clean and bringing out the next plate right on queue without needing to be asked, the service was fantastic. As always, we really enjoyed our visit to Outback Steakhouse!
Outback Date Do-Over Tweet to Win!
Have you ever had a Valentine's day go horribly wrong? Enter to win an Outback Date Do-Over! Share your date disaster story (Valentine's day related, or otherwise) via Twitter with the hashtag #BloominDoOver for a chance to win. 10 winners will be selected each day February 10th – 13th and 20 winners will be selected on Valentine's day, February 14th! Each winner will receive a $50 Outback gift card to help you do-over your date.
Visit outback.com/love for details on the Valentine's day promotion, tweet to win, and even a coupon good for $5 off 2 dinner entrees if you visit before Valentine's Day!
What's your worst Valentine's Day date?