Minky Couture makes a line of super soft minky baby blankets that are ultra comfy. Minky has quickly gained popularity as it is a plush and soft fabric that is also very durable and with colors that don't fade. With tons of patterns and colors to choose from Minky makes gorgeous blankets not just for babies but for adults too!
Minky Couture has a list of the Top 9 Reasons to have an Adult Minky Blanket! They point out fabulous reasons like adults also need to relax and unwind and even how they make the perfect gift! Minky Couture has a ton of great pre-designed blankets with gorgeous prints and designs or you can even create custom minky blankets.
With their custom blankets you can select your front, back, and even ruffle along with the size you need. Then, you can take customization one step further by embroidering a name or word to your blanket!
If you recall I was able to review a tween size Minky Couture blanket back at the beginning of the year. I still LOVE our blanket and my son loves toting it around with him. It truly has stayed just as beautiful and soft as the day we first received it.
I was thrilled when I was given the opportunity to work with Minky Couture again! This time I received a gorgeous adult sized Paris blanket backed with solid red minky. I absolutely love this blanket! It is the perfect cuddle blanket for snuggling up on the couch and watching a movie or reading a book!
It looks beautiful draped over my couch and I know it is very durable so I don't worry about my kids using it as well! I definitely think that every adult needs a cozy minky blanket to unwind with at the end of a busy day!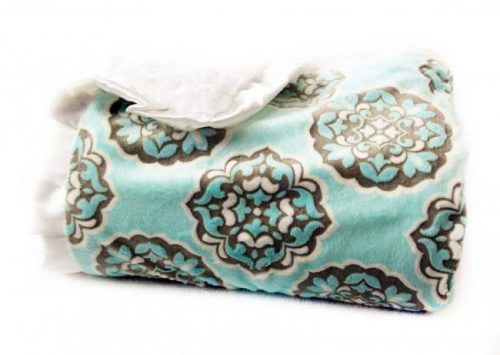 Minky Couture Adult blankets are 50″ by 60″ and retail for $125. They also have a Monster size big enough to share down through sizes for an infant or even their "mini" cuddle blanket. Their infant blanket retails for $65.
Disclosure: I received an Adult Minky Couture Blanket in exchange for my honest review. I was not compensated in any other manner. The opinions expressed above are my own and any claims should be verified on the sponsor's site.