Winter is the perfect time to think about updating your living room furniture! With the cooler weather rolling in your family will likely be spending more time indoors as well as having lots of company with the holidays!
IKEA has a lot of great living room furniture from decor, media solutions, coffee tables, and even couches! Even if you have a small space, you find find a great solution for maximizing your space with IKEA furniture!
IKEA recently produced some amazing video and photo inspirational ideas on how to create a small space that is functional and well designed!
I LOVE how they put two KIVIK chaise lounge chairs to use in a very creative way in one small apartment!
I love IKEA's furniture and was thrilled to be able to partner with them again to review the KIVIK series! Our family room badly needed a couch update as our last couch was a hand-me-down that was well over 5 years old and quite dirty from 3 little boys.
It was amazing to see the transformation of the space as we brought in a couch that was warm and roomy! True to IKEA's nature, the KIVIK sofa is a low off the ground couch but it is very comfortable with deep wide seats and a supportive back cushion.
The seat cushions have a top layer of memory foam which makes them very comfortable and they will hold their shape well to lots of use!
I love that the couch is low as it is easy for all three of my boys to get on and off of the couch and I don't worry as much about them falling. While we love the couch and how comfy it is, our favorite aspect is probably the arm rests!!
They are wide and flat which makes them double as a end table, laptop table, armrest, extra seat and even as a pillow when laying down as the armrest is the perfect height! It might seem silly, but we really LOVE the armrests as they are just so practical and give the couch a great modern feel!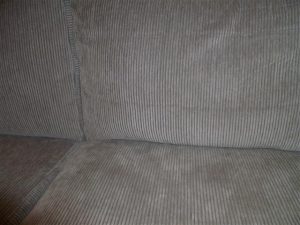 I wanted to show you an up-close look at the Tranas light brown fabric we selected, though it's still hard to tell. I really love this fabric! It reminds me a lot of corduroy but it doesn't seem like it will wear down as quickly.
The fabric has actual groves in it, not just lines, that makes for a really rich looking couch! All the covers on the couch are removable and machine washable which is essential for a home with small children! While the cover is removable, it isn't loose like a slipcover can be. Each cushion and section has a tailor fit cover that fits securely.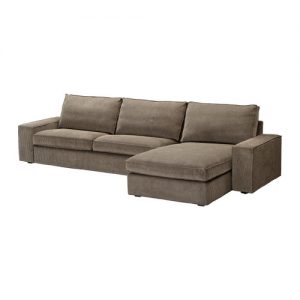 The IKEA KIVIK line lets you pick the best combination of pieces and fabric cover for your needs! The KIVIK Sofa and Chaise Lounger combination with the Tranas light brown cover retails for $998. Different covers and combinations will reflect a different price.
Update on my IKEA KIVIK review
We have now owned this couch for over a year and a half. We still use this couch daily and it has held up really, really well to use. The fabric has held up extremely well despite the fact that I have four little boys in our home.
Looking for more reviews on IKEA products? Come see our review of the HEMNES Daybed and HEMNES 8 drawer Dresser!
Join my Email List for Updates and More Reviews!
Disclosure: I received an IKEA KIVIK Soaf and chaise lounge for free in order to try the product and form an opinion for this review. I was not compensated in any other manner. The opinions expressed above are my own and any claims should be verified on the sponsor's site.