A great gift to welcome your child's teacher to a new year is a basket of quick, easy, delicious, and healthy breakfasts. Oatmeal in a jar is a simple grab and go breakfast or snack — all the teacher has to do is add water and pop it in the microwave. This is a fun back to school teacher gift that the kids could get involved in.
Let your kids help by measuring out, layering ingredients, placing on caps, and filling the basket.  It will give them a sense of ownership in the project. Top off the gift with one of these two different printables I created to gift with your instant oatmeal in a jar gift. Whether you give one or dozen this is one gift that will be appreciated and used. Layer basic ingredients and top with a variety of add-ins like; raisins, craisins, walnuts, almonds, dried apples, milk or white  chocolate chips, and more.  Arrange some in a basket with a few oatmeal granola bars for some variety, attach the tag with ribbon or string and your ready to go.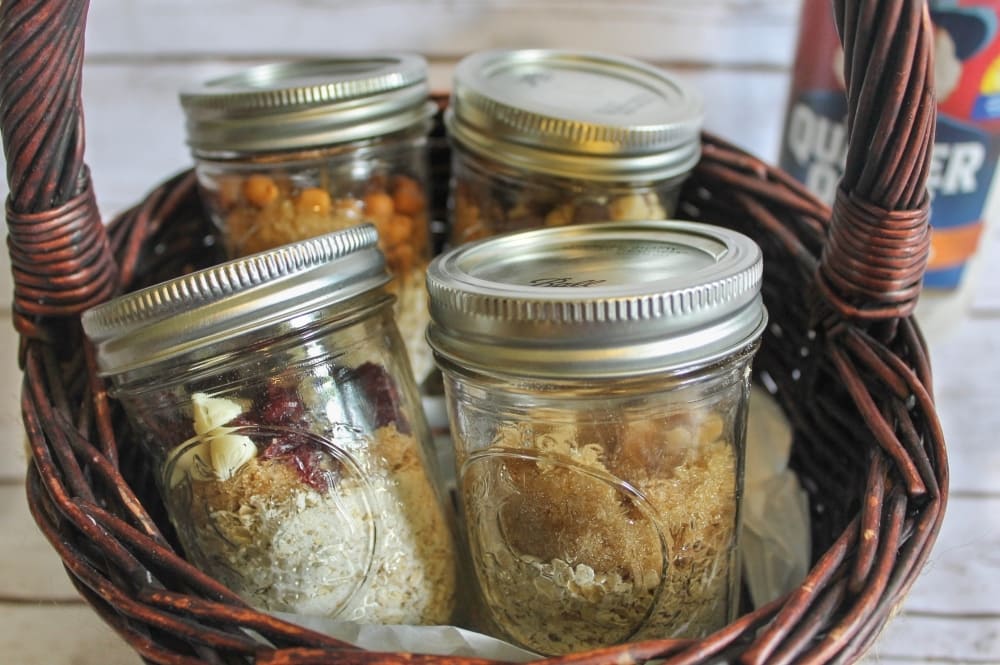 Instant Oatmeal in a Jar
Whatever amount you are planning on making, divide oatmeal in half.  Place half your oatmeal in a blender or food processor and pulse until it is almost a powder consistency. This will give you the  creamy consistency of packaged instant oatmeal packets.
Layer the the following ingredients in each half pint mason jar:
1/3 cup oatmeal, quick cook
2 tsp. Powdered milk
1 tsp. Cinnamon
1 Tbsp. brown sugar
pinch of salt
(Optional) Add 1-2 Tbsp. chocolate chips, nuts, or dried fruit.
When you're ready to prepare the instant oatmeal, just add 2/3 cup of boiling water and stir.
Don't forget to add a label for directions and to mark each flavor.  The simplest way to do this is to trace the lid of your mason jar onto paper, cut it out, and slip it between lid and ring. Write the preparation instructions and the flavor you created. Or you can write the preparation directions on the back of the printable tag.
Two Free Printable Tags!
I created two free printable tags that you can use to finish off your basket as a teacher's gift! One is more girly and the other more gender neutral, so pick whichever you prefer. Have your child sign their name on the wavy lines to personalize the tag or fill in the prep directions in this spot. To grab the free tags, just click on the image you prefer above and it will take you to the full size image. You can then print or save the tag! Keep in mind, the image size is really large to give you the best print quality, so size accordingly before you print.
Even if you don't have a teacher to gift to this year, this is a super easy and quick way to have breakfast ready to go for the kids in the morning with very minimal prep needed. This instant oatmeal in a jar recipe will become a family favorite – for mom and kids!