Depending on what grade your children are in, back to school supplies can be really expensive. The good news is there are ways to save money. Whether you start shopping early or shop online, you can find some great deals.
This post was sponsored by Ebates as part of an Influencer Activation for Influence Central.
How to Save Money While Back to School Shopping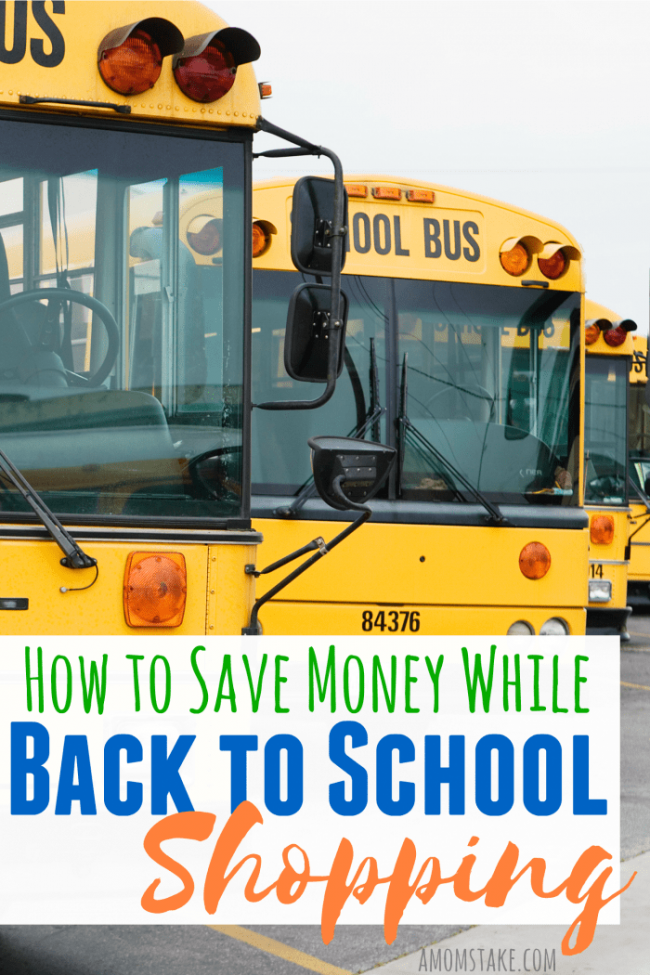 1. Shop Early, Or Late
Waiting to the last minute makes it hard to find the best deals and can make it hard to find everything your child needs. As soon as you know what supplies your child will need, start looking for sales. Then, you can head back to shop once the school year begins and pick up some amazing school supplies to last you through the year as the stores clearance their inventory.
2. Shop The Loss-Leaders
Walmart, Sears, Staples, and many other stores have exclusive door buster specials to help you save a ton when stocking up for the school year. You can save a lot by shopping for the best prices instead of sticking to one-stop shopping.
3. Shop Online
Not only can you find a much better selection online, but you can also find great deals. When you find the hottest deals the stores are offering, turn to online to save you time, money, and resources. Many stores offer in-store pickup so you can order online and if you don't meet the free shipping minimums, ship the items to store and then pick up your school supplies when you're in the area already.
4. Stick to the List
Ask the school or teacher for a list of supplies your child need. Just because something is a great deal, doesn't mean you should buy it. If the item is something your child can use for crafts, you can buy the item, but don't take the money out of your back to school budget. Sticking to just what is necessary for the new school year will help you stay with budget.
5. Score Cash Back While You Shop
You can find the best prices available, and then score additional cash back for your purchases – no matter your method of payment. Ebates is offering triple cash back through around 50 stores during their back to school shopping promotion August 23-29. Stores include JCPenney, eBags, Dell, Converse, and so many more! But you've got to head over to ebates now to get shopping, the promotion only lasts through Monday! Make sure you use my link when s
Back to School Scores!
My boys started back to school in early August. Being a few weeks into the school year, we quickly realized a few essentials we forgot during our back to school shopping that will help us stay organized and be ready to tackle everything this school year brings. We found some amazing prices, coupon specials, free shipping offers, and cash back discounts that helped me score some amazing finds for school! Here's what I picked out:
Back to School Sneakers from Kohl's – Pairing sales and a coupon, I picked out shoes for each of my boys. I also grabbed a water bottle, as we've already lost one. That was 5 pairs of boys shoes and a water bottle for under $100!
Learning Through Play with Toys "R" Us – My older 3 boys are at school, but I have a preschooler still at home. He's been bored and lonely without his playmate brothers that are all off all day in the classroom. To keep him entertained, learning, and having fun we picked up two fun toys that will be educational.
We picked up a Boogie Board Play and Trace eWriter – this is a hot toy of the season that's being featured in all the stores! It will be perfect for practicing writing, tracing, shapes, and even math quizzes! I also got a VTech Smart Shots Sports Center to keep my youngest active! He'll be able to play sports while learning counting and developing his hand-eye coordination. I scored these two best selling toys for $80, shipped.
Homework Desk from Overstock – Homework duty has already been a challenge helping my kids to switch gears from unwinding after class to focusing on school work. I found this awesome, compact corner desk that will be perfect for our limited space and give my boys a dedicated place to study and finish their assignments. It was just $81 shipped!
Comfy Desk Chair from Sears – A desk wouldn't be complete without a chair. I grabbed this super neat chair from Sears for just $61, shipped!
No matter what you're family is in need of for the back to school season – whether it's pencil and crayons, socks and underwear, or some bigger essentials to help you through the year make sure you visit Ebates before you shop to score even more savings on top of whatever store specials you find! The cash back you earn can be redeemed as paypal or check and many purchases are credited as quickly as 48 hours while others may take up to 30 days for the retailer to report the purchase and give you the credit back.
I scored nearly $10 in cash back (and I shopped before triple cash back promotion!) on purchases I was going to make anyways. That's a lot of money to get back into your pocket for fall.
If you're new to Ebates, you have even more reasons to sign up this back to school season and nothing to lose! New members get a $10 Bonus with the first qualified purchase! Just sign up through my personalized link to score your bonus!