With a family of five and my two oldest heading into teenage years, it is easy to drop a couple hundred dollars in a single shopping trip. I don't know about you, but I have lots of things I would rather be spending money on. A trip to the Bahamas someday being one of them. There are many ways to save some money on your grocery bill and put more money in your Bahamas savings.
This conversation was started for Walmart/SheSpeaks. All opinions are my own.
Coupons- A good way to save tons of money is to use coupons. Sure, it takes time to cut out and use at the register, but the amount of money you save can definitely make it worth it. Many places have started moving to digital coupons. No more flipping and clipping. Search around for digital coupon sites and start saving with less work.
Holiday Clearance Sale- If you hit it right, you can find a killer deal. After Thanksgiving this last year, I found a little shelving unit tucked in the back of the store with tons of boxes of pumpkin flavored treat mixes. I love Pumpkin flavored thigs. There were cupcake mixes, pumpkin bread mixes, pumpkin bars and a ton of other tasty treats. The best part was, they were only 10¢ a box. That's right 10¢! I bought about 50 boxes of different treat mixes and only spent $5.00. to keep them from going bad, I grabbed some Mason Jars and my Seal a Meal and dry packed them in jars. Now that's a steal.
Sales- If you pay attention to the way the stores and their seasons work, you start to notice when things go on sale. Organizational things tend to go on sale around the first of the year, as well as T.V's. Of course, the holiday things are always on sale following the holiday too. The day after is usually 50% and then it moves to 75% usually the week after. Buy things like small toys for stockings or Easter baskets for the following year and save a ton. Grab a nice jacket near the end of winter or a swim suit for the next season after summer has ended.
Ad Matching- Shop the ads. There are many stores that will let you ad match. Walmart is the one we know the best, but other stores are starting to be willing to match or better a deal. Grab those weekly ads and make your grocery list off of the things that are on sale. If you look at multiple stores, you should find most of your things on sale. Then you will only need to purchase a few things at full price.
Buy Generic- My husband is a bit of a food snob and swears he can tell the difference in things. I was raised on generic brands though, and I don't notice a difference in almost anything. I even prefer the generic to some name brands. Most of the time, they are made in the same factory and just packaged differently. The only things I don't usually buy generic are my cream cheese and soda. The kids definitely can't tell the difference, though. If you yourself are a food snob and aren't willing to go generic, at least buy the kids generic, because they don't really care and can't tell.
Savings Catcher- This is a very simple way to save money. If you download the Walmart app, they have a savings catcher feature. If you don't have the time to look through the ads, you can just use the app. They do the ad matching for you. You scan in the barcode on the bottom of your receipt and wait. within a few days, they notify you if they found any better deals at other stores in your area than you paid in their store. You can accumulate it in the app until you decide you want to redeem it. Mine's already up past $20 and I even ad match, which means I've missed some things.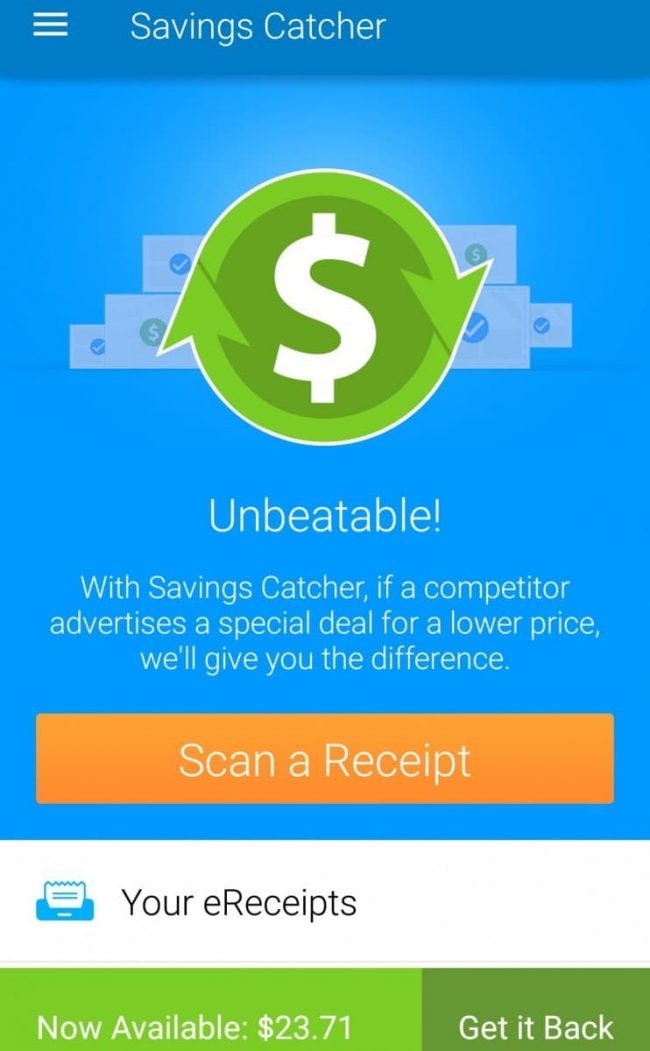 Don't shop with kids or husband-. When I go shopping with my husband, I usually spend twice as much as I would otherwise. Though it's nice to have him along, sometimes the bank account needs him to stay home. The same thing goes for kids. They always seem to want something and beg until you give in. Leave them at home too if you can.
Avoid shopping when you're hungry- If you eat really good before you go to the store, you tend to spend less. Especially on the junk food. Usually, if I'm really full when I go, I don't really want to buy anything. The thought of any more food makes me queasy. If I go to the store hungry though, I tend to want to buy all my favorite foods and more.
Stock Up- When you find a good sale on things your family uses a lot, stock up. Spend the little extra upfront and store it away for when the prices aren't as low. Walmart has a great Stock Up and Save Event happening during the month of April. They put the best brands you and your family use most often on sale, so you can stock up and save! Brands like Tide, Bounty, Pampers, Venus, Gillette, and more! Head to your local Walmart to get the everyday essentials your family uses for less in April.
Head to your local Walmart to get the everyday essentials your family uses, for less, in April. You can even participate in the Stock Up and Save Facebook event. Get reminders throughout the month and don't miss a single good deal. Go to your local Walmart or shop online and start stocking up now.
Ibotta- Reward yourself with Ibotta rewards! As you buy the things that your family uses, you can save even more by checking out rewards from P&G on the Ibotta app. If you don't have it, it is another way to earn money back just from buying things you would be buying anyway.
Make a list- Plan your meals for the week, see what you're missing or almost out of and make a list. Be sure when shopping to stick to the list as much as possible. If it's not on the list, don't buy it. This helps with impulse buying, which can jack up your bill very quickly. It also ensures that you get the things you need, so you don't need to make another run to the store in the middle of the week.
Taking care of a family isn't cheap. I fact, it is pretty expensive. Kids and the family just need stuff. If you're trying to figure out how to save money on your grocery bill, take some time and find the best deals at the lowest prices. Utilize coupons, sales, stock up events and start saving yourself some money. Maybe you could finally get your Bahama vacation.
What do you do to save your family money on the grocery bill?