For myself, I like my children to have things that I know what is in them and what they are made of. These homemade teething ring/chew toys can be as organic and wholesome as you want to make them. It is all in your control.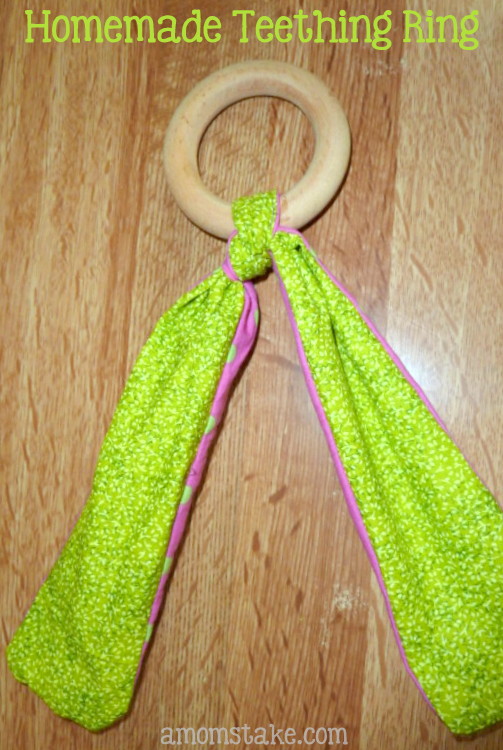 Homemade Teething Ring
Things you will need:
Fabric of choice: (2) 19″ long x 3″ wide (suggested size, feel free to change after you try the first one)
3″x 17″ crinkle plastic / velum
Straight pins
Sewing machine
3″ diameter wooden ring
To start, cut your fabric to size, then place them right sides together.
Cut your 17″ piece of crinkle velum in half and pin to each end of the strips as shown above.
If you place your pins into the fabric from the inside toward the edge you will be able to leave the pins in as your sew and just run right over them. This makes it easier for the 3 pieces to stay in place correctly while you are sewing them. 🙂
As shown in the picture above, start just before the velum, then sew, following the edge all the way around until you are about 2 inches from reaching the start point. Back stitch both at beginning and ending of sewing to make sure this holds while you are turning your project right side out.
Carefully turn your project right side out. I used an un-sharpened pencil as a tool for getting the fabric pushed all the way out. You will then want to top stitch the 2 inch hole closed.
Take this finished piece of fabric with the crinkle velum inside and tie it onto the wooden ring. The part without the crinkle velum should tie nicely around the ring.
This is the finished product of the measurements we started with.
Here is another option if you cut the fabric just a bit wider and shaped like bunny ears. Leave the same space between the crinkle velum. Have fun and be creative. Small children love to chew on a homemade teething ring.
Be sure and enjoy your wee ones, they don't stay small long.
Granny