I received a Space Saver Wipe Warmer in exchange for this post. All opinions are my own.
Diaper changing time is a constant battle at my house. Whenever my little toddler sees me pull out the diapers and wipes, he makes a run for it. Capturing him is just half the battle; after wrestling him to the floor, he continues to squirm and thrash about. More often then not, he gets away and we start this process all over again. As frustrating as this can be, it's actually quite humorous. I often chuckle to myself as my son's cute little buns make a b-line for the door.
Thankfully, DEX Baby makes changing time so much more comfortable for my son through their Space Saver Wipe Warmer. Vertically designed, this wipe warmer provides extra space on your changing table. Dispensing moist, warm wipes, this Wipe Warmer will provide your little one with absolute comfort during changing time. Featuring a built-in light, this Wipe Warmer acts as a perfect changing light for midnight diaper changes. Turning off automatically after 10 minutes, this light will leave your baby undisturbed by bright room lights. The handy viewing window at the top of DEX Baby's Space Saver Wipe Warmer provides a clear view allowing you to see when your wipes need to be refilled.
I wish we would have had DEX Baby's Space Saver Wipe Warmer when my son was a newborn – he hated cold wipes. I've noticed that by using this Wipe Warmer, my son is more apt to let me wipe his bum or nose without throwing a tantrum when using a warm wipe: victory for mom! I love how this wipe warmer takes up little space on our changing table; this helps the changing table appear a lot less cluttered and better organized. The wipes are heated to the perfect temperature – not too hot, but warm even to provide added comfort.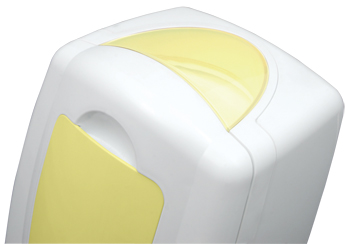 We love our DEX Baby Space Saver Wipe Warmer and can't wait to use it for all future children! This wipe warmer is a must for every new mother!
Make DEX Baby's Space Saver Wipe Warmer ($27.99) part of your changing time routine by visiting DEX Baby.