I received an assortment of product in exchange for this post. All opinions are my own.
It is always nice to have options when wanting something sweet, but not wanting all the effects sugar might have on your physical form. I was very excited to try this New Product made with leaves from the stevia plant. Truvia has recipes for every occasion.
These are some of the different packages you can get of Truvia. Each package has its own special draw for me. This short container is great for the spoon full I need right now. This is easy to get into and measure from. Each packet is equal to 2 teaspoons of sugar, in sweetness. These come in really handy for sprinkling on my cut grapefruit in the morning. I really love the pour spout storage. It worked great when filling my cup measure. The spout is small enough that I had good control over when I wanted to stop pouring. The real test after initial taste, is how does it work with baking.
I thought I would start with my Banana muffin favorite.
I substituted my sugar with Truvia as directed on the packaging. They sure do look good, but the best part was they browned up and tasted great also.
Strawberry Shortcake Recipe
For Valentines This year, what would be better than something red and sweet, that is better for you than before? Strawberry Shortcake made with Truvia would be the perfect desert for that special someone this year.
You start with the shortbread on the bottom.
These smelled so good with that Almond flavoring in them. Tasted good plain too!
Then you top the Shortbread with the Strawberries.
This one was done with just fresh berries. My husband likes them more smushy, So I added some thawed berries in with his.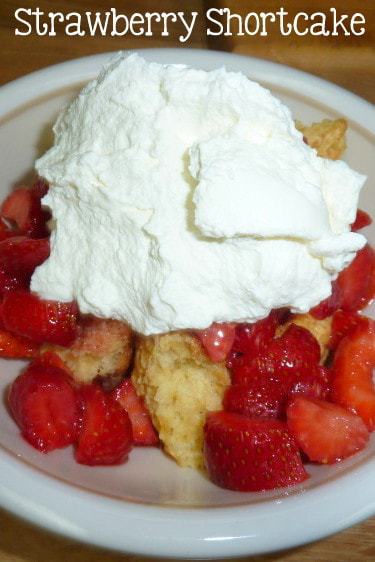 Then to finish top it off with some homemade whip cream! Happy Valentines Day.

Truvia Strawberry Shortcake For Valentines
Can be made with fresh or frozen berries or both together.
Author:
Granny - A Mom's Take
Ingredients:
Berries:
4 cups Strawberries cut, chopped, or blended, how ever you like them best. Sweetened with Truvia
Shortbread:
2 cups flour
½ teaspoon salt
4 teaspoons baking powder
1 Tablespoon of Truvia
⅓ cup butter or shortening
1 egg
½ cup milk
1 teaspoon Almond Flavoring
Directions:
Berries:
Mix the berries and Truvia together and let set to form the yummy juices that will soak into the shortbread.
Shortbread:
Start by cutting the Butter and Truvia together, then add in the flour and other dry ingredients and get that cut together.
Once that is well cut, add the wet ingredients. Do not over mix, just get everything together.
You can then drop them by the spoonful onto a cookie sheet like I did, or you can roll and cut for my perfect look or design. That is your preference.
Bake at 400 degrees for about 12 to 15 minutes. Check for doneness and adjust as needed.
That is what that dish says to me. This is finished off with fresh whipped cream, sweetened with 2 packets of Truvia.
They say on their packaging that there is a money back guarantee if you are not satisfied, so what do you have to lose? This product can be found in stores near you. I have seen it in all the grocery stores. I really liked this product.