Sometimes, in the midst of a household full of boys I still crave a touch of girlish femininity thrown in. Valentine's Day is a perfect excuse to indulge in some pretty flowers and lace.
I like to keep my crafts simple an inexpensive – this Burlap and Lace wreath fits the bill on both. I love the combination of rough burlap and more delicate lace- it feels so romantic. The felt diy felt flowers are easy and add another layer of texture to the wreath.
Supplies needed:
Foam wreath form
Lace ribbon
2-3 colors of felt squares
an old cd
scissors
glue gun
floral pins
This wreath is really inexpensive, here's my cost breakdown:
– Foam wreath- $3.00
– 10 yards of 5 inch burlap ribbon-$5.00
– 2″ Lace ribbon-$2.00
– 2 Felt squares-$.66
– Floral pins-$1.00
It cost just a little over $10.00 for supplies and I still have TONS of burlap and lace ribbon left over for other projects. If you use your 40% off coupons at Michael's to pick up the items or if you already have some on hand in your craft stash you can keep your cost even lower.
DIY Burlap and Lace Wreath Directions
To make this wreath, begin by wrapping your burlap ribbon once around your wreath form. Press one or two floral pins in the end of burlap to secure. Continue wrapping your wreath until it is fully covered- overlapping by half the width and gently pulling it tight after each wrap. Cut the end of burlap, tuck into your last fold and secure with another floral pin or two.
Next, we will start wrapping with our lace ribbon. Place the end of your lace ribbon over where you began the burlap to cover pins, wrap the wreath, pulling tight again, leaving 3-4 inches between each wrap-secure the end with another pin or two.
To create felt flowers, use a CD, bowl, or other circular template to trace a circle onto your felt square, cut it out and then cut into a spiral working from the outside in. Roll the spiral strip, gathering and bunching as you go to create petals, apply hot glue an inch at a time as you work to secure the flower so that the glue doesn't harden before your ready.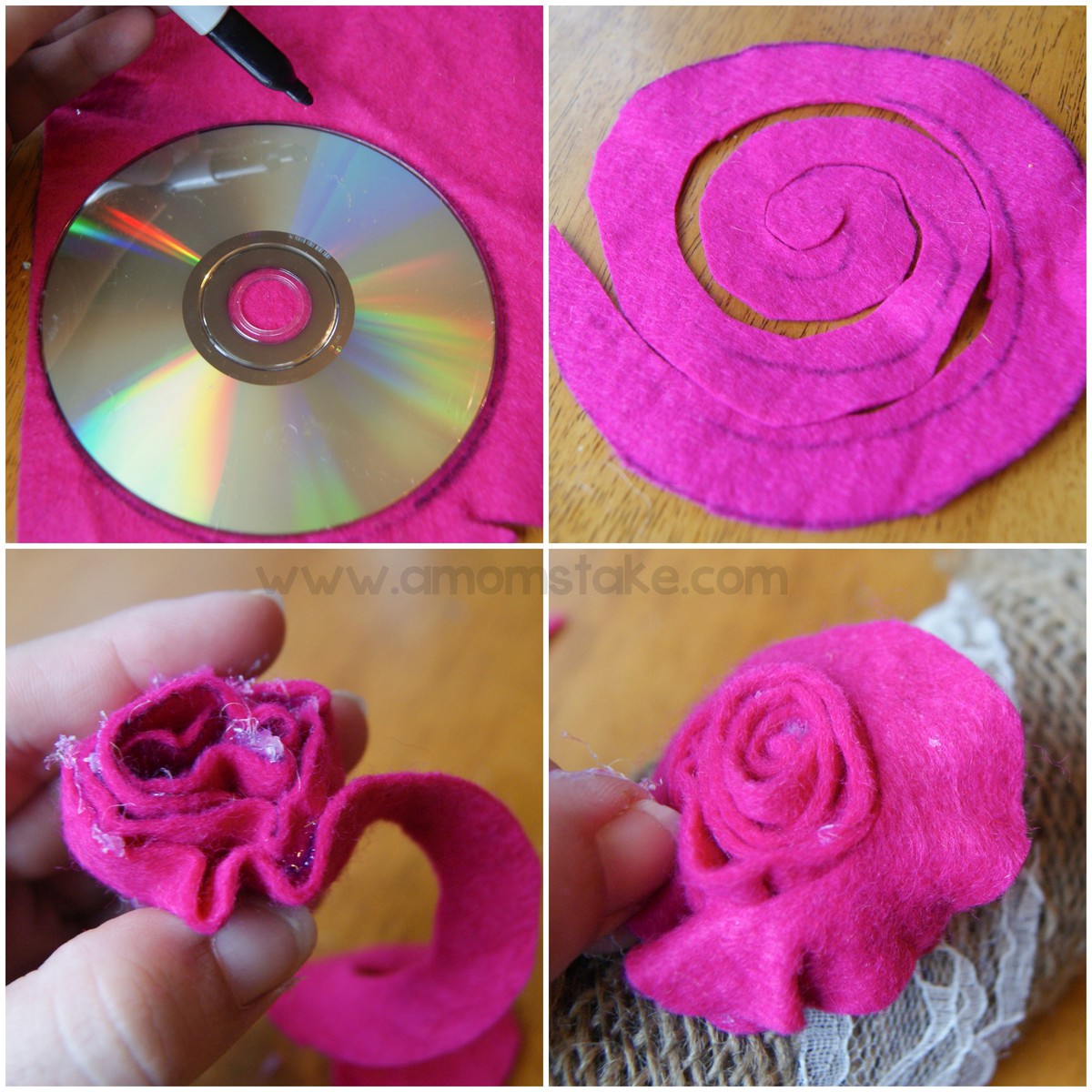 Secure the felt flowers to the wreath with hot glue, make as many or as few as you want. You can use different sized circles to create flowers in varying sizes. I wanted to keep it pretty clean and simple so I only did 3.
Now, we'll just finish off this wreath. Cut a piece of lace ribbon about 3 feet long and tie a large bow into the top. Secure the knot of your bow to wreath using a hot glue gun. Dab hot glue behind the loops of your bow and press them into place so they stand up. Glue the lace loosely to your wreath, gathering and bunching as you go around the form so that it looks like a more natural fall. Glue every 3-4″ or so to secure until you reach the bottom, trim off ends and secure with a final dab of hot glue.
Here's another cute way to spruce up your home for Valentine's Day! Pop over and see our Valentine Marshmallow Pops bouquet!
How are you sprucing up your decor for Valentine's Day?