Homemade Oh Henry Bars is one of my husbands family recipes. I think he only shared it with me so that I would make it for him. Or he would have kept it secret.
Well now the secret is out now….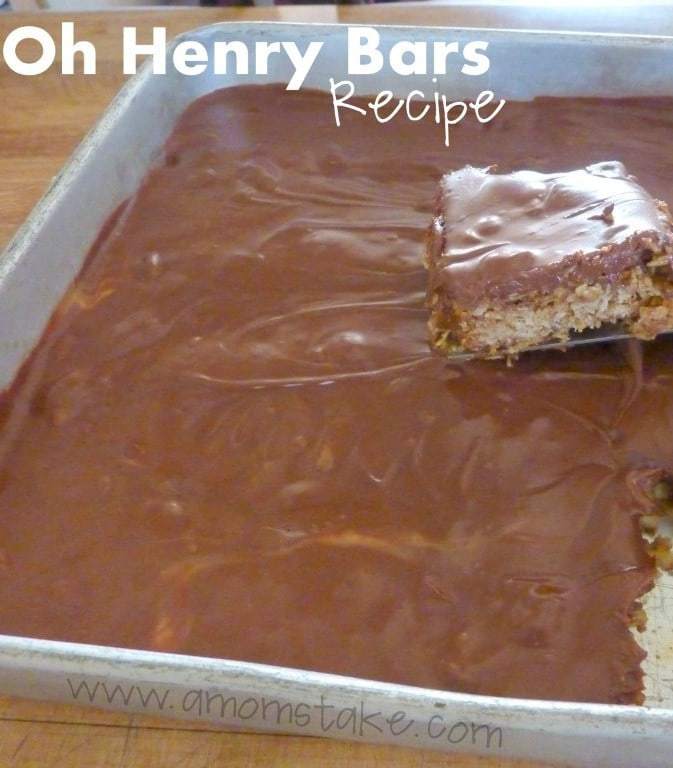 Homemade Oh Henry Bars - Recipe
crunchy, gooey, delicious
Author:
Cindi at A Mom's Take
Ingredients:
½ cup butter
1 cup brown sugar
2 cups quick oats
1 cup chocolate chips
½ cup peanut butter, creamy or chunky whichever you like.
Directions:
Blend butter, brown sugar and oats together and press into an 8"x 8" cake pan.
Bake at 350 degrees for about 15 to 20 minutes or until golden brown and bubbly around the edges.
Melt chocolate chips and peanut butter together in a pan over low to medium heat.
Spread over cooled cookie bar.
Let set until firmed or cool in fridge.
This recipe can be doubled to fill a 9"x 13" cake pan.
This is what it should look like after you have creamed the butter, sugar and quick oats together. I then press it into an 8″x 8″ cake pan, I use the rubber scraper that I mixed it all together with to press it down, or else I will stick my hand into a sandwich baggie to press, so my hands stay clean. I like to minimize the mess that I make when I am cooking.
While this is baking, I measure out the chocolate chips and Peanut butter. I usually guesstimate the peanut butter that way I don't have a nasty measuring cup to clean.
After it melts over low to medium heat you spread it over the top of the cookie bars. Make sure the bars have cooled some before you melt the topping or when you put it on it may all stick and pull up. If you do this, you will see what I am talking about.
It is good to let these set for at least an hour before you cut them, just so they don't all crumble when you take them out. If you want them sooner, cool them in the refrigerator. Enjoy, Granny
Here's another fun recipe for Homemade Oreos!