As my husband often reminds me, shopping for women can be a brutal and mundane task. After-all, every woman desires the perfect gift. Faced with the task of finding your woman a personalized and thoughtful present? Check out these awesome Holiday Gift Ideas perfect for the fashionista, foodie, exercise enthusiast, and homemaker.
We received a variety of samples for inclusion in this gift guide. All opinions are our own.
Fashion & Style
Treat yourself to something functional and beautiful that can help keep you organized! Jordana Paige offers a line of beautiful handbags, including the Bella style that can match everyday casual outfits or dress up for a night on the town. It's small in appearance, but can hold a lot! the smart drawstring closure keeps your contents corralled but can be opened wide when your digging to find those always missing keys. Bella has 8 interior pockets, 3 credit card slots, a small and large zippered pocket, and two snap loops. Best of all the bag has feet on the bottom to keep it clean! Visit Jordana Paige to see all of their smart styles or for more information on the Bella handbag.
Every woman loves jewelry. The trick is finding just the right piece for her. Peggy Li offers such a wide variety of beautiful pieces, you are sure to find something for all the women in your life! From delicate sparkling earrings to leather wrap cuffs there is a beautiful accessory waiting for you! My personal favorite are the customizable stamped pieces. I get so many compliments on my simple gold Rectangle Stamped Necklace with my husband's initial on it. What mom wouldn't want to unwrap a stamped initial necklace as a reminder of her children, her most important gifts? I know that I would! Each stamped necklace comes in different lengths and colors so that not only can you customize the text, but the material as well. You can see Peggy Li's gorgeous jewelry on some of your favorite shows like Hart of Dixie, The Vampire Diaries, and Elementary. Pick one up here for your sister, daughter, mom, or grandma and make her holidays the best ones yet!
Every woman desires a slimming pair of jeans with a comfortable fit. Made from revolutionary slimming stretch fabric, Lee Denim's Easy Fit Collection provides a "yoga pant" feel while styling the structural benefits of denim. Not to mention, the non-restrictive waste band reduces muffin tops and makes your hips look fabulous. Whether you enjoy styling pants, crops, capris, or skinnies, these 5 pocket wonders can be purchased for under $50. Featuring many different styles, sizes (plus and petite), and colors to choose from, Lee's Easy Fit Collection is perfect for every woman.
Every woman appreciates the gift of glitz and glam. Add a little extra sparkle to your holiday season with Waffle and Honey's 14 karat gold Hammered Gold Hoops. These intricate handmade hoops glisten beautifully in the sunlight – not to mention, they are truly the perfect hoop for every occasion. Wear these hoops for a night out on the town, paired with a simple v-neck tee, or to any black tie affair. You truly can't go wrong wearing Waffle and Honey's Hammered Gold Hoops. Waffles and Honey also offers other dazzling handmade accessories – rings, necklaces, and bracelets. These timeless and unique pieces are sure to boost your confidence and help you look your best this holiday season.
Give the gift of comfort and flattery with Nancy Rose Performance Kaleidoscope Printed Plank Crops. Whether you choose to wear these soft and flexible crops around the house, while jogging, or performing yoga, you're assured a flawless and flattering fit. The medium-rise design rids your body of "muffin tops" while hugging your curves in all the right places. Not to mention, slipping into these crops provides an instant butt-lift. What more could women want in their exercise attire? With fun designs such as kaleidoscope, lace, python, and rocker, there is a pattern for everyone. Be sure to visit Nancy Rose Performance this Holiday season for all of your exercise wardrobe needs.
Every woman loves to be spoiled with dazzling jewelry. Inspired by the famous story of Romeo and Juliet, Cate & Chloe's Juliette "Beloved" Statement Necklace is sure to give every woman that "wow" factor she desires. Featuring two classy strands of dangling pearls, this versatile necklace is perfect for every occasion: girl's night out, holiday parties, black tie affairs, date night, etc. With many stylish and unique jewelry ensembles, you're sure to find the perfect ring, earrings, bracelets, and necklaces for that special woman in your life. Be sure to head on over to Cate & Chloe this holiday season to receive Cate & Chloe's VIP membership for only $19 by using coupon code AMOMSTAKEVIP19 (expires December 20).
Just for Her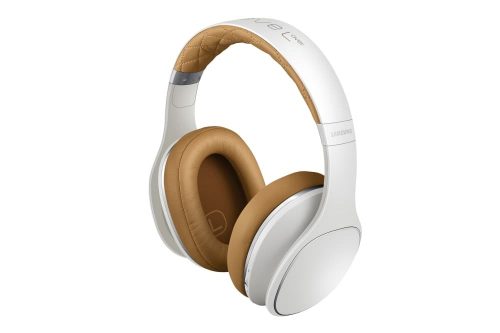 She will love to drown out the world around her and get lost in her favorite music with the high quality noise cancelling Samsung Level Over headphones. They feature 50mm Bio-Cellulose diaphragm with neodymium magnet — which equates to deeper, more natural sound while avoiding unnecessary booming. The active noise cancellation works both on the inside of the headphones and on the built-in microphone as well for clear sounds. You can sync up these headphones with your phone to accept calls using wireless Bluetooth pairing. Then, use a single finger gesture to accept calls, skip tracks, and adjust the volume! These wireless headphones will last up to 15 hours on a single charge. Visit Samsung for more information on the Level Over headphones.
Pictures – a timeless gift that every woman is sure to love and appreciate. Created by talented designers, Minted provides modern and unique holiday cards, stationary, fabrics, home decor, and prints. Every woman will enjoy sending greetings in style this Christmas with Minted's fantastic holiday photo cards. Customize these print's shape, color scheme, backer, and format to your personal liking. Browsing Minted's website, I was immediately drawn to the beautiful simplicity of this Aglow Christmas print. Some of my other timeless favorites include: Timeless Greeting, A Merry Little Christmas, and Merry & Bright. With so many contemporary designs to choose from, there is a holiday card to steal the heart of any woman.
She will love to stay connected, unwind, and be productive with a sleek tablet! AT&T is offering a great holiday promotion where you can score a Galaxy Tab 4 8.0″ tablet for just $99.99 with the purchase of any Galaxy smartphone. It features a perfectly sized 8″ vivid display with a lightweight feel so you can take it with you wherever you go. The Galaxy Tab is designed smart with 16GB storage and room to expand your space up to 64GB additional space so you can load up the tablet with books, movies, games, photos, music and more giving you everything you need right at your fingertips. You can use two apps side-by-side to make interactions between apps easier. This offer is valid through 1/8/2015 while supplies last. (*New 2-year wireless agreement or AT&T NextSM installment agreement required.)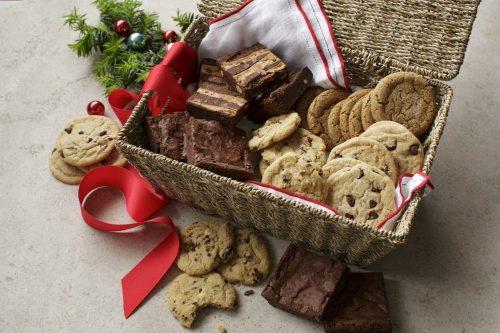 Treat your sweet tooth to something delicious, or pick out a basket big enough to share! Dancing Deer Baking Co. has a variety of festive holiday gift baskets to choose from. All of their goodies are made from scratch with the finest ingredients. Pictured in the Deer Classics Gift Basket which includes 8 of each of their award-winning cookies: Molasses Clove, classic chocolate chip and festive Cranberry as well as "America's Best" Chocolate Fudge Brownies packed in a beautiful (and reusable) seagrass gift basket. If you're craving the tastes of fall, try a Seasonal Treats Gift Box with pumpkin spice cookies, caramel pecan brownies, and apple pie round shortbread cookies! No matter what you pick, it's sure to be a treat!
Bath & Beauty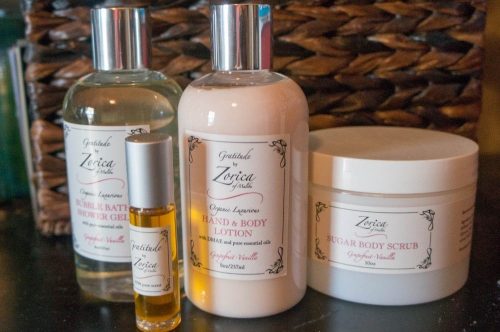 Nothing beats relaxing and unwinding in a nice bath. Zorica of Malibu Bath products are organic and eco-friendly with products ranging from a sugar body scrub to shower gel, body lotion and more. The Sugar Body Scrub has 3 uses in one as a sugar scrub, exfoliant, and to cleanse and hydrate your skin! You can use it on your face and neck, too, making a great all-purpose product. Zorica of Mailbu makes their products to order so they are always fresh. They are scented with organic pure essential oils and are non-toxic, chemical free, cruelty free, vegan and gluten free! You can support this woman-owned USA based small business while picking up something wonderful for yourself this holiday season!
Looking for a self-esteem boost this Holiday season? Try putting on a fresh face of make-up. Whether you're planning on attending holiday parties, dinners, or family functions, Aveda provides the perfect beauty products to help you look your best. For starters, plump and hydrate your lips with Aveda's Nourish-Mint Rehydrating Lip Glaze. With shades such as rose pink, burgundy, and rose blush, you won't have a reason to stop smiling. Looking to make your eyes really pop? Try Aveda's Petal Essence Eye Color; with shades ranging from ivory to eggplant, there's a color for every occasion. To complete your Holiday glam look, lather your lashes with Aveda's Mosscara. This smudge-proof, long lasting mosscara will help define and enhance your natural beauty this Holiday season.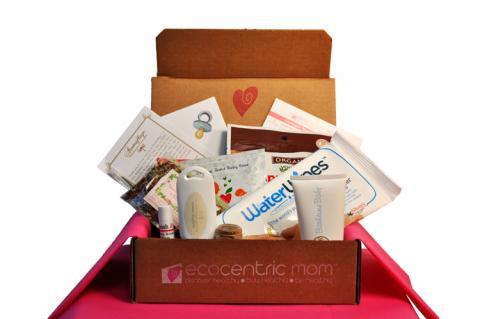 Give the gift that keeps on giving, with a subscription to Ecocentric Mom. Ecocentric Mom is a subscription service that delivers every other month to moms that love healthy, natural and organic products. The Ecocentric Mom Discovery Box contains amazing beauty products, skin care product, organic snacks and more! Each Box has 5-9 hand selected products (and coupons for the products) that will be gentle on your body and the earth. Expecting? Ecocentric Mom has a Pregnancy Discovery Box as well!
No need for separate cases for all your favorite cosmetics. This beautiful FLOWER train case holds all your necessities all in one organized spot. The separate brush compartments holds your brushes for easy access. Fill your new train case will your favorite FLOWER cosmetics all available at Wal-Mart and online at Wal-Mart.com.
Home and Housewares
Give her comfort and style for her home with beautiful sheets like this Sutton Sheet set from DwellStudio. The print is inspired by the trellis motif made famous during the 50's and 60's but turned into a geometric print to add a modern feel. The sheets comes in a chic smoke hue and are 100% cotton. DwellStudio has a gorgeous line of gold themed products perfect for the holidays as well from decorative objects to items from the home and even something to dress the tree!
Make laundry easier with a genius Lifter Hamper, as seen on Shark Tank! This smart laundry hamper can hold 2-3 loads of laundry and moves easily around the home with built-in wheels. When it's time to transfer your dirty laundry to the washing machine, the hamper automatically lifts as the load lightens keeping all the clothes right in easy reach – no more bending! The spring loaded Lifter Hamper is available in black and white.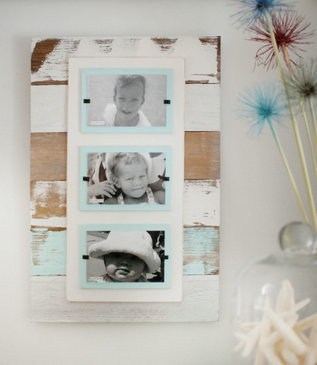 Bring in something to add texture, beauty, and personality to your home! Beach Frames offers quality frames designed from recycled/reconstituted beach wood with a variety of styles to fit your own decor. They are a great way to show off your family vacation memories. This Cape Cod style was inspired by the Northeast coast with a lightly white washed look. All Beach Frames are handcrafted in the USA, so no two frames are exactly alike! You'll also be able to find throw pillows, furniture, accessories, and more!
Every woman enjoys dressing her home with fun and fashionable pieces. Looking for contemporary home goods? Lush Decor offers a wide variety of modern bedding, shower curtains, and window treatments. Let me introduce you to one of my favorite Lush Decor pieces (that is sure to steal the show this holiday season): The Lattice Geometric Throw. Lush Decor's Lattice Geometric Throw adds the perfect amount of texture and design to any room. Drape this 50″ x 60″ throw over the sofa, reading chair, or across the edge of your bed. Available in gray, blue, and tan, this throw will add the perfect fashionable touch to your home this holiday season. Use coupon code THROGIFT and receive 60% off the sale price!
Which of these gifts is going on your wish list?