Bring in spring with this fun Garden Seed Packet Match game. You can recycle and repurpose your old fruit and vegetable seed packets and turn them into a fun kid-friendly activity. Pull this out for rainy-day fun and start dreaming of planting in your garden beds.
Garden Seed Packet Match
For this fun DIY game you will need a variety of empty seed packets, or old seed packets that you're ready to repurpose. You'll want two packages of each fruit or vegetable type, but the pictures can be different. In fact, I have only one exact match, and I much prefer my different picture sets as they are more interesting.
Pair up all your packets and decide which ones you'll include.
Next, use a paper cutter, or a pair of scissors if you can be precise with your cuts and make a good square shape. My lines never go perfectly straight, so I used my paper cuter. Cut out all the packets into squares. Mine are just about 2″ squares.
You could use the squares like this, but they'll last much better laminated, so fill up a laminating pouch with your squares and send them through! Then, just send your cards through your laminator. We use our laminator for everything, it's definitely worth owning one if you don't already.
I use the thinner 3 mil sheets for most of my kid projects, since they don't need super thick, quality laminating. I got a big 100-ct box of laminating pouches which makes the sheets really cheap overall. About the price you'd pay in store for a 20-ct pack. It took just 2 laminating pouches to laminate all 20 of our game pieces.
When you are finished laminating, allow the sheets to cool. Then, grab your paper cutter again and cut out square shaped pieces again, leaving some of the laminated edge so the protective coating doesn't pull off.
Now, you're ready to play. Flip the cards, look for matches, and talk about vegetables! You can also use these cards as flashcards or garden seek-and-find cards or other learning games.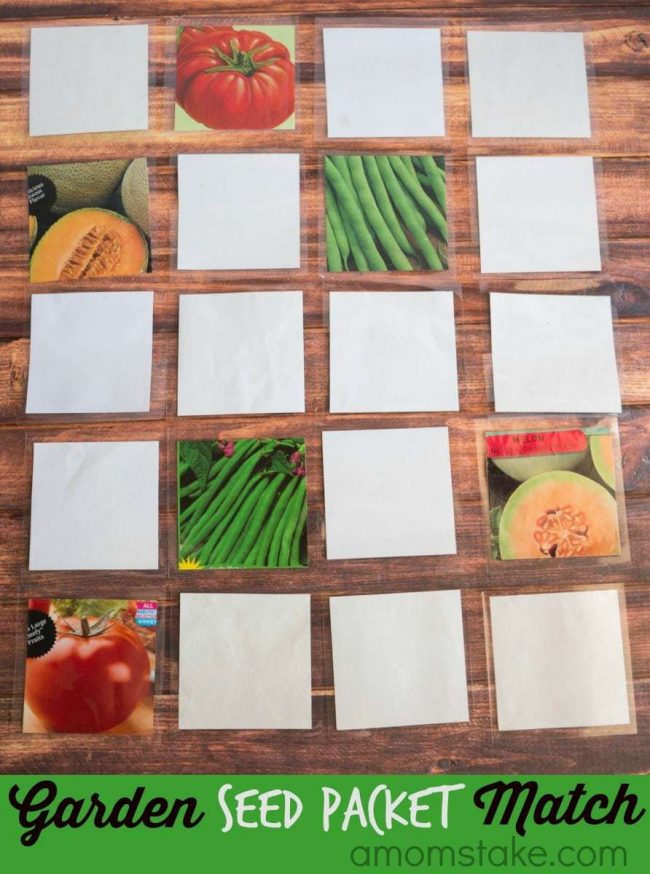 We had so much fun using our Garden Seed Packet Match game to get our boys ready for gardening season! Soon, we'll be planning some of these plant varieties and watching them grow and it will be fun as our boys recognize the plants they plants we've been teaching them about. It's a great way to encourage your children to be more comfortable with vegetables, too.
Which vegetable seed packet would be a "must include" for your family?