Who doesn't love summer? It's a time to relax a little, spend more time with our loved ones, and get outdoors and enjoy the sun. It's the time when we get to ditch the jackets, scarves and boots and slip into a something light and comfortable. Here's a guide to inspire your new summer wardrobe picks and remind you that
We received a variety of samples for inclusion in this guide. All opinions are our own.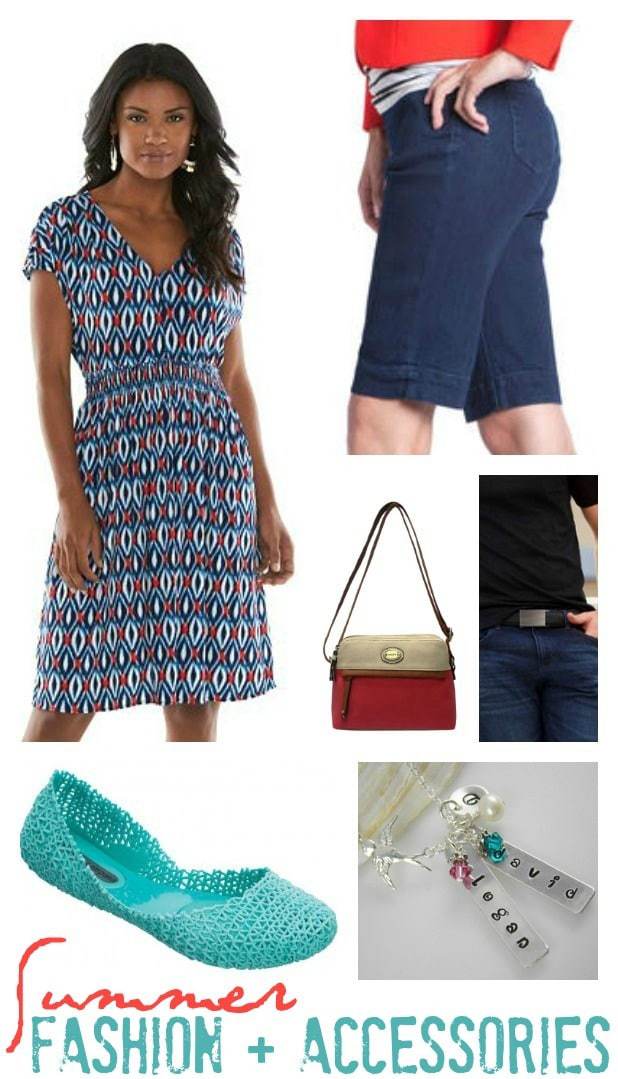 Summer Style Picks for Women
Give yourself a confidence boost this summer with a comfortable pair of bottoms that smooth and hide your middle bulges to give you a sleek, slimmer look. SlimSation offers shorts, pants, capris, leggings and other styles with a higher waist band that builds in a flexible tummy control panel to slim you automatically by minimizing the belly bulge. I found their styles to be so comfortable, and really gave me a sleek and slimmer look. Their cute Clean Cut Walking Shorts are modest and slimming! Visit SlimSation to view all their styles.
Store away your chunky jewelry and pick out something simple, and sweet, for summer. I'm loving these styles by Shiny Little Blessings. They can be personalized to create a custom mommy necklace like this sweet necklace with a swallow bird watching over your loved ones. Or choose a sweet quote to celebrate a new stage in your life like a graduation, wedding, or new baby. Shiny Little Blessings wants you to celebrate your own personal blessings by wearing them close to your heart.
Slim on cute, and oh-so-comfy, shoes are great for summer. They can be dressed up or dressed down to take you from work to a summer day of play to an evening out. These Campana papel IV shoes by Melissa come in five glittery color choices including this bright and fun turquoise and a soft buttery yellow. Both are great colors for summertime and the playful design fits the season perfectly. See more Melissa shoes styles at Shop601.com.
Summer is a great time to pick out a new purse to warm up your look. Your schedule often changes, leaving you with different needs from your bag. Up-size to have room to accommodate for more time out of the home including space for sunscreen. Or, downsize to a lightweight purse and just carry around your absolute essentials to keep you feeling light and free. Rosetti has a new selection for purses available for whatever your summer needs may be, including these two cute styles and many others. Look for Rosetti purses at Sears, Kohl's, JCPenney's and other large retailers.
Summer requires a cute swimming suit and comfy, lightweight summer dresses. These are two essentials for every summer wardrobe. Kohl's has great picks from bikinis and one-pieces including this cute, and modest, swimming suit by Free Country. It's sold as separates with a tankini top and swim short bottoms. Don't be afraid of patterns when you are shopping for summer dresses. Pick something that is thin, but will keep you covered and comfortable so you can feel confident in your look while staying cool. I'm loving this smocked dress in the deep ocean color print. Visit Kohl's this year to pick up styles to keep you cool and comfortable all summer long.
Looking for the perfect light-weight jacket for all of your summer travels? Combining fashion with functionality, you'll immediately fall in love with Finside, a European brand of clothing now available in the US. Crafted from the finest of quality material, Finside's Kielo Jacket is water resistant, wind and dirt repellent. Best of all, these jackets are perfect for moms-to-be; simply add in Finside's belly extension and enjoy your jacket all throughout pregnancy. Best of all, you can wear Finside's Impi jacket underneath for an extra layer of warmth and comfort. I love everything about my Finside Kielo Jacket – the flawless fit, breathable material, fashionable design, and small patterned details. This jacket is absolutely perfect for all of my summer endeavors – camping trips, bonfires, and nighttime barbecues. Be sure to check out Finside for more fashionable jackets, accessories, and kid's apparel. Use coupon code 20amomstakerocks20 to receive 20% off your purchase through August 31.
I don't know about you, but I absolutely LOVE walking around barefoot during the summertime. However, this always takes a toll on my feet. Designed to give you the same feel as walking barefoot, OTZ Shoes mold to your feet providing absolute comfort. Made with an insulated cork layer, these shoes are perfect for busy moms on-the-go, at the park, or by the pool. Best of all, these quality shoes are extremely fashionable and come in many different varieties: sandals, flats, and boots. Created for both men and women, there are many different colors and patterns perfect for all of your summer adventures. Some of my personal favorites include OTZ's Leapard, Natural, and Freesia Espadrille shoes. Combine fashion with comfort this summer with OTZ Shoes.
Fashion Picks Dad Will Crave
Skip traditional belts with 1-inch spaced holes that never give a perfect fit. KORE Essential belts take a completely new approach to how a belt should fit. Using their smart Trakline design, your belt has no holes for a much more polished look and uses a hidden track to find a much more accurate fit with 1/4″ increments. Picture a zip tie, for belts! The belt is easily removed with a lever that pulls the lock out of place to let your belt slide right out when you need it to, will staying in place the rest of the time. My husband can't say enough good things about these belts! Use the promo code Kore15 for 15% off any KORE Essentials belts.
Give him a fresh space to store his bills. A wallet doesn't have always have to be a traditional black leather. This Colored Canvas Leather Wallet, for example, has a blue canvas with a base of brown leather gives the wallet the strength of leather with a hint of style that will make his wallet completely unique. TJ Maxx and Marshalls offers great styles and accessories at a fraction of retail prices. Visit your own local TJ Maxx or Marshalls to give his look a subtle update for summer.
Fashion Finds for Kids
Every little girl needs some fashionable summer sandals, right? Perfect for keeping your little one's feet stylish and cool in the heat of summer, Toeblooms offers the original baby barefoot sandals. These Shine Toeblooms make me swoon every time I place them on my baby girl's feet. The metallic gold color compliments almost every outfit and they fit her little feet flawlessly – I never have to worry about them slipping off. I can't tell you how many comments I receive when my daughter wears these delightful sandals in public – they are an absolute crowd pleaser. In fact, she wore her Shine Toeblooms to a wedding and a picture of these sandals even made it into the wedding album! Some of my other favorites include Cookie, Glitzy, and Bubblegum Toeblooms. Be sure to check out Toeblooms for more fashionable baby barefoot sandals.
My little baby absolutely LOVES to be swaddled. In fact, she gets her best night's sleep when I swaddle her right before bedtime. I love swaddling my babies, but living in Arizona, I always worry about them overheating when swaddling during the summertime. Thankfully, Buttermilk Babies provide the perfect light weight summer swaddles. I'm being completely honest when I say that Buttermilk Babies swaddles are the best swaddles I've ever owned. They are larger in surface area than most swaddles and become softer with every wash. Buttermilk Babies swaddles are perfect for tummy time, picnics at the park, nursing, and covering the car-seat. Not to mention, how could you not love these stylish designs? My absolute favorite designs include the Grafitti, Zoonicorn, and Sandwich swaddles. Swaddle in style this summer with Buttermilk Babies.
Every kid needs a sturdy pair of shoes to keep up with summer bike riding, sport playing, and adventuring. Designed with style, comfort, and durability, See Kai Run shoes are perfect for all of your child's summer endeavors. Not to mention, these fashionable shoes help promote healthy foot development in children from 0-8 years old. My little two-year-old LOVES his Hess II Red Sneakers. In fact, they are his shoe of choice whenever we leave the house. I can tell that these sneakers are high quality because they don't show any wear-and-tear despite my son's active lifestyle. Not to mention, the inside of these shoes are extremely soft. Be sure to visit See Kai Run for more durable and stylish shoe options.
When I think of summer fashion, my mind automatically turns to all things floral, pink, and gold. Handmade to absolute perfection, The Golden Tot Shop provides fashionable finds for girls, boys, and women. Browsing through The Golden Tot Shop, I am immediately drawn to their beautiful Floral Crowns, Mommy and Me Kimonos, and Ruffle Wrap. Such unique and stylish pieces perfect for every wardrobe. Looking to add a little splash of gold to the walls of your home? You have to check out The Golden Tot Shop's modern prints and decor. Glimmer your way into summer with fashion from The Golden Tot Shop.
Summer at our house is all about having fun. My little girl insists on wearing dresses, but most of the time summer fun and dresses don't mix without showing off her panties. Thanks to Sparkle Farms I can send her out to play without worrying about her showing what should be kept private. Besides playground play, these shorts work great over dance leotards and swimsuits for just a little extra coverage. Sparkle Farms bloomers are made from cotton and spandex to ensure a form fitting style that won't show under her clothes. Available in every color you could need, there is sure to be a pair for each dress in your little ladies wardrobe. I love that they are made from high quality materials and will last us a long time, she loves that they feature rhinestones that sparkle and shine! Find them here.
When I think of summer time and little girls I think of light flowing dresses and running through fields of flowers. Perfect for tea parties in the grass, cloud watching at a picnic, or walks along the beach, Sweet Cottontail's dresses are summertime perfection. These classic style dresses are made from the softest high quality fabric and are designed to last for generations to come. My daughter adores her Sweet Cottontail Madeline dress and would wear it everyday if I would let her. She is showered with compliments when she does. It is so refreshing to find classic options like these for little girls. Find the PERFECT dress for your little lady from Sweet Cottontail.
Even little deserve some luxury and Lucky Jade is here to give it to them! Featuring modern and luxurious items for kids, you are sure to find some awesome play wear for your kids or the perfect gift for your next baby shower. I adore their cashmere coveralls and blankets, they are softer than soft and perfect for babies delicate skin. They also feature cute play water for toddlers like the Nautical Tank Dress pictured above. I love their simple approach to kids clothing that feature classic designs and colors. Their timeless pieces are sure to be passed down through siblings and children to come. Grab your next shower gift or outfit from Lucky Jade.
How are you updating your summer wardrobe?