A wedding is one of the most important days in a couple's life. The weeks leading up to the wedding are full of fun and celebrating. If you have been entrusted to plan and throw the bridal shower, here are some fun game ideas to keep your guests and bride to be, having a great time.
This post is sponsored by Charmin. All opinions are my own.
Create a Recipe Book – Something my friends and family did for me was create a recipe book. Each guest writes down one or more of their favorite recipes. If it's close family, they might want to write down one of the bride or grooms favorite recipes. Then, the spouse can treat their new partner to their favorite dish. All of the recipes get compiled into a great cook book of time tested, family favorite recipes to make.
Pass Around Flip Poem – The poem is started by a first sentence. It is passed to the first person who reads the sentence and then flips and writes their next sentence. Then it gets passed to the next person who reads the sentence, flips and writes the their sentence. It continues to be passed around until everyone has had a turn. At the end, it gets read aloud and you can hear how everybody's contribution formed a poem for the bride to be.
How Well Do You Know Your Groom – This is a game where you compile a list of questions to ask the groom. This can include things like, favorite color, first job, best cook or worst driver. Then at the shower, you ask the bride the questions. For each question she gets wrong, she has to put a stick of gum in her mouth. If she is bad at the game, she will end up with a huge wad of gum.
Gifts Bingo – You can have your guests fill out what they think she will get for gifts and see if any of them are right and can get a bingo. As an extra measure of fun, have somebody write down everything she says as she opens her gifts. When she is done, you can read them all off as things she might say on her wedding night. This always makes for a fun giggle. Click on the link to open a printable LOVE bingo card.
Ice Breaker Ball Toss- Write things like, tip, fun fact about the bride/groom or 2 truths and a lie. Toss the ball around the room. When you are tossed the ball, if you get tip, you say any tip you can think of about being married. Fun fact is just that. A fun fact or memory about the bride or groom to be. 2 truths and a lie is where you tell 2 truths and 1 lie about either yourself or the bride/ groom and everyone has to guess what is the lie. Keep throwing the ball around until everyone has had a turn and the ice has been thoroughly broken.
Fashion a Toilet Paper Wedding Dress – One of the really fun traditions during the pre-wedding celebrations is creating toilet paper wedding dresses! Grab a few rolls of toilet paper and divide into teams. The team with the best dress wins.
Charmin recently hosted their 11th annual Toilet Paper Wedding Dress Contest in partnership with Cheap Chic Weddings. This fun contest is a spin off the classic bridal shower game to create a toilet paper wedding dress for the bride-to-be.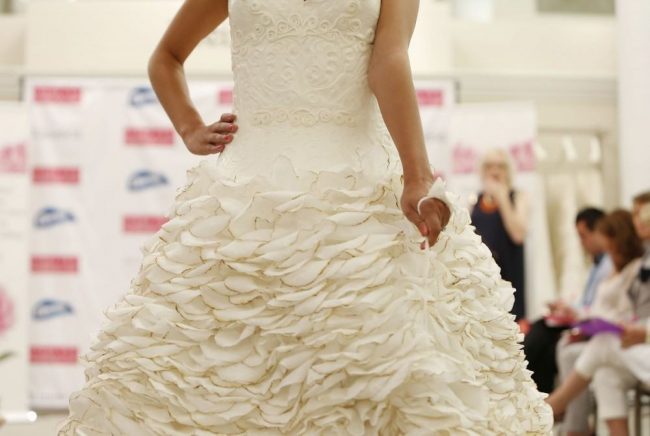 Photo Credit: Amy Sussman/AP Images for Charmin
During this year's contest, dresses were made with as few as 8 rolls of Charmin up to as many as 74 rolls! The top 10 finalists came together to showcase their designs where the grand prize dress as well as a second and third place winners were named. Check out these amazing dresses! I was absolutely blown away by the detail and style they were able to create using only Charmin toilet paper, tape, and glue. Here are the three finalists all posed together, aren't these dresses amazing!?
Photo Credit: Amy Sussman/AP Images for Charmin
If you're looking for a fun way to kick off your own bridal celebrations, add "make a toilet paper wedding dress" to your bridal shower plans! It's a fun tradition that you'll remember for years to come.
Try Charmin Ultra Soft and Charmin Ultra Strong, two premium two-ply toilet paper varieties to create your own perfect toilet paper wedding dress. For more ideas to kick off your wedding planning, Cheap Chic Weddings has ideas to help you inspire a wedding with style on a budget.